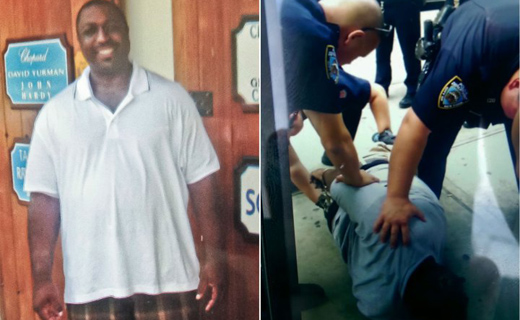 With relatives and progressive elected officials leading the way, New Yorkers of all walks of life have responded with outrage to the death of 43-year-old African American father of six, Eric Garner. Garner died on Thursday, July 17 while in police custody. He was handcuffed and on the ground after being dragged to the pavement by the chokehold of a plain clothed police officer. Chokeholds are forbidden according to NYPD procedure.
Ramsey Orta, a friend of Garner was with him that tragic day and recorded the incident for the world to see on his smartphone. (link to video: http://time.com/3016326/eric-garner-video-police-chokehold-death/)
Orta understood the importance of recording the police encounter, "I just hope it gives people the courage not to be scared. There's a lot of 'he says she says' but once you have proof…"
He continued describing what transpired after officer Daniel Pantaleo's illegal take down, "All that time his hand was around his neck then he got up and pushed his face into the floor twice then put his then knee on top of his face while Eric was telling him he couldn't breathe. I saw his eyes roll back he was foaming from the mouth and I knew he was gone from there. I kept telling them [the police], I kept pushing the issue to put an oxygen mask on him and all they did was keep the cuffs on him and search him."
While playing the video, Orta and other witnesses can be heard in the background pleading with officers and EMS personnel, and those pleas being ignored by the crowd of cops and medics. Trained responders, on the clock being paid to protect, they surrounded Garner and watched him die.
Kadiatou Diallo, mother of Amadou, who was killed in a hail of 41 NYPD bullets – 19 hitting him – said, "It's just so sad. It brings back terrible memories. After all these cases and all these years, nothing seems to change" Diallo called on Mayor deBlasio and Commissioner Braton "to bring about changes."
Bratton for his part said in news briefing at city hall that he met with the FBI and they are monitoring the death of Garner. The police commissioner added that he would not be surprised if the U.S. attorney opened up a civil rights violation. He went on to pledge the city's cooperation if that does happen. Bratton also explained the need to retrain NYCs 35,000 police officers concerning the use of force.
At Garner's funeral Rev. Al Sharpton responded to the "top cop" from the pulpit, "You don't need retraining you don't need sensitizing… How did we get so cold?" Sharpton asked, referring to the group of first responders who watched in a routine and cavalier manner as Garner fought for his lasts breaths.
"We were moving in the right direction, and unfortunately now we have taken five steps back," said Bronx Council woman Vanessa Gibson.
Public Advocate Letitia James, second in line to the mayor, spoke at the funeral of Eric Garner. She spoke as the city's chief executive, a role she played until deBlasio returned from Italy. "We will demand that all police encounters are video taped," Letitia James pledged to the Garner family and the people of NYC.
Al Sharpton called it "…a test for the deBlasio administration."
City Councilman Jumaane Williams, D-Brooklyn, was furious with what he called "omissions and lies" detailed in an internal NYDP report on their encounter with Garner. The report was silent on the prohibited chokehold used by officers and minimized Garner's calls for help. "He was left to lie on the ground for eight minutes like a piece of meat. And I say 'piece of meat' because if he was a dog, they probably would have assisted him," said Councilman Jumaane Williams, D-Brooklyn. He continued, "If there was no video of this, we would be here listening to the police account of what happened, with no chokehold mentioned, and saying he didn't need medical services."
Those who knew Garner personally described him as a "Teddy Bear" and a "gentle giant", explaining that the contact with police was in response to a fight that broke out where Garner intervened as the peacemaker. Alejandro lives upstairs from the storefront where this tragedy took place and attended the vigil organized a day before the funeral. Alejandro explained that he and Garner didn't speak much because of a language barrier. He doesn't speak English "I never spoke with Eric. We knew each other's faces and we would smile when we crossed paths. I saw him every day and watched him interact with people. He was a good man."
Ramsey Orta lives upstairs from the store where the incident took place and had the presence of mind to record the encounter with his smart phone. Orta's video backs up the claims of witnesses.
Garner can be heard saying "I can't breath," over 10 times on the video before his death. Those words are now a chant repeated at marches and memorials. But before the fatal chokehold take down, Garner powerfully said, "Every time you see me you want to mess with me. I'm tired of it. It stops today."
There are many times more New Yorkers who agree. It stops today.
Photo: Eric Garner, seen on left and then in chokehold by police on right. AP