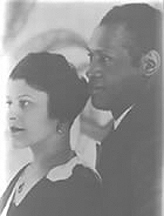 Much has been written about the great actor, scholar, artist and activist Paul Robeson. Yet his partner and wife, Eslanda Goode Robeson, is not as widely known today although she was a well-known fighter for civil rights and an author. Here is a brief biography of Goode Robeson.
Eslanda Goode, the daughter of John Goode and Eslanda Cardozo, was born in Washington in 1896. Her father died when she was six and the rest of the family moved to New York City.
In 1912 Goode won a four-year scholarship to the University of Illinois. After graduating in 1917, she accepted a position as histological chemist at the Presbyterian Hospital in New York.
Goode married Paul Robeson in 1921 but continued her studies, and after graduating from the University of Chicago in 1923, Goode became the first African American analytical chemist at Columbia Medical Centre. Her book "Paul Robeson, Negro" was published in 1930.
Goode became increasingly concerned with the issue of civil rights. She also became close friends with the radical political figures Emma Goldman and Alexander Berkman. In her autobiography Goldman wrote that "Essie [Goode] was a delightful person, and Paul [Robeson] fascinated everyone."
In 1932 Goode became Robeson's manager and was closely associated with his various political campaigns. This included opposition to fascism in Europe and attempts to persuade Congress to pass anti-lynching legislation.
Goode and Paul Robeson were both supporters of the Popular Front government in Spain. On the outbreak of the Spanish Civil War, Goode was active in raising money for the International Brigades. In January 1938, Goode and Robeson joined Charlotte Haldane, secretary of the Dependents Aid Committee, in Spain.
Goode studied social anthropology at the London School of Economics and Political Science (1936-37) and in the Soviet Union at the National Minorities Institute before publishing "African Journey" in 1945.
As the far-right anti-Communist witch hunts gained steam, Goode and Robeson were targeted by the House Un-American Activities Committee (HUAC), and the State Department revoked their passports. Blacklisted at home and unable to perform at concerts abroad, Robeson's income dropped from $104,000 in 1947 to $2,000 in 1950.
Both Goode and Paul Robeson opposed the Korean War and drew attention to the murders of Harriet and Harry S. Moore in December 1951, because of their attempts to establish a branch of the National Association for the Advancement of Colored People (NAACP) in Heartbreak Ridge, Fla. Goode wrote they were killed "not on Heartbreak Ridge on the distant battlefield of Korea, but on Heartbreak Ridge here in Mims, Florida." Their assassination proved, she wrote, that the world prestige of the United States was being threatened by "a few vicious, powerful active Un-Americans."
When Goode appeared before HUAC in 1955 she pointed out to the senators: "You're white and I'm a Negro, and this is a very white committee." She denied being a member of the Communist Party but praised its policy of supporting racial equality.
In 1958 the government lifted the ban it had imposed prohibiting the Robesons from leaving the United States. The couple moved to Europe where they lived for five years. Eslanda Goode died of cancer in 1965.