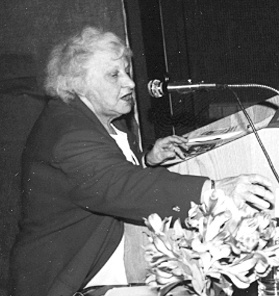 Gloria Freedman
July 1915 – Feb 2008
We honor and recognize your countless contributions to working people, the labor movement, the struggle for housing and tenants rights, for peace and more. You dedicated your life to the fight for a better world and socialism, always confident in the victory of the people over the inequality, oppression and exploitation.
We will miss your smile, your courage and your unbowed spirit.
This March 2008, Women's History Month, we remember your legacy and pledge to live up to its example.
Marilyn Bechtel
Ken Besaw
Rose Bilander
Vinie Burrows
Lance Cohn
Bernice Diskin
Linda Feldman
Margherita Firpo
Joelle Fishman
Frances Gabow
John Gilman
Bob Greenberg
Estelle Katz
Jackie Lavalle
Henry Marahan
Julius Margolin
Dan Margolis
Jessica Marshall
John Martin
Anthony Massa
Diane Mohney
Elena Mora
Melissa O'Rourke
Matt Parker
Judith Paulsen
Rookie Perna
Thomas Riggins
Bob Rossi
Brandon Slattery
Erica Smiley
Betty Smith
Carolyn Trowbridge
Jarvis Tyner
Sam Webb
Tim & Joyce Wheeler
Terrie Albano & John Bachtell
Esther Moroze & Bill Davis
Jenn & Samuel Delgado
Judith LeBlanc & Libero Della Piana
Roberta Wood & Scott Marshall
Daniel & Dorothy Rubin
Young Communist League, USA