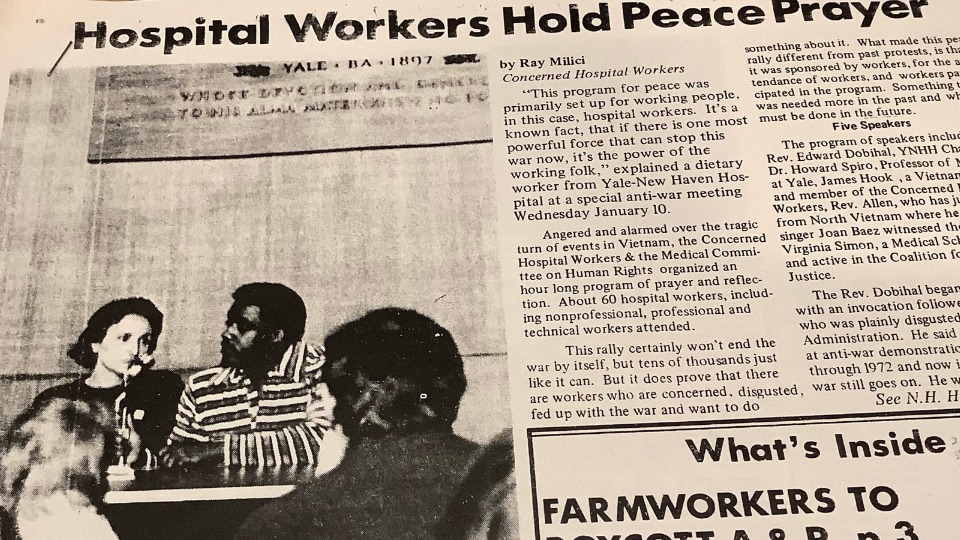 I was thinking about my good friend Jimmy Hooks on Veterans Day this year.  My fellow Union Brother was known as just plain "Hooks" by friends and co-workers at Yale New Haven Hospital.
"Hey Hooks, what's going on?" "I'm thinking about taking the grill cook job over in the New Haven cafeteria."
"Why, what's wrong with the Main Kitchen?" "I don't know, I thought I try something different."
Jimmy Hooks was a Vietnam veteran. When he returned home to New Haven, Conn., his arms were scarred, an injury he suffered serving in Vietnam. He didn't talk much about what happened, but I do remember us having a few drinks in the bar across the street from the hospital.
"Hooks, tell us what happened."
It had something to do with him shooting those big guns. There was a misfire or malfunction and he suffered severe burns on his arms. He said he was one of the lucky ones. He spent eight months in a military hospital recovering.
A kind and gentle soul, you really couldn't help but love this guy. I remember when my son was born. Hooks asked me how much he weighed. "8 lbs., 5 oz.," I answered. "Okay," he said, "I'm playing that number." Back in the '70s there was no such thing as a state lottery, so you played your favorite number with your friendly neighborhood bookie, and we had a few of them that worked right there in the hospital.
And guess what, the number came out and he won about $500. A nice piece of change in those days. And what did he try to do? Give me the money.
"Come on Hooks, you played the number, it's your money," I told him. But he wouldn't give up. "I want you to have it."
We argued for a little while, and finally he just stuck the hundred bucks in my shirt pocket. "Buy the baby something," he said as he smiled. He was the kind of guy that would give you the shirt off his back if you were in need of a shirt.
An activist concerned about low wages and injustices on the job, he got involved in organizing the union—New York Local 1199 RWDSU, as it was known at the time. A Vietnam veteran who was against the war, he had spoken out at a prayer vigil when the fighting was still going on. I found a Xerox copy of an article written back in 1973 about the vigil.
It included some quotes that clearly gave a good idea of who Hooks was—the same guy that I knew on the job.
"It is our money being spent to kill in Vietnam," he told a crowd back then. "We need that money here to help the people of our country."
Unfortunately, this story has a sad ending. Jimmy Hooks was found unconscious on the floor in his apartment and died a week later in the hospital—the same hospital he worked for and helped organize.
Like so many veterans, he was suffering from drug addiction and health problems, specifically chronic high blood pressure. As much as family and friends tried to caution him, he just didn't seem to pay attention.
There was some controversy surrounding his death. Did he OD? Was it really drug addiction, a stroke, or a combination of them all? I suspect the latter. Many of us felt sort of a collective guilt. Could we have done more? Why couldn't we see what was going on? It was hard to accept that we lost this good, concerned, decent human being.
Even though Veterans Day has passed, I just wanted to get his name out there. If his friends didn't remember, he would be just another forgotten working class hero added to a long list.