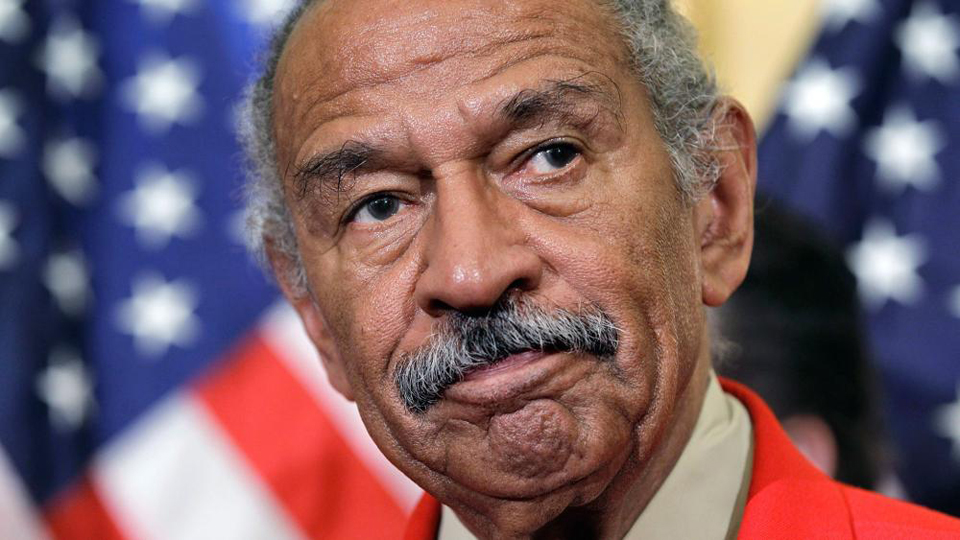 WASHINGTON—I covered Rep. John Conyers, D., Mich., for the entire 25 years I was the Washington correspondent for the Daily World and People's Daily World. He was always in the front lines of whatever struggle was at the top of the people's agenda. Yet often, he introduced legislation years before the issue became a burning national issue. In 2003, he introduced the U.S. National Health Insurance Act, virtually "Medicare For All," a top issue with Democratic candidates for president today.
In the 1980s, Conyers was a leading spokesman against President Reagan's crazed "Star Wars" scheme, a menacing space-based Edsel.
When some wanted to narrow down the Watergate conspiracy to a "third rate burglary," Conyers, a young representative on the House Judiciary Committee prepared H. Res 989, later offered as an Article of Impeachment charging Nixon with a war crime for ordering the secret, illegal, unconstitutional bombing of Cambodia.
Conyers told his colleagues on the Judiciary Committee that this crime "underlies all of the acts that have been debated thus far." It was voted down 26-12 with every Republican and 10 Democrats voting "No."
Conyers was outspoken in exposing Nixon's genocide in Vietnam and never stopped denouncing presidential war crimes.
Years later, Reagan was caught in the criminal Iran-Contra conspiracy. Conyers and his colleague, Rep. Don Edwards, D., Calif., co-sponsored a resolution ordering the Justice Department to appoint a Special Prosecutor to expose and bring to justice the criminals in the Reagan Administration who secretly sold shiploads of missiles and other lethal weaponry to Iran and laundered the profits through numbered Swiss bank accounts to buy weaponry for the right-wing anti-Sandinista contras. Tens of thousands of innocent women children and men died in that illegal, unconstitutional "Reagan doctrine" war.
Years later, the Bush-Cheney Administration was itching to instigate war against Iraq. The Downing Street  Memo surfaced, minutes of a meeting at 10 Downing Street with British Prime Minister, Tony Blair. The memo revealed that Bush-Cheney were plotting a war with Iraq since 2002. Bush fabricated lies that Saddam Hussein possessed "weapons of mass destruction" to justify the invasion. Conyers convened a hearing on the Downing Street Memo. After the hearing, he led a delegation of his colleagues  and more than a thousand anti-war protesters to the west entrance of the White House to deliver petitions signed by 560,000 people demanding an end to the war.
White House guards refused to admit the lawmakers. The crowd chanted, "Let Conyers in, Let Conyers in!!!" Finally, they opened the gate just wide enough to accept the petitions. Speaking to a rally, minutes later, Conyers exulted, "Keep it coming! We need a million signatures. Five million. Twenty million!"
Conyers was not a lone wolf.  He sought allies among his colleagues on the House floor and in the mass movements.
It reflected his background as a trade unionist. He was a founder of the Congressional Black Caucus (CBC) reaching back to his election in 1966. In those years, there were only six Black Congressmembers but Conyers, a lion in support of the Voting Rights Act, knew that he would be joined by many others . The CBC Legislative Weekend became one of the most important annual gatherings of progressives fighting for change in our nation.
That collegial style was reflected on the House floor when Conyers was joined by a dozen or more of his colleagues in speaking out on the most burning issues. Likewise, he worked to bring his colleagues to Capitol Hill press conferences or marches and rallies— Representatives Parren J. Mitchell of Maryland, "Battling Bella" Abzug of New York, Shirley Chisholm of New York, Father Robert Drinan of Massachusetts, Pat Schroeder of Colorado, Harold Washington and Charlie Hayes of Illinois, Henry B. Gonzalez of Texas, Jose Serrano of New York, and later, Nydia Velazquez of New York.
He and Rep. Ron Dellums (D-CA) led the struggle in the halls of Congress to impose sanctions on South Africa that brought down the racist Apartheid regime—a victory so crucial that, South Africa's Nelson Mandela spoke to a session of the House to thank Congress for enacting the sanctions..
We celebrate with a holiday the birthday of Dr. Martin Luther King Jr. every year. John Conyers was the author of that legislation. A jazz and pop music lover, he befriended  Stevie Wonder who composed "Happy Birthday, Martin," that popularized the Federal holiday. At CBC Legislative Weekends, Conyers often sponsored a  work shop on jazz and pop music featuring many geniuses like Stevie Wonder.
He sponsored legislation to cut the workweek to 35 hours with no cut in pay, a measure initiated by a rank and file labor group, Trade Unionists for Action and Democracy (TUAD) to create millions of jobs. He pushed for landmark legislation to reform our legal system to end the mass incarceration with more prison inmates than any other nation in the world—a victory yet to be won.
In his early years in Congress, Conyers introduced legislation aimed at ending lynching and other hate crimes. It came to a head when in a short span of weeks, Matthew Shepard, a gay youth, was lynched in Wyoming and James Byrd Jr. was lynched in Texas. Conyers introduced the Matthew Shepard and James Byrd Jr. Hate Crimes Prevention Act. It was approved by the House Oct. 22, 2009 and also by the Senate. President Barack Obama signed it into law a week later with the families of Shepherd and Byrd standing beside him.
Like his father, Conyers was a union auto worker in his youth and it shaped his attitude toward the working class and the labor movement all the years he represented the working people of Detroit. He was one of several African American members of the United Auto Workers who were elected to high office from Detroit notably, Detroit Mayor, Coleman Young. I interviewed Conyers many times, usually at mass rallies or marches. He was always sharp in his denunciation of the millionaires and billionaires and offered a penetrating class analysis to the political and economic crisis in our country.
It is heartbreaking that Conyers' brilliant career ended with charges of sexual harassment, behavior that can never be excused or covered up. Conyers denied the charges. Whether true or not, nothing can erase his 53 years of fighting for the people against the racists, warmakers, and exploiters.