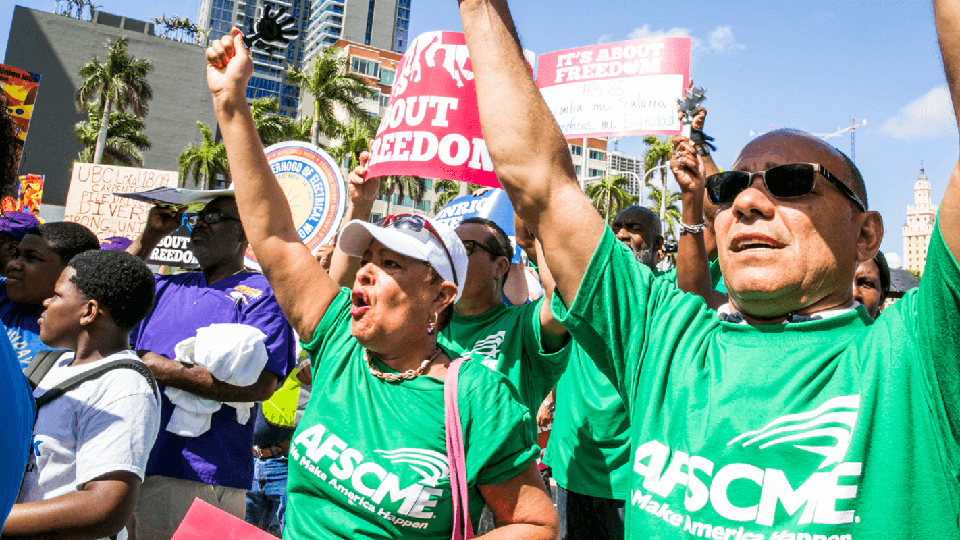 An expected anti-worker Janus ruling by the U.S. Supreme Court could cost public worker unions 726,000 members nationwide and cost each public worker more than $1,800 in yearly pay, a new report calculates.
And teachers could lose even more pay than that, adds the report, After Janus, by Frank Manzo, director of the Illinois Economic Policy Institute, and Bob Bruno, director of the Labor Education Studies program at the University of Illinois at Urbana-Champaign.
The looming High Court ruling would make every state and local government worker in the country a potential "free rider," and make all those workplaces virtual right-to-work sites, where workers could use union services without paying one red cent for them. That would impact union-covered workers in 23 states and Washington, D.C.
The Janus case involves an anti-union Illinois state worker, Mark Janus, represented by AFSCME District Council 31. Since Illinois is not a RTW state, Janus must pay "agency fees" covering only the costs of bargaining and contract enforcement, rather than union dues.
Janus and several other workers sued anyway, claiming any money they must send to unions, whether it's in fees or dues, violates their First Amendment free speech rights.
And they're on the verge of a win, as Justice Neil Gorsuch, named to the High Court by GOP President Donald Trump, is expected to join the other four GOP-named justices and side with Janus, the RTW crowd and against workers and unions.
Janus and his colleagues are financed and represented by the anti-worker National Right to Work Committee and its legal defense fund, along with the right-wing corporate State Policy Network.
Their win would accomplish the right's aim to de-fund unions by robbing them of members, fees and dues as workers quit. And the weakened unions would be less able to successfully oppose the right-wing anti-worker pro-corporate agenda.
The report lays out losses, state by state. Specifically:
Public worker unions would lose 726,000 people, or 8.2 percent of their members. Over time, as contracts expire and workplaces become RTW sites, the biggest losses would be in the most heavily unionized states: California (-189,000 members), New York (-138,000), New Jersey (-50,000), Illinois
(-49,000), Ohio (-40,000) and Pennsylvania (-38,000), the researchers calculate. Those six states account for 52 percent of all unionized public workers.
Some 10.7 percent of New York's public worker union members would drop out, as would 10.6 percent of Rhode Island's and 10.5 percent in Connecticut. Non-RTW states with lesser public worker union density would see smaller percentage losses, the report adds. The smallest would be in Missouri (-2.2 percent). Public workers in RTW states would be relatively unaffected.
All RTW states are 6.2 percent unionized in the private sector, 17.8 percent in the public sector and 35.3 percent among teachers. Union density in the non-RTW states is 15.2 percent among private sector workers, 53.2 percent among public sector workers and 75 percent among teachers.
A right-wing "institute" that helped Gov. Scott Walker, R-Wis., push statewide RTW through for public workers in 2011 and private sector workers several years later, crowed that Wisconsin's teachers' union, the state's biggest public-sector union, saw membership drop from 100,000 in 2010 to 38,000 now. And it said the union's campaign finance committee has donated virtually nothing since RTW took effect. Union political committees run solely on voluntary contributions, not dues.
An average public worker would lose $1,810 in wages (3.5 percent) per year, again over time as contracts expire. That's because as unions lose members due to Janus, their ability to bargain would weaken. Teachers, now 75 percent unionized, would lose 88,000 members – five percentage points of their membership — and 5.4 percent of their average annual pay.
In D.C., New Jersey, Connecticut, Alaska, New York, California and Massachusetts, the average public worker would see a pay drop of between $2,042 (Massachusetts) and $2,238 (D.C.) yearly. Public worker pay would decline an average of $1,767 in Illinois, site of the Janus case.
More African-Americans would see their wages drop, proportionately, as unions weaken, than would members of other races. That's because African-Americans are more likely to be public union members working in state and local government,
Though the researchers did not say so, several unions with high shares of public workers, including the State, County and Municipal Employees and the Service Employees, are majority-minority.
Not only would workers lose pay, but everybody else would lose an income boost. Higher-paid workers who see their wages cut then must cut back on purchases, the report explains. That "multiplier effect" would cost the U.S. economy between $11.7 billion and $33.4 billion over time, it adds.
The authors caution they could be understating Janus' impact. Their calculations "are conservative estimates that utilize only the smallest expected impacts…The decrease in wages after Janus may be higher for some public sector workers, including teachers."
"Second, this analysis only investigates wage and salary income and does not consider the change in fringe benefits, such as health coverage or pension plans, that are likely to follow from the Janus decision. Including changes to benefits could reduce total compensation for state and local government employees even more. And third, these effects would exacerbate the pay penalty that already exists for those who work in the public interest."
The Janus pay cuts will hit the middle class, not the 1 percent who make at least $99.31 per hour and only 0.5 percent of which are public workers. "Offsetting middle-class wage cuts in the public sector with lower taxes disproportionately benefits rich households who see the largest tax cuts and are the least likely to be employed by the public sector. Because the rich spend less money as a share of their total incomes, the tax-cut offset is not enough to stimulate the broader economy," the report notes.
The report forecast union revenues would decline – an obvious conclusion – but put no numbers on that.
Illinois Economic Policy Institute spokesman Todd Stenhouse said that may be impossible to construct, given differing unions' dues structures, union to union and local to local, and associated differences in "agency fee" levels.
"By encouraging free riding, the Janus decision could impose lasting changes on the labor movement," the report says (their emphasis).
"A Janus decision against fair share fees would be the largest change to collective bargaining rights in the United States in decades. The decision would reduce unionization, lower public sector worker earnings, and have negative impacts on the U.S. economy. The response to Janus will be critical to the long-run survival of the U.S. labor movement and the American middle class."