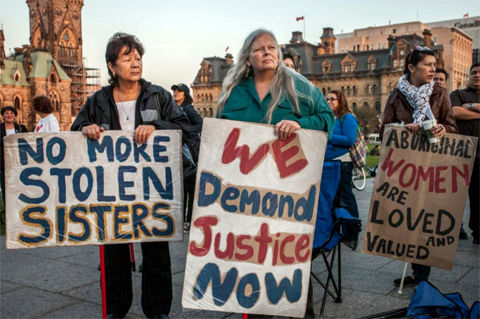 A new report exposes how indigenous women in Canada are being murdered and are disappearing at alarming rates.
The document, entitled Missing and Murdered Indigenous Women in Canada, was issued Jan. 12 by the Inter-American Commission on Human Rights. In addition to stating the problem and identifying contributing factors it criticizes the lack of action on the part of the Canadian government.
The report comes at a time when indigenous people, women in particular, continue to express little confidence that the government will act to protect them. The Canadian Prime Minister, Stephen Harper, himself did little to change that assessment when he responded to press questions last December about the murders and disappearances. He was reported at that time to have said: "Um it, it isn't really high on our radar, to be honest … Our ministers will continue to dialogue with those who are concerned about this."
The study reveals, in stark language, the extent of the murders and disappearances of the women: "Indigenous women are going missing. Indigenous women and girls in Canada have been murdered or have gone missing at a rate four times higher than the rate of representation of indigenous women in the Canadian population which is 4.3 percent."
The figures were collected by the non-profit organization Native Women's Association of Canada (NWAC) through an initiative financed by the governmental entity, Status of Women.
The report points out the failure of the Canadian police and government to seriously address the issue of missing and murdered women saying that most of the cases that the police have on file of the missing and murdered indigenous women go unsolved. "In May 2014 the Royal Canadian Mounted Police released a report in which they documented that police-recorded incidents of homicides of indigenous females and unresolved missing indigenous females amounted to 1,181.
The report indicated that there are 181 missing and murdered indigenous women in Canadian police databases: 164 missing (dating back to 1952) and 1,017 murdered from 1980 to 2012. Of these there are 225 unsolved cases of either missing or murdered Indigenous women.
The report also talks about violence and racism that indigenous people face.
This is an improvement over many previous reports that have overlooked some of the root causes underlying the high rates of murder and disappearance: "As a consequence of this historical discrimination, the IACHR understands that indigenous women and girls constitute one of the most disadvantaged groups in Canada. Poverty, inadequate housing, economic and social relegation, among other factors, contribute to their increased vulnerability to violence. In addition, prevalent attitudes of discrimination – mainly relating to gender and race – and the longstanding stereotypes to which to they have been subjected, exacerbate their vulnerability….
"A comprehensive holistic approach applied to violence against indigenous women means addressing the past and present institutional and structural inequalities confronted by these women. Elements that must be addressed include the dispossession of their land, as well as historical laws and policies that have negatively affected indigenous women, put them in an unequal situation, and prevented their full enjoyment of civil, political, economic, social and cultural rights"
Even though this report was done in Canada indegenous people and their advocates say that the same issues are affecting indigenous women all across the Americas.
There will be an annual march on Feb. 14 for missing and murdered indigenous women in Canada.
To build support for the event Sing Our Rivers Red (SORR) is asking indigenous women and their allies to send in a single earring to represent the missing and murdered women. Events will take place in the Fargo/Moorhead area, of North Dakota which the Red River Valley runs through. The Red River runs down from Winnipeg, Canada where volunteers have led an effort to search for missing indigenous women on its riverbed, an effort dubbed Drag the Red.
The effort was started by the family of an indigenous woman who has been missing since 2008, after the body of an indigenous 15-year-old girl was found there in August, 2014. Sing Our Rivers Red events emphasize that supporters have a voice to not only speak out against injustices but to begin the process of healing.
Water, they note, is the source of life and, women too, they say, are the source of life. The idea is to "Sing Our Rivers Red" to remember the missing and the murdered and those who are metaphorically "drowning" in injustices. A concert will be included in the event.
Photo: Amnesty International Canada