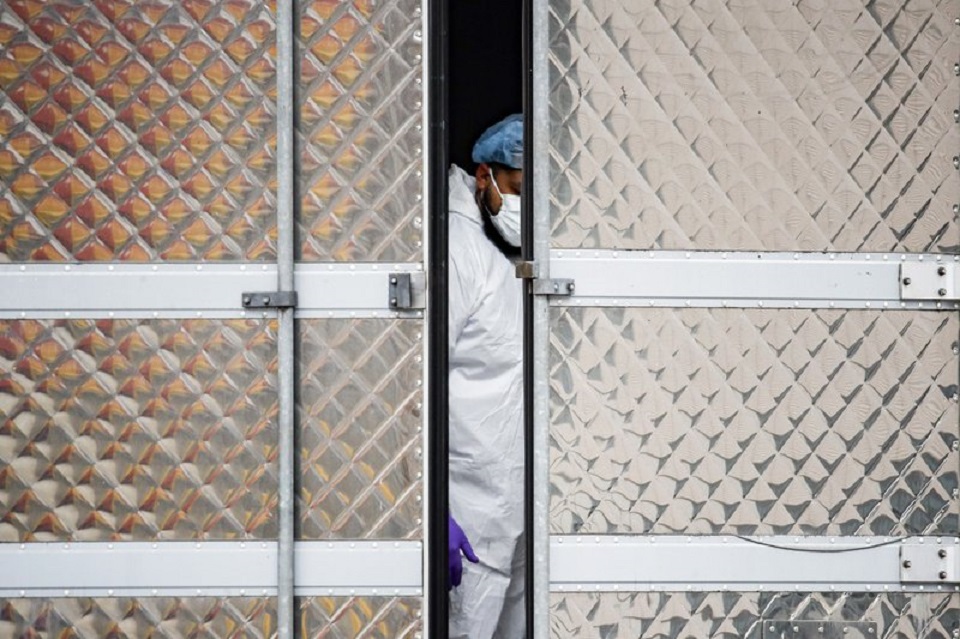 WASHINGTON—Governmental chaos, mostly in Washington and mostly due to Donald Trump, led to the weak U.S. response to the outbreak of the coronavirus in the U.S. just over three years ago.
Lessons from the Covid War, researched by a non-partisan scientific and public health panel of 36 experts–originally assembled to staff what was going to be an objective investigation of action and inaction against the modern-day plague—adds three other factors to the chaos: Misinformation, disinformation, and politics.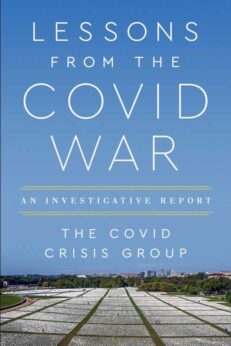 It confirms what at least one union leader, United Food and Commercial Workers President Marc Perrone, said early on: Republican Oval Office occupant Trump had a big hand in the mess.
The Biden administration has apparently brought order out of the chaos at the federal level, say the conveners of the panel and coauthors of the report, historian Phillip Zelikow and public health specialist Dr. Charity Dean. But chaos remains among the states and local governments. And distrust of public health warnings—built on past contradictory or evolving statements—remains a common ill.
This means, as Democratic President Joe Biden finally ends the national coronavirus emergency his predecessor declared on March 13, 2020, the U.S. will have problems battling the next pandemic when—not if—it occurs, the book-length report concludes.
On April 20, in its annual list of "high risk" government programs and agencies, the non-partisan Government Accountability Office said the same thing.
One main problem with the U.S. coronavirus response, Lessons From The Covid War says, is the U.S. tried to battle a 21st-century disease with a 19th-century public health system, literally. That decentralization, erected in the time of cholera in the mid-1800s, remains.
The other main problem, Zelikow bluntly told Post health care reporter Dan Diamond, who interviewed them, was Biden's predecessor, Trump. To adopt a well-known phrase during the pandemic, Trump was a "superspreader," but of disinformation.
Trump pooh-poohed and rejected face masks, plumped for "cures" such as drinking bleach, demanded schools open too early, and ordered "essential" workers stay on the job even if they lacked personal protective equipment (PPE), the report says.
All that give mixed signals at best to Republican officeholders, who feared to cross him, and upset his legions, the report says. It notes they hate restrictions, oppose all school closures, and even more completely distrust any official or agency, except Trump.
We said federal crisis management collapsed," Zelikow told Diamond. "We say President Trump abdicated his duty of national leadership. I think a commission, half of whose members were appointed by the current Republican Party, would have difficulty endorsing sentences like that, but that's what happened.
"A number of things…failed at the state and local level…People in the public health community feel uneasy because we say, fundamentally, their structures are structures that were designed for 19th-century problems and aren't really ready for 21st-century problems. I think there are a lot of people in that community who know that's true, but those are hard things to put on paper."
The book-length report had its genesis in the failed attempt to establish a bi-partisan task force, similar to the 9/11 Commission, to investigate, objectively, the government's response to the pandemic, or lack of it. Zelikow had co-chaired the 9/11 Commission. Congressional Republicans nixed the commission.
Kept them together
Nevertheless, Zelikow and Dean kept their task of 34 researchers together, to produce this report. But without the clout of congressional document demands or subpoena powers, it has gaps, however damning it is.  The two authors admit it.
Still, their researchers never questioned Dr. Deborah Birx, one of the two health professionals on Trump's coronavirus task force. Birx fought hard against fake cures before finally leaving in disgust. She later testified the first 100,000 U.S. coronavirus deaths were unavoidable, but the rest—now totaling more than a million—were not.
Also unquestioned: Vice President Mike Pence, the nominal first chief of the task force, his chief of staff, who was the operational head, or presidential aide Jared Kushner, Trump's son-in-law, who repeatedly interfered. The task force rapidly became irrelevant, the report concludes.
Meanwhile, the task force, and Trump, ignored a "game plan" for battling pandemics, left to them by the Democratic Obama administration after it successfully stopped the spread of the Ebola virus in the U.S.
It's unclear why the game plan was ignored, though Trump detested his predecessor, Barack Obama. Other Republicans also hated the nation's first African-American president.
But without subpoena powers for documents or testimony, Zelikow, Dean and their colleagues had to work with published records, memoirs from Trump-era officials, and outside investigations. And even they admit they didn't catch everything or every government error.
To give one obvious example, meat and poultry processing plants were identified early on as virus "superspreaders." Response to that discovery varied, often due to state and local politics. That was obvious. Behind the scenes in the Trump regime, corporate officials manipulated it. That wasn't.
Thus the People's World, ProPublica, and Public Citizen all reported on Trump ordering the plants to stay open even if bosses didn't provide workers with personal protective equipment (PPE) and ignored safety measures such as physical distancing, handwashing, and plant closure and disinfection when needed.
ProPublica even noted meat and poultry producers had anti-pandemic plans in place, but only to combat viral spread among the chickens, turkeys, ducks, hogs, and cattle they processed, and not among the people who processed them.
But only U.S. House investigators uncovered, and only People's World reported on, memos from industry lobbyists to and from White House and Agriculture Department officials, pressuring USDA to let the plants keep running, and their profits going.
Those same memos, released by the House Select Committee on the Coronavirus Response, showed other Trump officials, in conversations with the producers' lobbyists, often treated the viral outbreaks as a public relations problem for Trump during his re-election campaign.
The only other entity that blew the whistle on those secret talks was the United Food and Commercial Workers, whose union represents those packing plant workers.
"Today's report" by the House committee "confirms what we already knew: The Trump administration's negligence and unethical actions endangered America's meatpacking workers and their families at the height of the pandemic," UFCW President Marc Perrone said on March 13, 2022.
Sounded the alarm
"UFCW repeatedly sounded the alarm about the Trump administration's failed oversight of the industry and its inability to protect the people that kept food on our nation's tables." The House's report then "shows their failure was not only tragic but a deliberate attempt to put industry profits ahead of the people just trying to make a living."
The public health system is so decentralized and haphazard, the report, Zelikow and Dean said, that all during the Trump regime, nobody knew who was in charge.
The Minnesota Reformer, citing ProPublica, added: "The Centers for Disease Control and Prevention could only offer guidance. the Department of Agriculture dealt with animals and food. The Labor Department had few rules that applied to a virus. And the power of local and state health officials varied from state to state."
There was no centralized decision-making, Lessons From The Covid War says. nobody tracked the availability and distribution of needed personal protective equipment (PPE) and nobody at the federal level—other than Drs. Anthony Fauci and Birx—undertook a concerted effort to counter the misinformation, disinformation, and distrust of authority.
In so many words, nobody of clout contradicted or overrode Trump when he said people could cure the disease by drinking bleach, or when he demanded "essential workers" in processing plants stay on the job, even without PPE, even when those plants were proven superspreaders of the modern-day plague.
Again, unmentioned in the interview, unions twice tried to bring some order out of the chaos, by suing in federal court to get the Trump regime to act seriously to prevent superspread of the virus.
In the first case, the National Nurses United and the AFL-CIO sued for an injunction to force the Trump Occupational Safety and Health Administration to write an emergency rule—to take effect immediately —forcing firms to protect healthcare workers against "community spread" of the virus. They lost, and the memos the lawmakers uncovered showed Trump regime officials chortling at that result.
In the second case, the AFL-CIO went to the U.S. Court of Appeals for D.C., which covers federal agency actions, arguing for a wide-ranging OSHA rule that would protect not just workers but customers against the virus, again by forcing OSHA to write a rule ordering coverage of worksites, which thus would cover both workers and customers. The D.C. judges passed their case on to the Supreme Court, where the Republican-named majority, including Trump-named Justices Neil Gorsuch, Amy Coney Barrett, and Brett Kavanaugh, said "no."
Protecting the health care workers was within OSHA's mandate, the majority said. Protecting the entire public wasn't.
One positive development, Zelikow and Dr. Dean told Diamond, was the fast turnaround from the government's demand—accompanied by billions in subsidies—to drug makers to develop anti-coronavirus vaccines and the time they got to market and into consumers' arms. Now Dr. Dean said, such fast response should be built into public health infrastructure, in an organized way.
"We came at this with popsicle sticks and duct tape at times, and incredible inventions came out of it. Let's harden the infrastructure that worked so that we have a permanent capability," she said.
We hope you appreciated this article. At 

People's World

, we believe news and information should be free and accessible to all, but we need your help. Our journalism is free of corporate influence and paywalls because we are totally reader-supported. Only you, our readers and supporters, make this possible. If you enjoy reading 

People's World

 and the stories we bring you, please 

support our work by donating or becoming a monthly sustainer today

. Thank you!