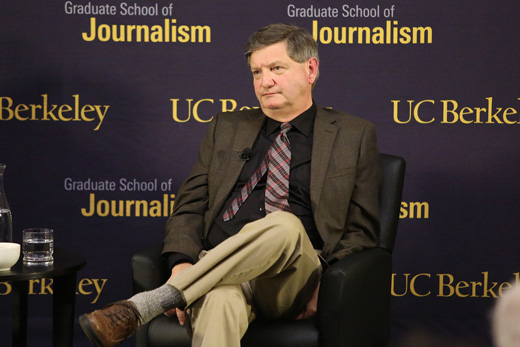 WASHINGTON – The Newspaper Guild-Communications Workers of America will give its 2014 Herbert Block Freedom Award to James Risen, a New York Times reporter who has defied a federal subpoena since 2006 demanding he reveal his key source for a book on the CIA, the Bush administration and the war on terror, TNG-CWA President Bernie Lunzer announced.
The award, named after the late Washington Post cartoonist and 67-year (1934-2001) Guild member, honors Risen for "risking his own freedom to protect the principles essential for a truly free press," the union said.
Since Risen published his book, State of War, the Justice Department, under both the Bush and Obama administrations, has pressured him to yield to its subpoena and name his key source. Risen has battled the feds all the way to the U.S. Supreme Court, which upheld lower court rulings enforcing the subpoena. Despite the threat of jail for contempt of court, Risen continues to refuse to reveal the name.
"With his book, Risen did what great journalists do," Lunzer said. "He dug for information, developed sources who trusted him and ultimately exposed some of the hard truths behind the war on terrorism. Without jeopardizing national security, he told Americans what their government wouldn't. That is his job, the job of all journalists. And we are all better for it."
But "many journalists already report sources are drying up out of fear of being fired and prosecuted if caught. What Risen is doing helps ensure the well" of confidential sources "doesn't dry up for good, which would be a catastrophic blow to our democracy," he added.
Risen is scheduled to receive the award, with a $5,000 check accompanying it, at a TNG ceremony in mid-October. Whether he will be able to do so in person is uncertain, said Lunzer. Risen's attorneys have told him not to discuss the case. And the federal sub-poena – and potential jailing for contempt of court for his defiance – still hangs over his head.
The threat of further prosecution of Risen comes just after the Guild, along with 36 other journalistic organizations, signed a letter to the White House protesting its increasing secrecy and refusal to release information. The groups also note the Obama administration now either won't let officials speak, or, when they do, insists on having "minders" sit in on the interviews. There has been no response from the administration.
Photo: Reporter James Risen speaks during the "Prosecuting the Press" event at the UC Berkeley Graduate School of Journalism on November 14, 2013. Alex Menendez/AP