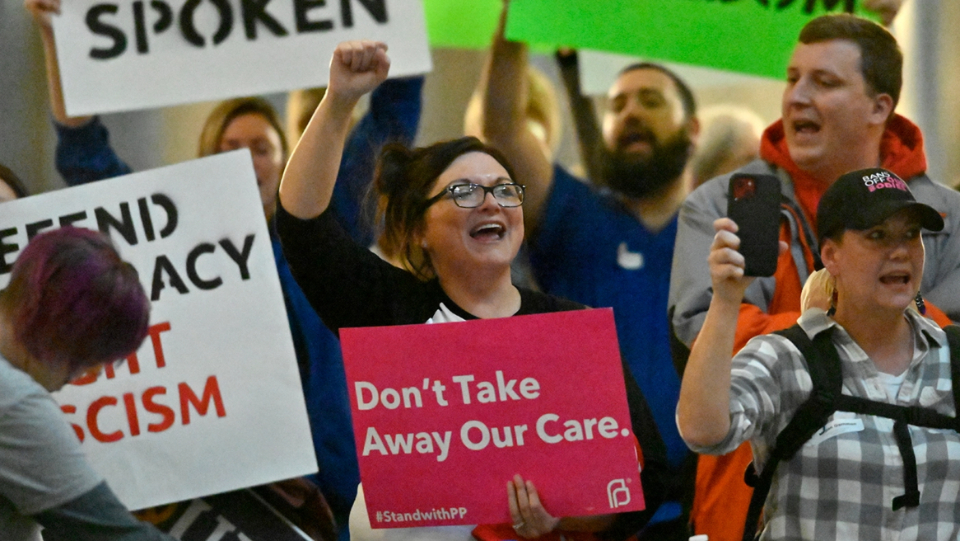 On Election Day 2022, November 8, voters, defying political gravity and beltway pundit groupthink, struck a major blow against MAGA Republican extremism. The "blue wall" met the "red trickle" as voters turned out to defend constitutional democracy, the rule of law, the peaceful transfer of power, and, specifically, reproductive rights.
The anti-MAGA majority in defense of democracy has now asserted itself in the last four elections; in 2016 when Hillary Clinton won the popular vote; in 2018 when Democrats won control of the House of Representatives; in 2020 when Biden defeated Trump and Dems won both houses of the Congress; and this year when the widely predicted red wave flattened into a ripple.
"Abortion was on the ballot, and abortion won," declared Alexi McGill Johnson, CEO of Planned Parenthood Action Fund at a post-election Zoom press conference. "For many people, this election was the first chance they had to express how they felt after Roe was overturned."
Indeed, the election framework was immediately "re-defined" on June 24 when the right-wing-dominated U.S. Supreme Court overturned Roe v. Wade in the Dobbs decision. The ruling set off alarm bells and sparked a surge in the registration of new voters, particularly young women. Threats to democracy, racism, gun violence, the economy, and abortion access were simultaneously on the minds of voters as they cast their ballots this year, said Johnson.
After Roe, Democrats overperformed in five special House elections, and the anti-abortion referendum in Kansas was spectacularly defeated. An outpouring of young women voters led to the Kansas victory. Women were 69% of new registrants in Kansas post-Dobbs.
Despite these outcomes, pundits incomprehensively declared the effect of the Dobbs decision was waning as the election approached, replaced they said by more significant concerns over inflation and the economy. Some Democratic consultants even called upon candidates to de-emphasize reproductive freedom. They ignored what voters were saying and, indeed, misread women.
Reproductive choice remained a critical issue motivating Democratic voters as Republicans subsequently adopted draconian anti-abortion laws in "red" states, and as Sen. Lindsey Graham, R-S.C. declared Republicans would pass a national ban if they won the majority. Ultimately, 62% of women under 45 listed abortion as their top issue.
The result is a Democratic Senate majority, only a narrow loss in the House, and the winning of four Democratic state "trifectas"—the governorship and majorities in both legislative chambers. In addition, voters in five states either amended state constitutions to enshrine abortion rights or defeated attempts to strip them.
"What we saw in the data early on, particularly around voters of color, was that they recognized that abortion rights signaled a harbinger of losing additional rights," said Johnson. "Our bodies have always been contested. We understand what it means that when you lose the ability to control your own body, all of the other rights can be taken away."
In 2022, the gender gap was the largest recorded in 24 years of polling, powered by young women and women of color. Seventy-two percent of young women 18-29 years old voted for Dems in House races, and 77% voted for Senate candidate John Fetterman, who championed abortion rights. The highest support came from African American women under 50 years old and Latinas.
The turnout was both a spontaneous outpouring against the looming MAGA danger—particularly in battleground states where reproductive rights were at stake—and the result of a massive voter mobilization led by major reproductive rights and women's rights organizations and other pro-democracy groups.
Three organizations—Planned Parenthood Action Fund, Emily's List, and NARAL Pro-Choice America, all represented at the press conference—concentrated their efforts in battleground states and key races. "Women across racial demographics voted for pro-choice candidates at higher rates than men. These three groups (Planned Parenthood, Emily's List, NARAL Pro-choice) joined together to spend $150 million to protect our rights, trained candidates, and launched a war room," said Laphonza Butler of Emily's List.
"We saw that when voters knew what was at stake, they turned out and showed up. We are happy that a diverse coalition of women voters ensured pro-choice candidates won at every level," said Butler.
Nowhere was this mobilization more evident than in Michigan, where voters propelled by abortion rights awarded Democrats a "trifecta" for the first time in 40 years. After the Dobbs decision, Michigan reproductive rights activists began organizing to put a referendum on the ballot enshrining reproductive rights in the state constitution. They collected a record 750,000 signatures to put the referendum on the ballot. The issue lifted Dems in races statewide, re-electing Gov. Gretchen Whitmer and other women statewide office holders.
"We mobilized our four million members, knocked on 300,000 doors, made 700,000 calls, 900,000 texts, 5,000 voter shifts," said Mini Timmaraju, president of NARAL Pro-Choice America. "Michigan was a pilot project. We hired 14 organizers on seven four-year campuses, 20 community college campuses, and activated 1,000 volunteers."
"We've got to keep showing up," said Timmaraju. "This is a long game and long fight. What Georgia and some of these states in the deep south need is investment in organizing and accountability work."
"We had victories in the Georgia state legislature even though Stacey Abrams lost. I want to give a big shout out to Stacey Abrams, a leader on reproductive rights in one of the toughest states and against Brian Kemp, the architect of the anti-abortion law." Even though Abrams lost, a record number of women will serve as governors, reflecting the engagement of women voters.
PP Action Fund focused on Michigan, Pennsylvania, and Wisconsin and was part of significant victories in each state. "This speaks of collaboration with groups working at state level. Planned Parenthood has been part of this for several cycles now and it's beginning to produce results," said Johnson.
In Wisconsin, Democratic Gov. Tony Evers won re-election. Evers' veto pen is the only thing standing in the way of GOP extreme gerrymandered majorities in the state legislature poised to pass even more restrictions on abortion access.
"Planned Parenthood reached out to 3.1 million voters via text, phone, field, etc. to elect champions up and down the ballot," said Johnson. "We reached 10 million voters through digital and TV and recruited 28,000 volunteers."
"Elections are not movements in themselves. They are moments that come and go. But we know that rights will take generations to fight back," Johnson said.
In Nevada, voters re-elected Democratic Sen. Catherine Cortes Masto over GOP extremist Adam Laxalt. Even though Republican Joe Lombardo was elected governor, the majority Democrat, and majority woman state legislature will block schemes to repeal reproductive freedoms.
Reproductive rights leaders also lauded the role of Vice President Kamala Harris, who worked tirelessly throughout the election cycle. Harris was the leading spokesperson in the Biden administration on reproductive rights, mobilizing women and people of color. She held 35 official events and roundtables beginning in May and hosted a White House meeting between women's rights and civil rights organizations on reproductive rights, voting rights, and democracy.
"This is about the government deciding, in many states, that it's in a better position to tell a woman what's in her best interest than she is," Harris said at a BET-sponsored event at Howard University. "And I say on this issue, we need to take back the flag because this is about the founding principles of our nation: freedom and liberty.
"Your right to equality, your right to freedom, when they are intact, they're strong in terms of what they give to protect and defend individual rights," Harris said. "On the other hand, it's very fragile, democracy. It will only be as strong as our willingness to fight for it. And so fight we must. Fight we will."
Currently, Democrats can protect reproductive rights in the states they dominate. But the fight to restore and codify reproductive rights still faces enormous right-wing opposition. The GOP is captive to the MAGA fascist movement and the right wing of the evangelical and Catholic Churches and cannot break with them. Therefore, abortion bans and anti-LGBTQ, anti-worker, and voter-suppression legislation will continue to dominate GOP policy. Moderate and young voters, especially young women voters, will be repulsed by the GOP in 2024 and the foreseeable future.
Abortion rights is a winning issue and will continue to be in elections to come, said Timmaraju. "That means Democrats need to keep reproductive freedom at the top of their policy agenda and fight to not only codify Roe but expand access to abortion and birth control."