Conservatives in the U.S. Congress are again on the offensive against Nicaragua's left-leaning Sandinista government. Their counterparts in the 1980s backed the CIA-organized "contra" guerrillas, at war with the Sandinista government of that era. Leading the charge in Congress now is Florida Republican Rep. Ileana Ros-Lehtinen. She is also Congress' most raucous foe of the Cuban and Venezuelan governments.
On April 5, she and New Jersey Democratic Rep. Albio Sires introduced the Nicaraguan Investment Conditionality Act (NICA), H.R. 1918; the bill has 24 co-sponsors. The two legislators did likewise in 2016, and the House passed their bill unanimously. A Senate companion bill, introduced by Sen. Ted Cruz, died in committee.
Ros-Lehtinen, whose father served the Batista dictatorship in Cuba, had just returned from a tour of Honduras and Guatemala, where, reportedly, she insisted to the business elite that they withdraw investments from Nicaragua. Having journeyed across the border, tobacco producers in Estelí, Nicaragua met with her in Honduras.
The proposed legislation would require, among other things, that the President to use his influence to instruct international financial institutions to oppose "any loan for the government of Nicaragua's benefit." Lending would be off until "the Department of State certifies that Nicaragua is taking effective steps to…hold elections overseen by credible domestic and international electoral observers…, promote democracy and an independent judiciary system and electoral council, [and] strengthen the rule of law."
Pretexts for the intervention proposal rest on accusations of electoral irregularities, governmental corruption, and the creation of a "political class" far removed from the country's majority population.
A U.S. veto would apply to the International Monetary Fund, the World Bank, and the Inter-American Development Bank, thus jeopardizing developmental loans worth $250 million annually. According to Ros-Lehtinen's website, the 2017 version of the bill also requires that Nicaragua combat corruption. Proponents of the current NICA Act, looking for support from the Trump White House, supposedly are counting on Helen Aguirre Ferré, the Director of Media Affairs there; her family is Nicaraguan.
Nicaragua's government objected to the reinvented NICA Act, as "one threat more, of the many that have hovered over the country throughout its history, in the zeal of imperialist mentalities to appropriate the national territory."
The statement claimed that "the irrational, inopportune, and inadmissible pretention of those congresspersons, whose extreme views are well-known, is aimed only at destabilizing a country where people are the priority." It also cited Nicaragua's "proven capacity for governing, for responsibly managing the economy, [which] has converted us into a country with sustained growth."
Even the General Secretariat of the Organization of American States, whose secretary general is leading attacks against Venezuela and recently Bolivia, objected to the NICA Act as "not a productive contribution to the tasks that the Government of Nicaragua and this General Secretariat are carrying out in terms of cooperation."
Nicaragua's successes may have unsettled officials in Washington. The country achieved a 4.6 percent economic growth rate in 2016, a year in which the minimum wage increased by 6.3 percent. By contrast, neighboring economies grow at rates of two to three percent. At $2.5 billion in late 2016, Nicaragua has ample international monetary reserves. Its debt load is down 0.4 percent from the previous year.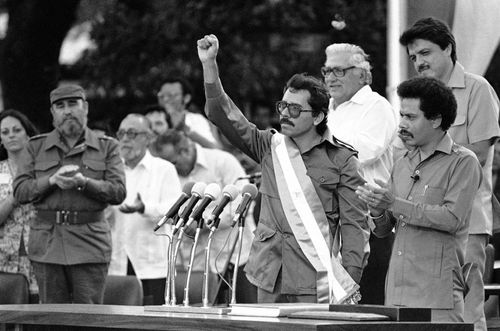 The Sandinista government has tried to attend to people's basic needs. Therefore, an attempt to destabilize its government through economic sanctions risks injury to an already vulnerable population. Almost 50 percent of Nicaraguans live in poverty, although extreme poverty fell from 11.2 percent in 2010 to 5.5 percent in 2015. Unemployment hovers around 12 percent, with higher rates in rural area. Too many children are still working rather than attending school, however, according to the U.K. Guardian. Yet infant mortality has fallen. In 1990, 90 babies per 1000 live births died in their first year; that number was 21 in 2012.
Nicaragua's government has offended political leaders in Washington presumably through its socialist origins, its alliances with progressive Latin American governments, and its agitation for regional unity. And apparently it won't go away on its own: the ruling party won overwhelmingly in presidential and parliamentary elections in November, 2016. Ironically, the ruling Sandinista government now allows almost free rein for private corporations and even multi-nationals.
The NICA Act's main significance lies in its revival of a long, unhappy tradition: U.S. intolerance of Latin American and Caribbean nations that stand up for social justice, national independence, and regional unity. The most florid illustrations are well-known: assaults against Cuba, invasion of the Dominican Republic in 1965, and U.S.-engineered coups in Guatemala (1954), Chile (1973), and in Venezuela (2002) where regime-change activities are in progress now. The object of those projects was domination, just as it is with the more modest efforts underway now against Nicaragua.