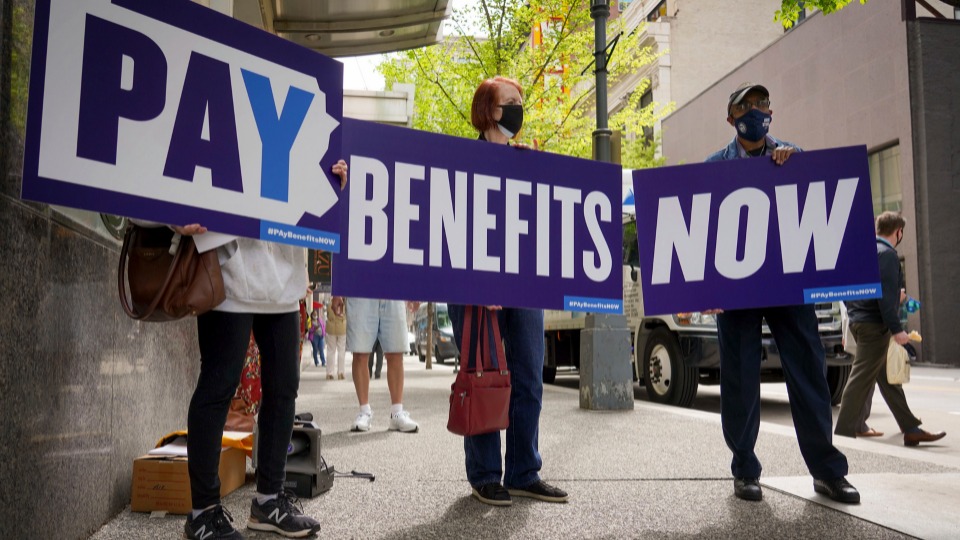 WASHINGTON—Private employers claimed to add 492,000 net new jobs in May, the Bureau of Labor Statistics reported June 4. Governments added 67,000 more. That, and the drop in monthly joblessness from 6.1% in April to 5.8% in May, is good news.
The bad news, coming virtually every day, is that Republican governors are cutting off $300 weekly federal jobless aid checks to millions of workers. That may sabotage the recovery from the coronavirus-caused depression. The latest was Maryland's Larry Hogan. His cutoff will start July 3.
Those checks are supplements to regular state unemployment, but for many "gig economy" workers, "independent contractors," musicians, and others who aren't covered by state-run jobless aid, the $300 is the only money they can depend on. There are 6.37 million such workers, 41% of the 15.44 million workers who received state or federal jobless checks as of May 15, BLS said.
Another 5.29 million in the large group got the $300 checks after state benefits ran out. They'd get cut off at the financial knees, too. By contrast, 3.45 million jobless still got state aid.
Workers who each get the $300 recycle the money back into the economy, using it to buy groceries, pay the rent, and take kids to the doctor, helping create or sustain other jobs.
Jobs are returning, but at a slower pace than what is needed. The unemployment crisis continues for millions, like these workers. From left: Mikel Haye of Brooklyn lost all three of his part-time jobs when the pandemic struck; he, his mother, and two brothers are still scrambling to pay bills at the apartment they share. Ellen Booth, 57, of Coventry, R.I., lost her restaurant job last year and is studying to become a certified medical coder. Her unemployment benefits have run out and she is now surviving by spending her retirement savings. Gabby Namm of Queens, N.Y., had been a professional cook for eight years, but the restaurant where she worked was shuttered by the pandemic. Fakisha Fenderson and her son Tyler live in Laurel, Miss. Her weekly unemployment allotment was under $100, so she never benefited from the $300 supplemental. | AP photos
"I rely on that extra money to keep a roof over our heads," Unite Here Local 25 member Felicia Gibbs, who worked at Gaylord National Harbor in the D.C. suburbs before being laid off in March 2020, told Chris Garlock of the Metro D.C. Central Labor Council.
"This just sends us scrambling as we waited to hear back from our old jobs. Gov. Hogan should reverse this terrible decision."
"Gov. Hogan's suggestion that pandemic-induced unemployment has abated is completely out of touch with our industry trends and the pain workers statewide are still experiencing," Unite Here Local 25 Executive Secretary-Treasurer John Boardman told Garlock in a statement. State lawmakers are seeking ways to override Hogan's cutoff.
BLS said the number of unemployed declined to 496,000 in May, to 9.316 million. Factories added 23,000 jobs, all in cars and parts (+24,800). But construction firms shed 20,000 workers. All the rest of the net private-sector job gains were in services.
The biggest job gains were in the lowest-paying occupation, bars and restaurants (+189,000 jobs). But that sector, the worst hit when the depression began 13 months ago, still has a 10.2% unemployment rate, BLS said.
The second-biggest gains were in local and state education. Schools and universities started reopening, responding to new anti-pandemic guidelines. Combined, they added 103,000 jobs in May.
Although the job gains are welcome news for working people, analysis from the Economic Policy Institute shows that even if current monthly employment gains continue, the country won't return to pre-pandemic levels until well into 2022.
Analyzing the latest numbers, EPI senior economist Elise Gould said that officially the labor market is still down 7.6 million jobs since February 2020 when the coronavirus crisis started. But taking into account the growth in the working-age population since then, the real jobs shortfall is still between 8.6 and 10.7 million.
The jobs recovery remains very uneven by race. For white workers, the official rate is 5.1%, close to the national average. For workers of color, the number of people still out of work is considerably higher: 7.3% for Latinx, 5.5% for Asian Americans, and 9.1% for Black workers. EPI economist Heidi Shierholz said Friday that the numbers show how "our history of and present systemic racism hugely affect the labor market."
"Because of occupational segregation, discrimination, and other disparities rooted in white supremacy, this crisis is hitting Black and Latinx workers far harder than white workers," Shierholz added.
She also dismissed right-wing claims of a mass labor shortage or the idea that overly generous unemployment benefits are keeping people from working. Looking at the pace of wage growth, Shierholz said the evidence "does not point to widespread labor shortages in today's labor market."
If there was a true lack of workers, then market logic would demand that employers pay higher wages to entice workers.
"Employers who face a real shortage will respond by bidding up wages to attract workers, and employers whose workers are being poached will raise wages to retain workers." But looking at the economy as a whole, Shierholz concluded that outside of a few narrow sectors, "Wages are not growing in a way that suggests any hint of a shortage."
All the data point to the reality that the U.S. still faces a large jobs shortfall, despite the positive news of gains. That means that all the relief and recovery measures—including the $300 unemployment supplement that Republican governors like Hogan are canceling—must be kept in place to sustain workers and their families as the economy gradually improves.
Cutting benefits now only jeopardizes the pace of recovery.