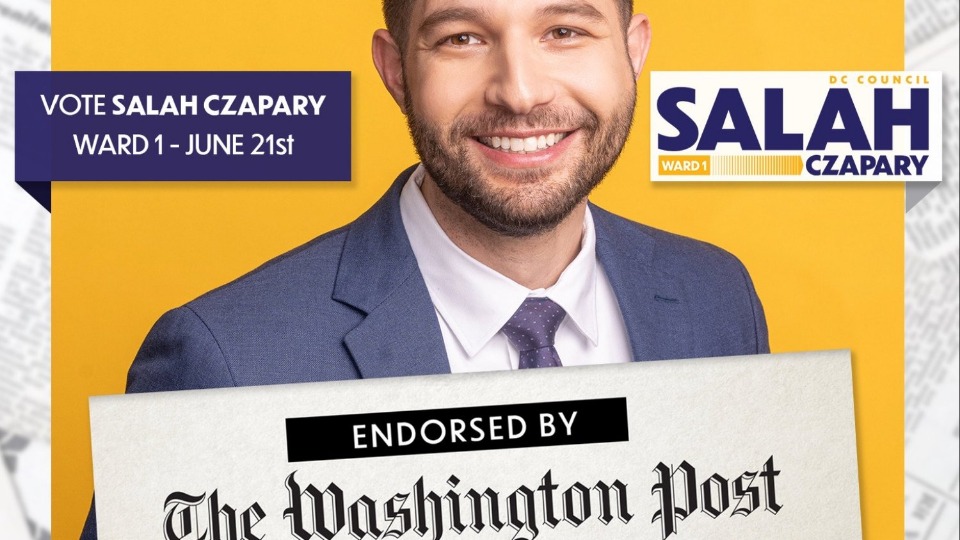 WASHINGTON—It wasn't until a surprising Washington Post editorial board endorsement that the D.C. community heard about a former police officer who was running for city council in this year's Democratic primary elections slated for June 21.
Salah Czapary is a former D.C. police officer and former special assistant to the chief of police who is running to unseat incumbent Ward 1 city councilmember Brianne Nadeau. Some of his top campaign issues, according to his website, are: (1) broadening public safety, (2) illegal All-Terrain Vehicles and noise concerns, (3) protecting the right to choose, and (4) affordable housing for all.
Related to public safety, Czapary wrote an opinion article in the Washington Post calling for the hiring of more police officers and more resources for the current force, though D.C. already has the highest police presence per capita in the country. He also was featured recently on the reactionary pro-Thin Blue Line podcast "Policing Matters" discussing his vision for "improved community safety" in Washington, D.C.
Recently, an exposé in the Washington City Paper (thanks to some progressive organizers like D.C. for Democracy Chair Alex Dodds) revealed that Czapary's campaign chair was William Pack, the son of Trump appointee and Steve Bannon ally Michael Pack. The Packs have a relationship to the Claremont Institute, which is an extreme right think tank that has ties to fascist darlings Laura Ingraham, Ben Shapiro, and U.S. Sen. Tom Cotton of Arkansas, as well as ties to the Jan. 6, 2021 attempted coup d'etat.
After the ties to Trump donors and appointees were exposed, Czapary played damage control and asked Pack to immediately step down from his role and replaced him with Paul Kugelman.
The City Paper article also revealed that Erik Regensburg, Czapary's campaign treasurer, was registered as a Republican as recently as November 2021.
So the question is: Are Republicans trying to opportunistically run as Democrats in D.C. to shift the city's politics to the right?
Records show that Czapary was registered as an independent as of January 2022 before switching to the Democratic Party in February to jump in the race. Records also show he also has no history of ever voting in a Democratic primary.
Salah is centering his campaign around his identity as a Palestinian-American gay man and his experience as a former D.C. police officer. His past though, does not suggest he is a progressive by any meaning of the term.
Czapary plans to partner more with D.C. police and pursue "reforms," but his recent Twitter videos and posts call to get loud ATV riders (who are predominantly Black youth participating in this activity as opposed to gun violence) off the streets by planning to "seize them and get them out of our community for good."
His stance brought a swift response from D.C. natives and progressives who claim Czapary will put more cops in Ward 1 to violently chase down ATV riders, which may lead to chases that end in someone dying, as happened with Karon Hylton-Brown in 2020.
The incumbent, Nadeau, supports a dedicated site for ATV riding through the D.C. Department of Parks and Recreation. Czapary also echoes President Joe Biden's backlash against the Black Lives Matter movement and George Floyd uprising "Defund the Police" demands of 2020, saying that the United States needs to fund the police even more.
For gun violence and pedestrian deaths, Czapary expresses a strong reactionary tone, stating he will "build strong cases against the most violent offenders" and "protect bikers and pedestrians from reckless drivers and induce heavy fines on those who do not respect the laws of our roadways."
Besides the Washington Post's endorsement of Salah's campaign, the paper recently posted an article about where the council and mayoral candidates stand on a variety of issues. Czapary supports expanding the size of the police force, continued mayoral control of D.C. public schools, and evicting unhoused people from their tent encampments if they refuse housing assistance from the city.
Czapary is running a campaign that he hopes no one will notice is connected to the Republican Party, Trumpism, and the most reactionary sections of the police department in D.C. It is also unclear whether he has even been a D.C. resident for very long prior to joining the Ward 1 race. It was also noted by DC4D Chair Alex Dodds that Czapary erased his entire Twitter history before entering the race.
It is curious that the Washington Post endorsed the "unknown" Salah Czapary so quickly. The paper's editors claim he is the "clear choice" over the other candidates, including Sabel Harris. Is it because Salah is a former police officer? Is it because the Post wants D.C. city politics to shift to the right? Is it because the Post is owned by Jeff Bezos, a billionaire monopolist who wants the continue extracting more wealth from the working class by putting politicians in place who would allow him to do so?
Brianne Nadeau is not a perfect candidate. She has supported some progressive issues around homeless encampments, voting rights for non-citizen residents of D.C., and cops out of D.C. schools. Her standings on other issues leave a lot to be desired, however, specifically her weak position against housing developers who are displacing residents in Ward 1.
Democratic Party politics has its severe limitations, but working-class people and activists need to exploit the rifts and splits between different sections of the party until a stronger third party emerges that can fight for political power in the city. Until then, we must continue our fight against the extreme right and anti-democratic politicians that are hurting the residents of this city.