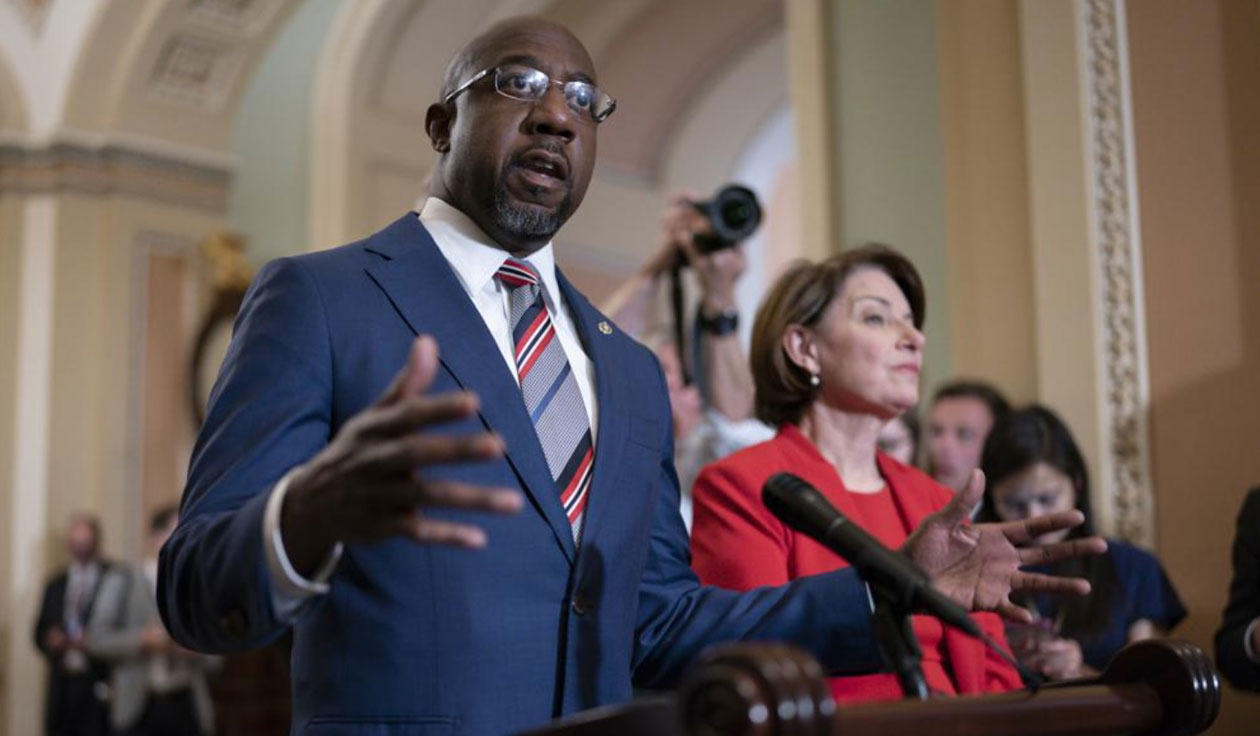 Republicans, anti-abortion groups, and fascist Christian white supremacists and misogynists have desperately rallied around Georgia Senate candidate Herschel Walker despite new revelations he paid for the abortion of an ex-girlfriend who was also the mother of one of his children. Walker is running on a "no exceptions" anti-abortion platform, even in the case of rape, incest, or the threat to a mother's life.
Incumbent Democratic Senator Raphael Warnock, who is pro-reproductive choice, leads Walker in most polls. The Georgia Senate race is one of a handful the GOP must win if they have any hope of winning a majority, but their prospects in Georgia appear to be waning.
Walker has been caught in countless lies, allegations of physical abuse, and violent threats against women. Another of his children, a conservative social media influencer, Christian Walker, called his father a liar and described threats against him and his mother.
Republicans decided to back Trump-endorsed Walker, a well-known African-American football star, in a cynical attempt to win Black votes in the November elections. That has not worked with African American civil rights leaders, lawmakers, community activists, and voters all lining up behind the candidacy of Rev. Raphael Warnock, the Democrat.
But Trump, Republicans, and right-wing evangelicals shamelessly dismiss Walker's hypocrisy and lies all to maintain a fraudulent veneer of united support and moralist belief in the "right to life." However, the revelations are rocking Republicans, and GOP candidates in Georgia have refused to campaign with him. "Even the staunchest Republicans are rattled," GOP Lt. Gov. Geoff Duncan said on CNN. "Every Republican knew baggage was out there, but the weight of that baggage is starting to feel a little closer to unbearable."
The latest development, more than anything, exposes the grotesque and blatantly racist and patriarchal exploitation of Walker by Republicans. Recruiting him to run for the Senate was a scheme cooked up by Trump and his MAGA supporters. They gambled Walker's candidacy could split the African American vote paving the way to victory. Once in the Senate, Walker would be a loyal MAGA vote.
"My biggest concern about the Herschel Walker media coverage is that it's distracting from the fact that (Gov.) Brian Kemp and the other state GOP candidates are fascist demagogues (and equally, if not more dangerous than Walker) and folks aren't paying enough attention to this," tweeted Anjoli Enjeti, an author and leader of the South Asian community.
Kemp and other GOP elected officials have implemented massive voter suppression and election subversion laws, blocked Medicaid expansion, ended unemployment benefits early during the pandemic, responded to racist police violence and vigilante killing of Ahmaud Arbery by increasing penalties against protesting police, underfunded schools, and assaulted women's rights to bodily autonomy.
Meltdown boosts Warnock
Walker's meltdown boosts Warnock's chances of holding the seat he won in the historic 2020 election victory, which also turned Georgia blue by electing President Biden, Vice President Kamala Harris, and Sen. Jon Ossoff. The development also helps boost Stacey Abrams, the Democratic candidate for governor, and Bee Nguyen, the Democrat for Secretary of State.
A multi-racial coalition of nearly the entire African American community, Latinx, Asian American, and white voters back Warnock. His supporters are determined to overcome every obstacle the GOP governor and state legislature throw at them.
Voter mobilization runs through a robust and battle-tested coalition of grassroots organizations in alliance with the Democratic Party. For example, the New Georgia Project has already knocked on 2 million doors. The group also launched a "Block boss" project to get voters to organize family, friends, and co-workers to the polls. Another project, "Dirty Souf," targets young African American voters.
The DNC, Senate Campaign Committee, and the state party are running the most extensive coordinated campaign ever. Voters are well aware control of the U.S. Senate may rest on the outcome.
Sixty-four percent of voters nationally opposed the repeal of reproductive freedom. Opposition to GOP anti-abortion policies, the SCOTUS repeal of Roe vs. Wade, and Georgia's strict abortion law, which bans abortions after six weeks, is prompting higher rates of voter engagement among women, particularly young women, across the nation, including Georgia. Seventy percent of absentee ballot requests in Georgia have come from women, and requests from African American voters have jumped 300%.
Warnock, Abrams, and other Democratic candidates are battling new barriers to voting erected after the 2020 election to reverse those victories and restore unchallenged white supremacist rule. Afterward, Republicans passed SB202, which, among many provisions, gives state officials the power to take over local election boards and empowers "vigilante voters" to challenge the registration of other voters.
By late August, the GOP challenged the registrations of 65,000 voters, including 36,000 by just two "vigilantes." Biden won Georgia by just 11,000 votes in 2020. The Gwinnett County Board of Elections dismissed 22,000 challenges on October 3.
The revelations about Walker will not lose him any Christian white supremacist Evangelical support and further exposes the phony rhetoric and real theocratic agenda behind it. Rightwing Evangelicals make up 80% of the Georgia GOP base; without their support, Walker has no chance to win.
Evangelicals held a private "prayer" session with Walker before declaring their steadfast support. The affair is reminiscent of Evangelical's support for Trump after the "Access Hollywood" tape revelation. Many pundits thought his campaign wouldn't survive the misogyny.
Polling in critical battleground states suggests the GOP Senate campaigns of the most politically extreme candidates, including insurrectionists, in New Hampshire, Pennsylvania, and Arizona are toxic and racking up huge negatives among voters. These states may be falling out of reach.
GOP hopes for winning control of the Senate rest on defending seats in Wisconsin, Ohio, Pennsylvania, and North Carolina and capturing the seats held by Nevada Democratic Sen. Catherine Cortez Masto and Warnock.
The GOP has no choice but to go all in on Walker and has booked $34 million in television ads for the state. "This doesn't change anything for me. I don't know if he did it or not – I don't even care," declared rightwing talk show host and former Breitbart editor Dana Loesch. "I am concerned about one thing, and one thing only – so I don't care if Herschel Walker paid to abort endangered baby eagles. I want control of the Senate."