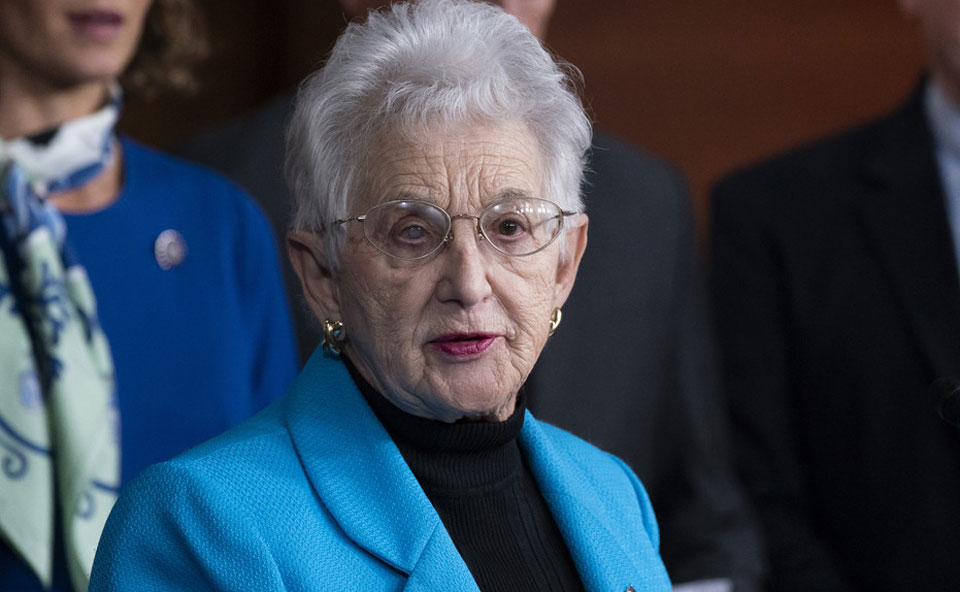 WASHINGTON (PAI)—Rep. Virginia Foxx, R-N.C., gives the appearance of being somebody's kindly grandmother, gray hair, wire-rimmed glasses and all.
But when she talks about workers and unions, the new—and former—chair of the House Education and Labor Committee, now again titled "Education and the Workforce," is anything but. She is the most viciously anti-worker lawmaker who could possibly have been given her key committee position.
House Speaker Kevin McCarthy, R-Calif., gave Foxx the panel chair at the start of the 118th Congress, when the GOP took narrow control of the House. The committee handles all major labor legislation.
Neither Foxx nor Rep. Robert Aderholt, R-Ala., who will chair the other House committee important to workers, are among the Republican crazies who now control the majority. Aderholt chairs the Appropriations subcommittee which helps dole out federal funds to the Departments of Labor, Education and Health and Human Services and the National Labor Relations Board.
But both are ardent conservatives steeped in GOP social issues. In her case, the very word "labor" is a Marxist idea. In past years, she doubted unions should be legal.
Consider Foxx's House floor speech on Jan. 18, where she laid out parts of the panel's agenda under her stewardship for the next two years. It was littered with anti-worker, anti-union code words.
"'Labor' carries a negative connotation that ignores the dignity of work. The term is something out of a Marxist textbook that fails to capture the accomplishments of the full spectrum of the American workforce," Foxx declared.
The word labor is also "an antiquated term that excludes individuals who contribute to the American workforce but aren't classified as conventional employees," in other words, it doesn't cover so-called "independent contractors." They're workers who aren't protected by labor law, minimum wages, overtime pay, Social Security, Medicare, jobless benefits, or workers comp.
"Democrats also insist on using the word labor because they are beholden to Big Labor," Foxx continued, using the Republican insult for the union movement, which the overwhelming majority of the elected Republicans—and their corporate capitalist campaign contributors–hate.
"Democrats have made it clear they wish to force all Americans into unions regardless of their preference. When Democrats oversee this Committee, their efforts focus on bolstering union bosses at the expense of employee free choice," said Foxx—without proof, of course.
And "employee free choice" is a Republican code phrase for enacting right-to-work laws, including a national RTW statute, which failed in prior Congresses.
Foxx didn't spare other worker causes. She made it clear last year that she and the other House Republicans hate Democratic President Joe Biden's student loan forgiveness plans. And Foxx plans to haul Biden officials to the panel to explain why they're forgiving loans which shyster for-profit "colleges" foisted on students—before the colleges collapsed into bankruptcy.
Not coincidentally, given the Republicans' racial hatred and the party's catering to the corporate capitalist class and their Wall Street backers, Foxx demands those former students, most of them people of color left high and dry, must repay the loan debts, to banks, forever.
Foxx also strongly backs what she calls "school choice"—private schools paid for by public funds. On Jan. 23, she co-sponsored a non-binding resolution favoring that as a way to combat "education bureaucrats" and "power-hungry teachers unions," in her words.
Foxx lauds the right-wing invaders who disrupt school board meetings. Those invaders, prompted by Trump pal Steve Bannon's Breitbart News, scream about "parental rights," fume about Critical Race Theory—a favorite GOP social issue—and want to whitewash U.S. history.
"Parents aren't terrorists," Foxx declared. Her panel's first hearing and first bill, she promised, will be on a so-called "Parental Bill of Rights," catering to the invaders.
Aderholt's big issue is abortion. He favors a complete ban on all abortions after six weeks of pregnancy. His deep-red home state, Alabama, approved that ban last summer just after the Republican-named five-justice U.S. Supreme Court majority destroyed the constitutional right to abortion. Hundreds of Alabama women have since fled to other states, seeking natal care.
"We should be enabling the states that have chosen to extend the responsibility of protecting its citizens to also include the unborn," Aderholt said in last year's debate. One of the first bills the House Republican majority passed slammed restrictions on abortion.
Aderholt's been relatively silent on labor issues. But after taking the Appropriations subcommittee chair, he called domestic spending "wildly out of control."
All this leaves far-right lobbies and their business backers very happy with chaos on Capitol Hill. The lobbies back the lawmakers who wield so much power, and have their own extremist agenda, too. Corporate capitalists are also very happy with a do-nothing House.
For example,  the corporate-controlled so-called National Right To Work Committee, whose real goal is to reduce workers to the status of serfs, will lobby lawmakers to use the power of the purse "to block the Labor Department from enforcing its forthcoming anti-independent contractor rule," Vice President Greg Mourad says.
Foxx will have a solid bloc of right-wingers on the Education and Workforce panel to back her extremism. The committee is one where ideologues, especially first-termers, congregate. It has lesser prominence than other committees. Most of its members, of either party, don't stay there long but migrate to more influential panels—or ones where they can garner more corporate campaign contributions.
Despite their conservativism, Foxx and Aderhold are not among the Trumpite-fueled crazies more interested in throwing bombs, gumming up the works, and getting on right-wing cable shows than governing or legislation. With the slim Republican majority of four House seats, they wield enough clout to emasculate McCarthy and sink anything and everything, including the nation's full faith and credit by defeating efforts to raise the debt ceiling.
Forget legislation. Try disruption, instead. They can even throw McCarthy out.
To win the Speakership, McCarthy promised committees and subcommittees will really write legislation. He kept charging all legislation was written in the Speaker's office. During the tenure of one Republican Speaker, then-Majority Leader Tom DeLay, R-Texas, brought in corporate lobbyists to write laws.
Under both Republican and Democratic Speakers, including Nancy Pelosi, Speaker-written legislation became the norm. Now it could be reversed. So expect the crazies, plus Foxx and Aderholt, to exercise a lot of clout.