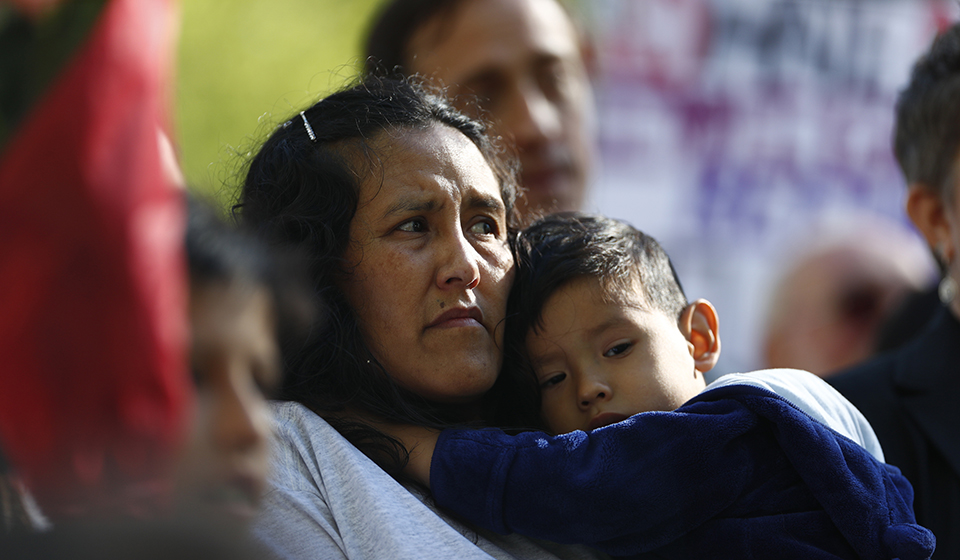 On Wednesday August 2, President Trump announced his support for Senate Bill 1720, which aims to amend the Immigration and Nationality Act in line with the aims of a so-called "skills-based immigration system." It purports to re-center U.S. immigrant admissions with a focus on those with high levels of education or in-demand economic skills, limit family-sponsored immigration to spouses and minor children, and sharply cut the number of people granted refugee status. Trump was flanked at the announcement by the bill's chief sponsor, Sen. Tom Cotton, R-Ark., and its only co-sponsor to date, Sen. David Perdue, R-Ga.
The bill, also called the RAISE (Reforming American Immigration for Strong Employment) Act, which was originally introduced in February and is now re-introduced with Trump's blessing, is not aimed at undocumented immigrants, but at people trying to come legally to the United States. If it passes, which is not a foregone conclusion, it would have a drastic impact on patterns of legal immigration to this country. Besides cutting such immigration in half, it would likely make future immigration flows more white, more English-speaking, more wealthy, and more educated.
People of darker skin, non-English speaking people, and poorer people from Africa, the Caribbean, Latin America, and the less developed countries of Asia would find it practically impossible to come to the U.S. Refugees, the numbers of whom have reached a historical high worldwide according to the United Nations High Commission on Refugees, would be especially hard hit.
The National Immigration Law Center, in a statement, called the bill "Cruel and Un-American" and the product of "white nationalism." Marielena Hincapié, executive director of the center, said, "The bill would devastate families, eliminating the traditional and long-accepted means by which family members such as grandparents, mothers, fathers and siblings are able to reunite with their families." She continued, saying, "An emphasis on a so-called 'merit-based' immigration is a manipulative and misleading ploy that inaccurately suggests less legal immigration means more jobs for American workers."
Many Trump critics have long suspected that the constant harping by the Republican right on "illegal aliens" really masks a racist hostility toward all non-European foreign-born people and their families and communities. For them, this bill proves it. Trump's public announcement of his support for it sharply increases the urgency of mounting the strongest possible defense of immigrants' rights.
Before Trump
Until November 2016, the fight for immigrants' rights had been registering victories. An alliance of immigrants' and civil rights, labor, religious, and minority organizations had overcome initial disappointment with the failure of the Obama administration to stop deportations and promote progressive immigration reform in Congress when it took power in January 2009. By the 2012 national elections, Obama had moved to a better position. In 2012, he established, by executive order, the DACA (Deferred Action for Childhood Arrivals) policy, whereby undocumented immigrants whose parents had brought them to this country as minor children were protected from deportation and given work permits. Eventually, 800,000 young immigrants were able to benefit from DACA before Trump took office. DACA permits were for two years, but have been renewable up to now.
At the same time, the Obama administration instructed Immigration and Customs Enforcement (ICE) to exercise "prosecutorial discretion" and focus arrests and deportation proceedings on people with criminal records and not on ordinary working people and their families. Then in 2014, Obama issued another executive order establishing the DAPA (Deferred Action for Parents of Americans and Lawful Permanent Residents) policy, which would have given temporary, but renewable, relief to the undocumented parents of U.S. citizen and legal permanent resident children.
Together, the changes made by Obama would eventually have helped more than half the estimated 11 million undocumented immigrants believed to be in the United States. Though this did not meet all the demands of the immigrants' rights movement, and many injustices and abuses continued to take place at the hands of ICE and the Border Patrol, the signs were encouraging.
But the Republican-controlled Congress would not budge on the legislative action needed to finish the job. And after 26 Republican state attorneys general filed suit to stop DAPA and a proposed expansion of DACA, the courts effectively killed DAPA, and now the Trump administration has dropped the program completely.
Immigrants and their families, friends, and co-workers knew that they were among the groups with the greatest stake in the outcome of the November 2016 national elections. For all the flaws and limitations of Hillary Clinton and the Democratic Party, the election of Trump, with a continued Republican majority in Congress, was going to mean a disastrous setback of decades of hard work and struggle for the immigrants' rights movement.
For families with undocumented members, the results of a Trump victory would include impoverishment, the breakup of households, mortgages and rent unpaid, and homes lost when breadwinners were deported. U.S.-born children would face foster care or be forced to leave the country of their birth and citizenship to accompany their deported parents. In the case of people who come here without papers fleeing from situations of war, violence, and state or non-state terrorism, being deported might mean violent death.
These are the realities that immigrants and their allies took with them to the polls in November 2016.
Moving fast on the anti-immigrant agenda
If anybody thought that Trump's anti-immigrant and anti-Mexican blasts were just campaign demagogy and that reason would prevail after the inauguration, they were quickly disabused of such notions once he took office.
The first signal that things were going to get nasty was the naming of white nationalists and hard line-xenophobes to Trump cabinet: Jeff Sessions as Attorney General, who as a senator had made racist remarks about people from the Dominican Republic; hardline General John Kelly as head of Homeland Security, who sees immigration in terms of terrorist threats; and "alt right" Breitbart News editor Steve Bannon as presidential advisor. Another hardliner is ICE Acting Director Thomas Homan. The naming of Lee Francis Cissna as head of the Citizenship and Immigration Services (CIS) has increased the alarm. CIS is supposed to help immigrants to get citizenship and with other needs, but Cissna has been a consistent anti-immigrant voice within Republican circles.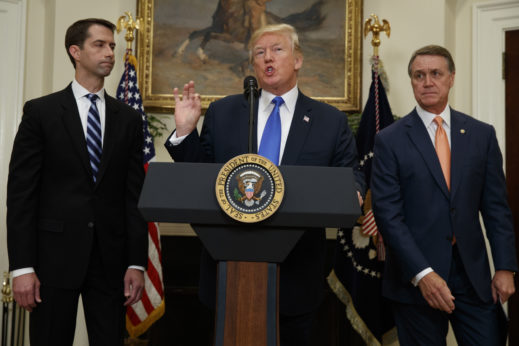 This jolly crew is now moving forward full steam with a maximalist anti-immigrant program.
They have had a few setbacks, including in their attempt to ban travelers from seven mostly Muslim countries, and to punish "sanctuary cities" by withholding their federal finds; both policies have run into difficulty in the courts. They are not giving up, though.
An old program, Temporary Protected Status (TPP), which has allowed several hundred thousand people who came here fleeing disastrous situations in their home countries to remain and work, is now threatened. Haitians are the first up for possible deportation, and Salvadorans, Hondurans, and Nicaraguans could face the same fate. Anticipating a repressive crackdown in the United States, some asylum seekers are now fleeing to Canada.
Since Trump took power, there has been a sharp rise in arrests of non-criminal undocumented immigrants. People are being picked up for deportation when they go to their regular check-ins with ICE. In some cases, they've been arrested in courtrooms when appearing for cases concerning non-immigration matters, such as asking for orders of protection from abusive partners. In one case, a teenage immigrant was arrested as he prepared for his high school graduation. It appears the Obama administration's "prosecutorial discretion" orders, which instructed immigration officers to concentrate on going after people with criminal records, have been dropped completely.
The Trump administration has made it clear that anybody in the United States without authorization is subject to arrest and deportation and that DACA relief recipients, or "Dreamers", are not safe. This fact is a particular source of worry in immigrant communities, because to apply for the DACA program one had to provide contact information to the government, who some fear will now use it to go after people. Ten Republican state attorneys general plus the Republican governor of Idaho are demanding that the Trump administration act to demolish DACA immediately.
The Trump administration has also begun to prosecute parents of child migrants who were brought across the Southern border by people who charge money for doing this, called "coyotes" in Mexico. Prosecutors allege this is "human trafficking," but for many in Central America it is the only way to get one's children out of dire, life-threatening situations.
Little noticed is a new doctrine which amounts to a stunning attack on the due process rights of people detained by police. In a set of policy pronouncements earlier this year, Trump and Kelly turned the bedrock constitutional guarantee of "innocent until proven guilty" on its head. Now, undocumented immigrant youth will be targeted for arrest and deportation on the mere say-so of local police, without a conviction or even an indictment. A tattoo that some cop a thinks is evidence of gang membership will.
All these aggressive actions have created a sense of foreboding in immigrant communities. The rate at which immigrants are reporting crimes to police has dropped sharply. Also, immigrants are not applying for legitimate government benefits to which they or they family members are legally entitled, like SNAP (Supplemental Nutritional Assistance Program), for fear of revealing the immigration status of undocumented members of the same family.
The ideological war
On the ideological front, the Trump administration continues to paint a lurid picture of undocumented immigrants as vicious criminals. The effort relies heavily on dodgy statistics and specious "analysis" by a network of anti-immigrant nonprofit organizations founded by Michigan ophthalmologist and anti-immigrant ideologue John Tanton, including the Center for Immigration Studies, Numbers USA, and the Federation for American Immigration Reform. These organizations, which have been called "racist" by the Southern Poverty Law Center, are now involved in developing the Trump administration's immigration policies.
Trump continues to peddle the idea that millions of "illegal aliens" voted in the 2016 elections . Though this claim is not only specious but also widely derided, it is still being used not only to attack immigrants, but to justify voter suppression measures.
Also stock in trade with the current crop of Republican politicians are equally false claims about immigrants causing a crime wave. There is indeed a problem with the MS-13 gang, which Trump himself has spent time denouncing. It was founded in Los Angeles in the 1980s, then spread to El Salvador by deportation, and is now a dangerous presence in certain areas of the U.S. But the overall statistics still tell us that undocumented immigrants tend to commit violent and property crimes at a lower rate than does the general population.
The Trump claim that immigrants take U.S. workers' jobs should also be taken with a grain of salt. Certainly employers always try to play off different sets of workers against each other in order to keep wages low, but if immigrants are able to get legal status they can also join unions, engage in collective bargaining, and go on strike—like other workers.
The hypocrisy of the "protecting American workers" spiel being used to sell the RAISE Act is breathtaking, because neither Cotton nor Perdue nor Trump are known as friends and protectors of U.S. workers. For one thing, they are intent on shredding the social safety net on which working class families depend. Trump's family members, especially his daughter Ivanka, and Perdue have a background as international financiers and investors in poor countries, where their enterprises employ workers at far lower rates than the miserable wages paid to immigrant labor here. A recent investigation by The Washington Post showed that Ivanka's clothing line is largely produced by extremely poor and superexploited workers in Indonesia, Bangladesh, and China, with conditions that are even below the standards of what is already a notoriously exploitative transnational industry.
The policy statements and ideological offensive have moved in step with increased enforcement on the ground. Although we don't see thousands of armed troops marching through immigrant neighborhoods and rounding people up by the millions (yet), it is nevertheless the case that arrests of undocumented immigrants, especially those without criminal records, have increased sharply.
Resistance
On July 12, the Congressional Hispanic Caucus had a closed-door meeting with then Secretary of Homeland Security John Kelly to inquire about the government's impending course of action.
Kelly was very discouraging about both TPS and DACA, and the Latino congresspersons left the meeting in a state of consternation. Congressman Luis Gutiérrez, D-Ill., who for many years has played a leading role in the fight for immigrants' rights and was present at the meeting with Kelly, expressed the reaction of the group :
"This was a wake-up call that Trump, Sessions, and Kelly are serious about mass deportation and are anxious to get started. It is a call to action for people who oppose mass deportation and turning the documented into undocumented so that they can be deported."
The call to action is meeting a strong response from the grassroots in immigrant communities and from labor, faith organizations, and ordinary U.S. citizens and residents. Unions and community groups are gearing up to organize the defense of immigrant workers and their families who get caught in the Trump dragnet.
In Congress, new legislation has been introduced to protect DACA recipients. City governments that declared themselves "sanctuaries" and refused to cooperate with the federal government's demand to hold immigrant prisoners beyond their legal time of release show no sign of backing down in the face of federal threats to cut off their funds or even prosecute their officials for "smuggling." People are on the streets, resisting.
The issue will certainly play a central part in the 2018 midterm elections. Republicans will play the "immigrant danger" card to cover up the failures of their reactionary policies. We must be ready to respond.