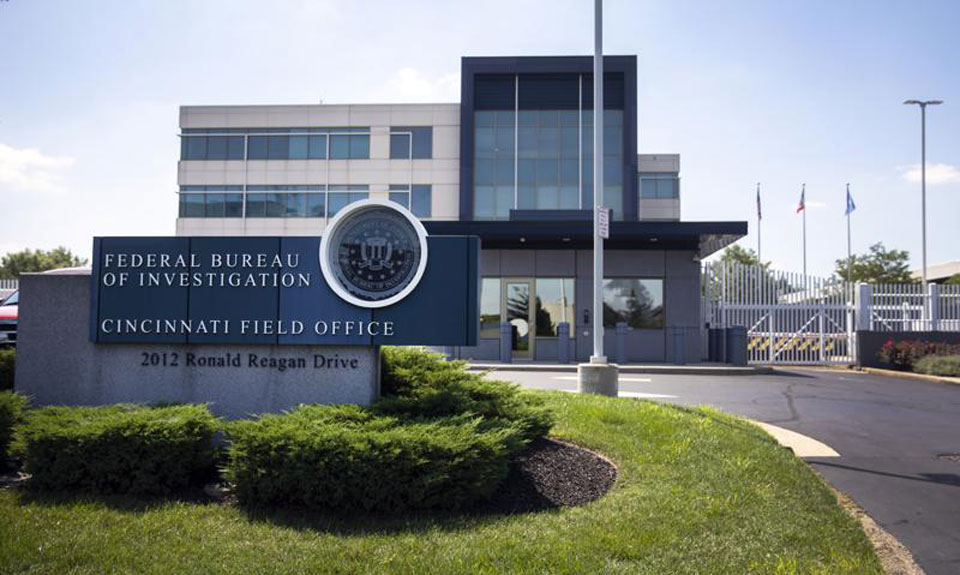 The FBI's August 8 entrance into Donald Trump's Mar-A-Lago estate, removing highly classified documents—including information about nuclear arms—which the former Republican Oval Office occupant illegally took from the White House, has spiked white nationalist rage and threats of violence, up to and including civil war. And Republicans are seemingly happy to either sit back and watch it happen or, in many cases, to add fuel to the already out-of-control right wing terrorist fire burning in America.
The menace concerns experts on white nationalism and similar extremism—as well as the majorities of the nation's people who do not favor the establishment of a right-wing fascist dictatorship in the country.
The most recent spike in the danger surfaced after the FBI, acting on a federal search warrant, entered Mar-A-Lago while Trump was not there. Prior talks between the National Archives, official custodian of all records from any administration after it leaves office, and Trump's lawyers and aides convinced federal officials the Trumpites were holding documents back.
Previous to those talks, the Archives had carted away 12 boxes of items, some of them classified, from Mar-A-Lago earlier this year.  They took 11 more this time—and set the white nationalists, white supremacists and Trumpite troglodytes off.
One big difference
But there is at least one big difference between the current cyclone of extremism and past right-wing and white supremacist/nationalist rage, stretching in U.S. history all the way back to the 1850s: The Internet.
The rage comes through in the twitterverse, on extremist websites like Gab and on platforms, led by Trump's own site, Truth Social, but also including "mainstream" platforms such as Facebook. And the Internet allows the white nationalists, extremists and their ilk—many of them now individual actors rather than in groups—to communicate and coordinate in ways they could not have in prior years.
The result? Though the experts haven't said so, yet, an explosion from the right that, if it starts, would dwarf the Jan. 6, 2021 invasion, insurrection and Trumpite coup d'état attempt.
"Reactions were markedly similar across extremist and 'non-extremist' platforms, which included bold-faced political names," reports the Center on Extremism, a think tank run by the Anti-Defamation League of the B'nai Brith.
For those extremists the FBI at Mar-A-Lago "is the sign everyone has been waiting for to start a 'war.' This can be read to mean legislative, political, legal or violent, depending on the author of the comment and accompanying text," the Anti-Defamation League added. Some examples:
"Civil War was trending on Twitter with people wondering if it will happen. It has already begun…. except for the shooting," influencer Juanita Broaddrick declared on Truth Social, which Trump established after twitter banned him. Influencer Lydia Shaffer, who names herself 'Conservative Barbie,' posted: "Civil war has been declared,'" the center's study said.
When right-wing commentator Steve Crowder tweeted, also on Truth Social, "Tomorrow is war. Sleep well," replies included. "Can we just do this Civil War thing already?" "It's time to start hunting them in return," and "Patriots!!! Arm yourselves! We are about to enter into Civil War!"
Another Truth Social user wrote: "F— the Feds! The Second Amendment is not about shooting deer! Lock and load! MAGA! Trump 2024!"
A poster on the patriots.win forum—formerly TheDonald.win—added on August 8: "There comes a time when the call for peace must cease because peace does not end evil and we all know this. I think we are all just about prepared for the 'ask' because we are just about over the line where good men need to do bad things."
The experts also worry the U.S. is inadequately defending itself against internal violent terrorism threats. The White House and Justice Department set up interagency task forces to monitor the threats and coordinate responses, and DOJ this year created a new specific unit to track and disrupt domestic terrorism, Assistant Attorney General Matthew Olsen told the Senate Judiciary Committee.
But the task forces apparently focus on individuals and small cells and not movements urging civil war.
"Federal law enforcement," led by the FBI and anti-terrorism coordinators in each U.S. Attorney's office "and the intelligence community assess the greatest terrorism threat to our country is posed by lone actors or small cells who typically radicalize online and look to attack soft targets with easily accessible weapons," said Olsen at the January 11 hearing.
"Domestic violent extremists are often motivated by a mix of socio-political, ideological, and personal grievances, and have focused on readily accessible targets to include houses of worship, retail establishments, and mass public gatherings," Olsen elaborated.
"The vulnerability of these targets, the insular nature of the process by which these individuals radicalize and mobilize to violence, and the limited communications they typically have with others regarding their plans pose significant challenges to law enforcement in its efforts to detect and disrupt these plots before they are carried out."
In on the act
The Department of Homeland Security is in on the act, too, although it got a later start. That's because since its creation after the Sept. 11, 2001 al-Qaeda attacks on New York and Washington, DHS concentrated on foreign terrorist threats and foreign radicalization of people in the U.S.  In so many words, DHS didn't go after the Klan, the Proud Boys, the Oath Keepers and similar domestic terrorists. That's changed, Biden DHS Secretary Alejandro Mayorkas told the National Press Club late last year.
"Now the threat is the domestic violent extremists, the individual who is radicalized to violence by reason of an ideology of hate or false narratives that are propagated on social media or other online platforms," he said.
At the same time, he added, the "prior iteration" of domestic terrorists—the ones radicalized by foreign groups—"has not disappeared from our threat landscape…We remain focused on the foreign terrorist, we remain focused on the homegrown violent extremists, but we also must adapt our systems and processes, as we do to the new threat that has emerged or has increased in prominence."
But DHS ran into a problem, Mayorkas explained: Community mistrust. That mistrust manifested itself in reactions to several DHS agencies and their indiscriminate targeting of anyone suspect—such as ICE roundups of all brown-skinned workers, regardless of their citizenship status , at pork production plants. And Moslem communities became wary after indiscriminate arrests of Moslems, notably in New York, in the weeks following the al-Qaeda attacks. One result: County and city bans on working with ICE agents. Another: "Sanctuary cities," plus the "sanctuary state," California.
So DHS is trying something different, Mayorkas says: "Focusing on equipping and empowering the local communities to identify the" domestic terror "threat before it materializes and prevent it from ever occurring or ever being realized. And if, sadly, the threat does materialize, to be resilient in withstanding it."
What both departments sidestep is politicians who urge the white supremacists or the civil war advocates on. That includes right-wing members of Congress, led by Reps. Paul Gosar, R-Ariz., and Marjorie Taylor Greene, R-Ga.
It also includes Trump, testimony to the House Select Committee on the January 6 insurrection shows.
"The DOJ and FBI just declared war on every Republican in America," Greene declared on Instagram. "The FBI is raiding President Trump's home in Mar-a-Lago! This is the rogue behavior of communist countries, NOT the United States of America!!! These are the type of things that happen in countries during civil war. The political persecution MUST STOP!!"
""The FBI raid on Trump's home tells us one thing. Failure is not an option. We must destroy the FBI. We must save America. I stand with Donald J. Trump," Gosar tweeted.
The catch is other Republicans, not on the extreme fringe, look to excuse the supremacists and Trumpites. At the January 11 hearing, Sen. Charles Grassley, R-Iowa, the Senate Judiciary Committee's ranking Republican, said the extreme rightists were no more violent, and probably less, than Antifa, a favorite Republican leftist punching bag.
And the New York Young Republicans called for extralegal measures, notably suspending the writ of habeas corpus, as President Abraham Lincoln had to do against Southern sympathizers, spies and traitors during the Civil War. Suspending habeas corpus would lead to mass roundups, which the Young Republicans favor.
They want more "action"
There should be "more action than just 'voting out' any Democrat or Republican perpetrating the anti-American interests surrounding any of these matters," meaning the FBI raid and arrests and convictions of January 6 perpetrators, the club declared.
"Anyone involved in the listed political persecutions should be arrested and prosecuted with expediency, and in cases of extreme undue resistance, we recommend consideration of the suspension of the writ of habeas corpus to secure our Republic from the insidious monsters that have wrenched it from the American People's control." (their capitalization).
The politicians' rhetoric in particular poses a problem, Olsen admitted: Where do you draw the line between advocacy—protected by the Constitution's First Amendment—and incitement to sedition?
It's a line the federal government's security agencies, particularly the FBI, disregarded or demolished for just over a century, going all the way back to the Espionage Act of 1917.
That law and executive powers have been used for repressing everyone from unionists and Socialists during and after World War I to Communists in the Joe McCarthy era of the 1950s to spying on two Illinois lawmakers—progressive Democrats Abner Mikva and Adlai Stevenson III—who opposed the Indochina War in 1970 to jailing newspaper reporters who received government leaks in this century.
In a statement that raises a lot of eyebrows among historians familiar with the FBI's record, especially under longtime Director J. Edgar Hoover and later under the Nixon administration and the Trump regime, Olsen added: "It is important to emphasize that we investigate and prosecute domestic violent extremists for their criminal acts, not for their beliefs or based on their associations.
"In fighting domestic terrorism, we respect the constitutional rights of freedom of speech, association, and assembly of all Americans."
A Canadian scholar is more alarmed, especially, he says, if Trump wins the White House again in 2024, aided by Republican-dominated state legislatures certifying Trump electors regardless of their states' actual votes that November. Political scientist Thomas Homer-Dixon didn't mention the white nationalist/supremacist individuals or groups who'd produce the ensuing chaos—just the result itself.
Homer-Dixon, director of the Cascade Institute at Royal Roads University British Columbia, warned in a paper published on its website on January 3 that Canada is "totally unprepared" for "a terrible storm coming from the south"—the U.S.—if that occurs.
"We mustn't dismiss these possibilities just because they seem ludicrous or too horrible to imagine. In 2014, the suggestion that Donald Trump would become president would also have struck nearly everyone as absurd. But today we live in a world where the absurd regularly becomes real and the horrible commonplace.
"By 2025, American democracy could collapse, causing extreme domestic political instability, including widespread civil violence. By 2030, if not sooner, the country could be governed by a rightwing dictatorship."
Trump, he warned, "will have only two objectives, vindication and vengeance" of the lie that his 2020 defeat by Joe Biden was the result of electoral fraud.
"We must focus on the urgent problem of what to do about the likely unraveling of democracy in the United States. We need to start by fully recognizing the magnitude of the danger. If Mr. Trump is re-elected, even under the more optimistic scenarios the economic and political risks to our country will be innumerable."
Homer-Dixon could be speaking of the U.S., itself, too.
Chauncey K. Robinson contributed to this article.