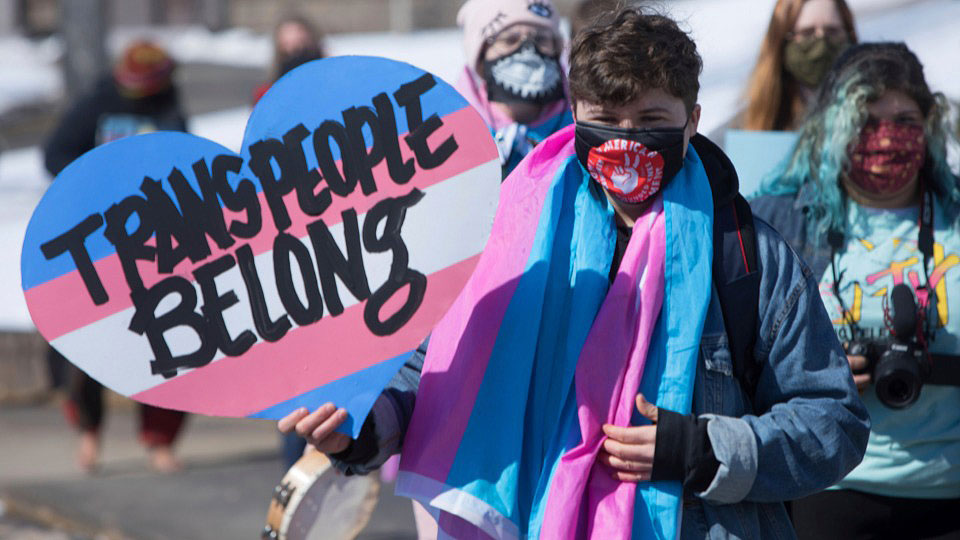 A new record was set in 2021 for the filing of anti-transgender legislation, with more than 110 bills put forward by right-wing lawmakers in at least 37 states. From Hawaii to Alaska, Texas to Maine, Republicans went on a full-court press to target trans people—especially trans female student athletes.
Most state legislative sessions have ended, and only a handful of the proposals managed to pass. That won't bother the GOP, though, because that means they can instrumentalize ignorance and hate for political gain again next year. The bills that didn't make it this time will be back.
Taking inspiration from the 2004 anti-gay marriage wedge that GOP strategist Karl Rove used to engineer the re-election of President George W. Bush, Republicans in state after state are planning to make transphobia a centerpiece of their midterm election effort in 2022.
And just like the right-wing strategists of yesteryear, most of today's bigotry-peddling Republican politicians don't actually give a damn about the fundamentalist ignorance that motivates transphobia. Whether they believe in it or not doesn't matter; for them, transgender Americans are just the latest oppressed group to be demonized for the sake of votes and power.
Florida Gov. Ron DeSantis, who no doubt hopes to feature prominently in the 2024 presidential election, has made himself a leader in this effort. Signing a bill in June that forbids trans girls from playing sports on public school teams alongside athletes born as girls, he said, "In Florida, girls are going to play girls' sports and boys are going to play boys' sports."
Former White House occupant Donald Trump has eagerly inserted himself into the rush to villainize trans people and their supporters, as well. Speaking to operatives at the Conservative Political Action Conference in March, he declared, "Joe Biden and the Democrats are even pushing policies that would destroy women's sports." Like most Republicans, he never utters the actual word transgender, for that would acknowledge the reality of trans persons. "Young girls and women are in sets that they are now being forced to compete against those who are biological males," Trump roared before an adoring audience.
Although girls' sports is the primary front in the GOP anti-trans game plan, their attacks extend into many more areas.
'A war on 100 fronts'
States like Alabama, Arizona, Arkansas, Georgia, Indiana, Kentucky, Oklahoma, Texas, and others saw efforts to block trans people—again, particularly trans young people—from accessing needed medical care. In Tennessee, the fight was over who can use what toilet. Montana and South Dakota saw Republicans up in arms over what gender people can list on their identity documents. Blocking aspiring trans parents from adopting or fostering children was the goal in Iowa, South Carolina, and West Virginia.
Those are all just a sampling of the battles in what Jules Gill-Peterson, a professor of gender, sexuality, and women's studies at the University of Pittsburgh, has called "a war on 100 fronts." She characterized 2021 as "unprecedented…an avalanche" for anti-LGBTQ bills and said Republicans were "relentless" in their campaign to spread hate.
Copycat bills have been filed in one locale after another, pushed by right-wing extremist groups like the Heritage Foundation, the Eagle Forum, the Alliance Defending Freedom (a designated hate group according to the Southern Poverty Law Center), and others.
Alphonso David, president of the Human Rights Campaign, which tracks anti-LGBTQ legislation, scoured the lawmakers and groups behind the offensive and pinpointed the reasons for their attacks. In a statement on the record-setting year of discrimination released by HRC, David said:
"These bills are not addressing any real problem, and they're not being requested by constituents. Rather, this effort is being driven by national far-right organizations attempting to score political points by sowing fear and hate."
Although the bills are largely political maneuvering by Republicans to rev up their fundamentalist Evangelical Christian voting base, the real-world consequences could be catastrophic for trans people.
Arkansas' trans youth health care ban, the so-called "Save Adolescents From Experimentation" (SAFE) Act, was the first bill prohibiting health care professionals from administering gender-affirming care in the United States to become law. It bans physicians from providing any service having to do with their gender status—from hormone therapy to surgery—to transgender youth, even if there is parental consent. Threatening to revoke the medical licenses of anyone who offers such care, the law has become a model for other GOP-run states.
The SAFE Act passed both chambers of the state legislature before being vetoed by Gov. Asa Hutchinson, who called it "a vast government overreach." (An earlier anti-trans sports bill apparently didn't "overreach"; Hutchinson signed it without hesitation.) Christian lawmakers overrode his veto and passed the SAFE Act anyway. The Arkansas ACLU immediately filed suit and won an injunction on the law's implementation this June pending the outcome of the case.
Other states, like Alabama with its "Vulnerable Child Compassion and Protection Act," follow Arkansas' lead and frame their bills protections for children, but researchers and advocates for trans people say they do the exact opposite. Pediatricians argue that the treatment they provide for transgender or gender-nonconforming youth addresses not just physical concerns but also mental health and often makes the difference between life and death.
Calculating the costs—human, political, and financial
Speaking to CNN recently, Kerith Conron, a UCLA researcher, said, "Trans youth are dependent on parents, schools, institutions, and pediatricians to support them, in living authentically and to access gender-affirming care—and now on policymakers to facilitate or deny access to care." Conron's institute estimates that 1 in 4 trans adolescents would be directly impacted by the bills Republicans have tried to pass this year.
"These laws are not grounded in science or majority medical opinion and have strong implications for the survival of trans youth in these states…and for long-term quality of life for those who make it through adolescence," Conron said.
Current medical research supports the need for gender-affirming care in young people. The American Academy of Pediatrics found in a 2020 study that accessing pubertal suppression treatment, or blocking the onset of puberty via hormones, resulted in lower odds of suicidal thoughts in adulthood. It echoed the findings of similar studies by other institutions.
Transgender people, their families, communities, and allies are fighting back against these bills that target the health, recreation, and school life of trans people and intensify discrimination and exclusion—and they're not alone.
According to Alphonso David of the HRC, what Republicans don't understand is that "opposing equality," even if it scores votes in the short term, "is highly unpopular" in the long term. In a poll of 10 swing states conducted by the HRC and Hart Research Group last year, 87% of respondents said transgender people should have equal access to medical care. In some states, the number was over 90%.
Even among Trump voters in those swing states, 60% said transgender people should be able to live openly and freely. And when voters were asked where they ranked the importance of banning transgender people from participating in sports, it came in dead last. In no state did more than 3% of respondents put it at the top of their list.
Republican politicians passing such laws also invite major economic, legal, and reputational harm for their states. Corporate America, always wanting to show off its diversity efforts, has condemned many of these proposals; more than 55 major U.S. corporations opposed legislation in 2021. Sometimes they also speak with their investment dollars, but not always. Only consistent public pressure by workers, consumers, and activists can force the question.
The Associated Press estimated that North Carolina's bathroom bill could have cost nearly $4 billion in lost economic activity. The Texas Association of Business said an anti-trans bathroom bill could cause $8.5 billion in economic losses and put 185,000 jobs at risk due to lost NCAA sports revenue, tourist boycotts, canceled movie productions, businesses moving to less discriminatory states, and more.
Fighting back
This dangerous and divisive wedge issue has to be taken off the table and solidarity and support for the trans community has to become a focal point of struggles now and in the immediate future.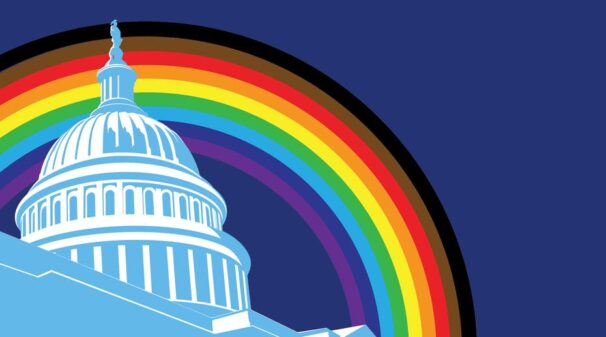 In addition to fighting back against anti-trans laws at the state level, pressure has to be increased on Congress to pass the Equality Act—federal legislation that would guarantee explicit and consistent anti-discrimination protection for LGBTQ people in employment, housing, credit, education, access to public spaces and services, and access to federally-funded programs.
Right now, the United States is a patchwork of non-discrimination laws and openly discriminatory ones that vary from one state to the next, leaving millions of people subject to losing jobs, apartments, public assistance, and more. Over 60% of LGBTQ Americans say they have personally had such experiences.
Existing civil rights laws protect people on the basis of race, color, national origin, and in most cases, sex, disability, and religion. The Equality Act would add sexual orientation and gender identity as protected characteristics and update the Civil Rights Act of 1964.
It has passed the House but remains to be taken up by the Senate. Everyone should contact their senator and tell them to pass the Equality Act now. Next, we have to start organizing now for the 2022 midterms and state votes. The results from Virginia and other states in the 2021 elections show that right-wing hate and division can still win.
"It's hard to describe the magnitude of damage that has been done," researcher Gill-Peterson said of this year's anti-trans onslaught. "Even in the states where the bills didn't pass, trans people are living in an environment where prominent politicians have stated that it's open season on their lives, that they don't deserve basic human rights, that their lives are expendable or wrong."
She fears the next legislative cycle will bring even more extreme measures because the political stakes will be even higher. "There were no goals here except discrimination and cheap political points. And now, we are living in a more policed, more dangerous country for trans people."
2021 was a record year for the forces of anti-trans hate; we can't allow 2022 to be a repeat.