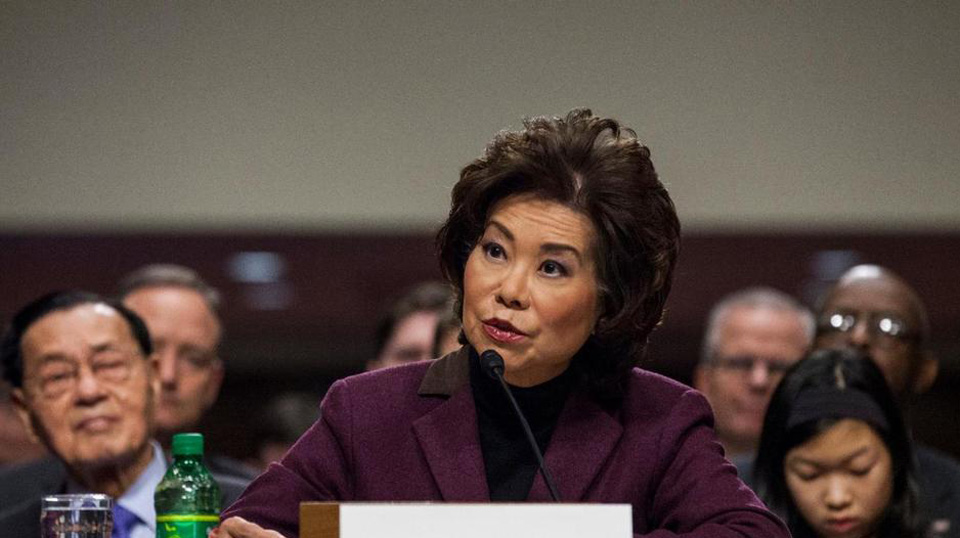 WASHINGTON (PAI) —President Trump's Transportation Secretary, Elaine Chao, is backing use of the Davis-Bacon prevailing wage law in the administration's proposed spending on infrastructure, The Building Tradesman of Detroit reports.
Chao's support, stated at a House Transportation and Infrastructure Committee hearing in June, could defuse some GOP opposition to the law, which orders contractors seeking federal work to pay locally prevailing wages for construction crafts.
But it won't stop Davis-Bacon foes, including lawmakers and special interests on the extreme right, from trying to repeal the 86-year-old act. The latest to attack it, conservative columnist George Will, claimed Congress – run by Republicans in 1931 – passed Davis-Bacon for racist reasons.
And right-wing Rep. Steve King, R-Iowa, is already planning to try to kill Davis-Bacon again, North America's Building Trades Unions – the old AFL-CIO Building and Construction Trades Department – warns. He introduced Davis-Bacon repeal on Jan. 30, a day after his proposed national "right to work" law.
NABTU, in a reply on its website, and Laborers' union president Terry O'Sullivan, in a letter to the Washington Post – which ran Will's column—debunked his Davis-Bacon "racism" claim with facts. O'Sullivan called the column an "absurd myth."
O'Sullivan said Davis-Bacon, according to its own GOP sponsor in 1931, "addresses the concern that without any wage standards, public construction was driving down the wages for both white and black workers." Its passage then ensured that would not occur, he added.
Chao backed Davis-Bacon while answering questions about Trump's still-sketchy plan to use billions of dollars in federal "seed money" to raise $1 trillion in private-public partnerships for investment over 10 years in rebuilding the nation's roads, tunnels, ports, subways, bridges, airports and other infrastructure.
Such projects create 24,000 family-supporting construction jobs for every billion dollars spent, because of Davis-Bacon, NABTU and O'Sullivan said.
"The administration's proposal is to include Davis-Bacon," Chao testified. "For the infrastructure proposal, I'd like to see it passed, and I understand that without the (prevailing wage) provision, the minority would not sign on," Chao said.
House Democrats agreed. If Trump's infrastructure bill "targets unions or leaves Americans worse off, I will fight it every step of the way," Rep. Cedric Richmond, D-La., chairman of the Congressional Black Caucus, told a builders conference in April. "And if it doesn't include prevailing wages and protect Davis-Bacon, it's a nonstarter—at least for me."
That flies right in the face of Will's praise for then-GOP President George W. Bush's decision to suspend Davis-Bacon for contractors involved in reconstruction of New Orleans and the surrounding area a decade ago after Hurricane Katrina.
Bush's decision threw dozens of New Orleans electrical workers, all IBEW members, out of jobs. Cut-rate contractors imported minimum-wage construction workers, sometimes legally from Mexico with visas and sometimes not, to try to rebuild the Crescent City.
"Since prevailing wage laws particularly affect low-income construction workers, the absence of these protections pushes the most vulnerable of our society into poverty, " NABTU said. "If all 25 states with prevailing wage laws today weakened or outright repealed their statutes, an additional 99,000 blue-collar construction workers would see their incomes fall below the poverty level, 319,000 would lose their health insurance coverage, 124,000 would lose pension coverage, and 102,000 would be forced to rely on food stamps, thereby increasing a reliance on public assistance programs.
"To continue to proliferate the false narrative that the Davis-Bacon Act is racist egregiously misstates both history and contemporary reality. It is also premised upon the pernicious notion that the only way to hire minorities on construction projects is to pay them less."