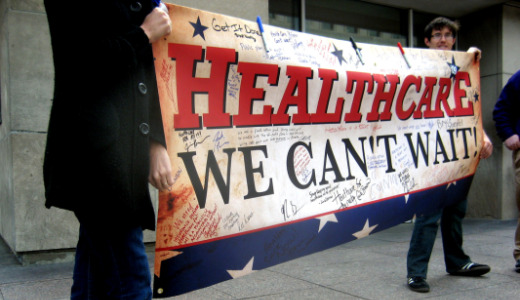 In their latest maneuver to try to block health care reform, Republicans are now trying to prevent even a Senate debate.
Senate Majority Leader Harry Reid is expected to introduce a comprehensive bill this week, perhaps as early as Tuesday. That will bring health reform legislation a big step closer to enactment. So now, Republican leaders are saying debate on the bill should be delayed, claiming they need more time to "study' it.
Health care reform groups are urging members of the public to contact their senators immediately and press for a debate and a vote. Sixty votes are needed to open debate, and then to close debate and allow a vote.
The stalling effort is an insurance industry ploy and it's all about profits over people, says Jason Rosenbaum of Health Care for America Now, writing on HCAN's blog.
"There are forces out there that would like to block debate or a vote on health care reform – the insurance companies and their allies," he writes. "Why? As Goldman Sachs recently concluded when evaluating health reform plans, the status quo would be best for the insurance industry and their stock prices. If a version of health reform like the House version passes – very much like what Reid is planning to introduce in the Senate – their stocks could drop as much as 39 percent."
"Put simply, the insurance industry would like senators to obstruct health care reform in any way possible to protect their profits and stock prices."
Meanwhile, the Washington Post revealed today that the U.S. Chamber of Commerce is soliciting money to create a fake economic study that would paint the bill as a job-killer.
Post reporter Michael Shear obtained a copy of an official e-mail solicitation sent out by a top Chamber official. The e-mail proposes spending $50,000 to hire a "respected economist," who would first "study" the bill's impact and "will then circulate a sign-on letter to hundreds of other economists saying that the bill will kill jobs and hurt the economy. We will then be able to use this open letter to produce advertisements, and as a powerful lobbying and grass-roots document."
At the same time, more than 5,300 medical professionals have signed a petition calling on the American Medical Association to drop its membership in the Chamber of Commerce because of the Chamber's efforts to stymie health care reform. The petition was launched by MoveOn.org. It reads: "The American Medical Association has endorsed health care reform. So why are they also helping fund attacks on reform through the U.S. Chamber of Commerce? Thousands of doctors and nurses are calling on the AMA to resign from the Chamber."
HCAN is launching television ads today in Nebraska and Arkansas, home of two conservative Democratic senators, Bill Nelson and Blanche Lincoln, respectively. The ads press the senators not to stand with the insurance industry for the status quo, and to vote with the Democratic majority to open debate and then move to a vote.
Health reform advocates are organizing to insist that the Senate bill include a strong public option and no taxation of workers' health benefits, covers immigrants, and eliminates the stealth amendment approved in the House that restricts coverage for women's reproductive rights.
Planned Parenthood has an online petition to President Obama, Sen. Reid, and House Speaker Nancy Pelosi, calling on them "to ensure that women's health is treated fairly in health care reform."
"Women must be able to purchase private or public health insurance that offers comprehensive reproductive health care, including abortion care," the petition says.
The AFL-CIO also has an online petition, headlined "Congress: We Want Real Health Care Reform Now!"
"The insurance companies and their corporate front groups are fighting desperately to stop reform, but we're not going to let them," it says.
Photo: http://www.flickr.com/photos/progressohio/ / CC BY 2.0