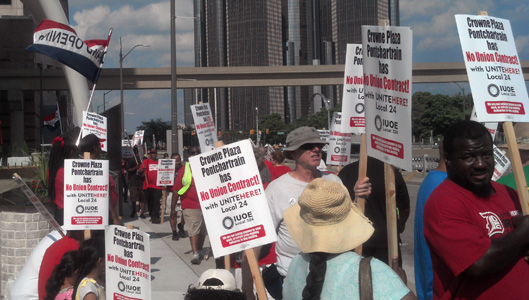 DETROIT – Only blocks from city hall, a Friday afternoon picket line at the Crowne Plaza Hotel symbolizes the fight taking place in this city.
Janeé Ayers, Recording Secretary of Unite Here, Local 24, said the Crowne Plaza, a former long-time union hotel known as the Pontchartrain, went into bankruptcy, switched hands and is now a non-union facility.
She and others said corporate greed was the problem. "Our industry, the hotel industry, is not dying, or on a downward spiral," she said.
Ayers said the union represents workers across the street at Cobo Hall, around the corner at the Westin Book Cadillac and down the block at the Marriott where workers have contracts, pensions, benefits, and are making a sustainable wage.
She's concerned that a minimum-wage facility in the middle of all that could jeopardize past gains. "We can't allow them to come in paying eight dollars, almost fifty percent less than what other members make. It could completely destroy the standard we fought so hard to get."
Hilda DeJesus has been a general room attendant at the Marriott for eleven years and agrees. She said her union wage and benefits allows her to support her family. "We'd be in trouble. We wouldn't be able to support our family on minimum wages," she said.
A number of local and state labor leaders came to pledge support including Metro Detroit AFL-CIO President Christos Michalakis and Michigan State AFL-CIO Secretary Treasurer Daryl Newman. Michalakis said Detroit may be facing bankruptcy, "but that doesn't mean the workers in Detroit have to face bankruptcy."
The picket lines are held on Wednesdays and Fridays and a near one hundred degree day did not deter them. Detroit airport worker and Unite Here member Maureen Pickar said a morning picket line had drawn 200 people with many different unions coming out in support.
Pickar said everyone is talking about a rebirth of Detroit but is worried that workers and residents are not going to be treated fairly in that process.
"A minimum wage is not only a threat to union members; it is not going to benefit the community in the long run."
As Ayers said, "This is a union town. We built the middle class. We fought for that. It is not okay to let it go."
Photo: Picketing in front of the Crowne Plaza. April Smith/PW