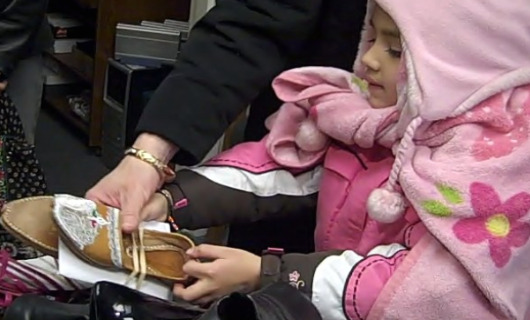 More than 35 members of Campaign for Better Health Care's 13th District Committee staged a sit in at Rep. Biggert's Willowbrook, Ill., office. They delivered pairs of shoes to symbolize Illinoisans who have died and will die if health care reform is not passed. They chanted "Get it done," demanding that Rep. Biggert "stop playing politics and solve the health care crisis," until police arrived.
UPDATED Feb. 23, 2010 with new article link
WILLOWBROOK, Ill. – Sixty-eight Americans die prematurely every day because they can't get access to health care coverage. This crisis prompted 35 residents of Rep. Judy Biggert's, R-Ill., district to take action and sit in at her office to demand she support health care reform.
"In the last 15 years 11,000 Illinoisans have died because we don't have health care reform," said Jonathan VanderBrug, Health Care Justice coordinator for the Campaign for Better Health Care. "Enough playing politics. Stop stalling. Get it done. This is a matter of life and death."
Altogether, over 294,000 Americans died prematurely since 1994, when the health insurance corporations blocked the last major effort for health care reform. Residents are determined to make sure reform legislation passes Congress this year.
The sit-in took place as it was announced the top five health insurers set record profits, a combined $12.2 billion for 2009, up 56% from the year before. Meanwhile the industry shed 2.7 million people from health care plans.
Biggert has been voting in lockstep with the Republicans, said VanderBrug, obstructing reform. She had refused to meet with CBHC and her constituents since August despite repeated calls, infuriating many.
"I can't believe Congressman Biggert would play politics while people are dying," said Michael Sacco. "I didn't put her in office for her to play politics. Don't let us down."
As part of its "Get It Done!" Campaign, CBHC has begun a "shoe action." Just as the sit-in participants did, leave a pair of shoes at your Congressperson's office. Leave the shoes as a symbol of all those who have died because health care reform has been delayed. In the shoe, leave a note to say that reform cannot wait and Congress must "Get It Done!" If you know anyone who has died due to lack of access to care, you can include that person's name or photo.