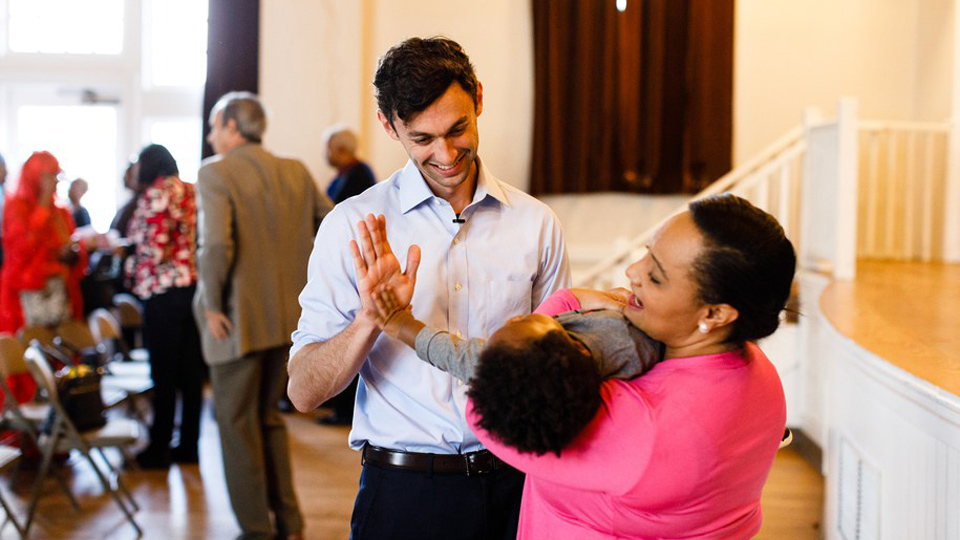 When Donald Trump plucked Tom Price out of his seat as U.S. representative from Georgia's 6th Congressional District to become his Secretary of Health and Human Services, the GOP was convinced that in the upcoming special election the vacancy would be filled by another tea party-type Republican. After all, before Price held the seat, Newt Gingrich had. So did now-Sen. Johnny Isakson.
Georgia's 6th District, covers the northern suburbs of Atlanta. It is 13.44 percent black, 13.35 percent Hispanic and about 70 percent white. Since 1979, right wing Republicans have either run unopposed or against token challengers in the 6th Congressional District.
This time, however, Trump and the GOP might be mistaken in assuming that the district is safely theirs. They didn't factor in the rapid growth and determination of the Resistance movement.
Groups from across the district, like Needles Haystack and the Liberal Moms of Roswell and Cobb became almost overwhelmed by new activists and had to find larger venues for their meetings.
What's more, when progressive Democrat Jon Ossoff jumped into the race, people from across the nation sent him small contributions totaling some $3 million and volunteers from across the district stepped forward.
Although there are four other Democrats running, the Democratic National Committee is backing Ossoff, the most progressive of the group.
According to Ballotpedia, Trump defeated Hillary Clinton there "by a margin of 1.5 percent. … Trump's average margin of victory in congressional districts that he won was 23.2 percent." The turnout was relatively high.
One of the slogans being used by Ossoff is "make Trump furious."
However, he told the New York Times, "I'm not campaigning across the district talking about Donald Trump at every event. There are many in this district who are concerned that the president may embarrass us on the world stage, that he may be incompetent and that he's dishonest.
"I share those concerns, but by [my] running a positive campaign focused on core American values, the contrast is obvious."
Ossoff is particularly concerned with making sure the Affordable Care Act is not undermined by the Trump regime.
On his website he says, "I'm running for Congress because I believe we all have to stand up, right now, and fight for progress — for our prosperity and health, our civil rights and civil liberties, and our security."
Ossoff, 30, is a native of the 6th District and a graduate of both Georgetown University and the London School of Economics. As a high school student he interned for Rep. John Lewis and later served as an aide to Rep. Hank Johnson. Both are leaders of the Congressional Black Caucus.
He is now the head of a documentary film production company that has won several awards for exposing political corruption in various countries.
Currently, a poll done by Fox News shows Ossoff a hair ahead in his congressional race.
But winning is far from a slam dunk.
A so-called "jungle primary" will be held April 18. There are 13 Republicans and 5 Democrats running. The top two vote-getters will then have a run-off. It's theoretically possible that the top two will be from the same party, but all observers agree that this won't happen.
Assuming that Ossoff will be one of the two winners, the Fox poll matched him head to head with the four Republican candidates most likely to win. The poll concluded that if the election were held tomorrow, Ossoff would come out ahead of each of the four by one to two percentage points.
A short time ago, the GOP seemed to wake up to the possibility of losing a Congressional seat and began to pour big bucks into the campaign. It is not immediately clear, however, which one of the candidates the GOP leadership prefers.
Gary Dichtenberg, an organizer of Needles in a Haystack, believes that ultimately the outcome of the race will be determined by the number of voters who participate. Generally, the greater percentage of voters turning out, the greater the chances of a Democratic victory.
He pointed out to The New York Times that "In a special election, only a small percentage of the electorate votes to begin with — and only the most energized."
But Dichtenberg is optimistic about this special election.
"Look how Trump has energized [us Democrats]," he said.