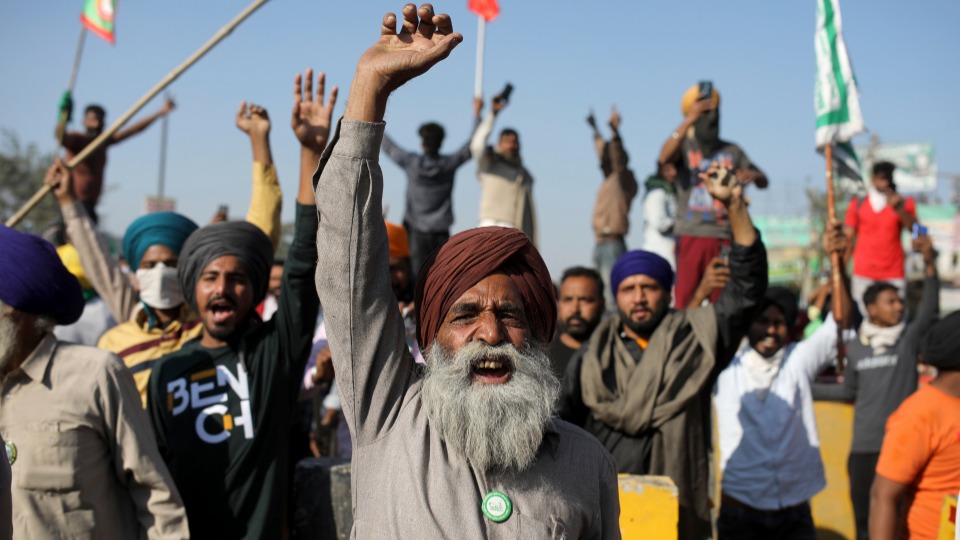 DELHI—Across the rows of concrete barricades at the Tikri border blocking the entrance into New Delhi from the neighboring state of Haryana, a stretch of more than ten kilometers of Rohtak Road remains occupied by caravans of tens of thousands of farmers. They have journeyed hundreds of kilometers from different parts of Punjab and Haryana.
With fists raised in protest, these farmers—who have broken many barricades, facing water cannons and tear gas along the way—sit atop tractors parading up and down this stretch, as loud speakers blast protest songs in high volume.
On either side of these caravans which pass throughout the day are parked tractor-trailers and trucks loaded with hundreds of kilos of food, in preparation for the long haul. Farmers organizations claim to have stocked up for six months.
The farmers are clear they will not retreat until the far-right BJP government withdraws its three recent farm acts. Passed in the parliament on Sept. 26 without permitting a vote count, these acts deregulating the trade of agricultural produce seek to give a free reign for corporations to expand their control over the agricultural supply chain.
To sustain the protest, which is now into its third week, villagers back home send fresh vegetables and milk which arrive in vehicles every few hours. Slogans of "Long Live the Revolution!" and "Long Live Farmers Unity!" ring en masse as vehicles carrying more farmers from villages arrive the border well into the night.
Many of the pillars holding up the metro rail track towering over this stretch of the road are marked with slogans painted by the various Delhi-based student and youth organizations whose activists frequent the site to demonstrate in solidarity.
"Modi should give up his illusions"
Beside one such pillar, kneading dough for flat breads served at one of the many community kitchens setup on the road, a 25-year-old Sikh farmer from Fatehabad district in Haryana, explains how they have maintained the relay.
"This particular batch of 15 farmers from our Mangeda village have been here for a week now. When we arrived, 15 other farmers who were already here since Nov. 26 were discharged. The next batch will arrive to replace us soon," he said. "And the relay will go on—be it for six months or 10 years or for however long (Prime Minister) Modi decides to drag this on."
"As you can see, this kitchen can go on forever. We don't need to ask anyone for money to keep this going. All the villages in Punjab and Haryana are sending us these rations. They won't let us run short of any food item because everyone realizes this is a fight for our rights as the country's farming community.
"Modi did not give me my farmland or the crops grown on it. Generations of my forefathers have soaked our fields with sweat and blood," he adds. "Modi should give up his illusion that the farmers will go back without accomplishing what they came here for."
The water cannons, tear gas, and violent baton charge unleashed against these farmers as they approached the capital city in large caravans is well documented. However, the repression they endured at the local village level while mobilizing for this agitation has received little attention.
"My house was surrounded on all four sides by 50-60 policemen"
Ramachandra— a leader of the farmers' union, All India Kisan Sabha (AIKS), and a member of Haryana state committee of Communist Party of India-Marxist (CPI-M)—recollects that meetings, small protests, and other forms of agitation had begun in villages soon after the farm acts were passed. He hails from the Ratia tehsil (sub-division) of Fatehabad district.
Here, a month after the farm acts were legislated, on the occasion of Dussehra, a Hindu religious festival when it is a tradition to burn an effigy of the mythological demon, Ravan, villagers burnt an effigy of Modi instead.
By the last week of November, it had become clear to the authorities that the mass mobilization of farmers had been successful, and tens of thousands were set to head to the capital in protest on Nov. 26. This was planned to coincide with arguably the largest general strike of workers in human history, led by 10 major trade unions of the country. Soon, a crackdown on the leaders began.
"After overseeing the preparations to ensure at least two tractors would set out with sufficient rations from each (of the 66) villages in Ratia, I arrived home at 10 o'clock on the night of Nov. 23. By around 1:30 a.m, when my entire family was asleep, my house was surrounded on all four sides by 50-60 policemen," Ramchandra said.
After arresting him with such a large force, he was booked under a minor charge, which amounts to nothing more than getting into loud, heated arguments or quarrels.
"Anyone booked under Section 751 can be bailed the very next day. However, at the insistence of the government, the sub-divisional magistrate and other authorities to whom the bail application must be addressed went on leave. So I was lodged in a jail for five days."
Describing the conditions inside the prison, he added, "My cell had only one tap. I had to use the same water for drinking and for the open lavatory inside the cell. At night, in this cold winter, I had to sleep on the floor with only a thin sheet and a blanket. The food we were served was also unhygienic. Me and other comrades who were jailed went on a hunger strike."
"No national media was paying attention to these developments in the villages at the time," he said. But "all the lawyers in Ratia had been on strike in protest from the very next day of the arrests. Demonstrations were held in different villages. Finally, when I was released along with others on Nov. 28, I realized that as a result of this crackdown, the size of the mobilization had doubled, as more and more infuriated had farmers joined in."
That very night, Ramachandra hit the highway, accompanied by other farmers on a caravan of more than 200 tractors from Ratia. Enduring such repression in villages across Haryana, whose state government is also ruled by the BJP, the farmers, under the leadership of different unions, set out to Delhi in seemingly endless columns of tractor-trolleys, some of which were reported to stretch as long as 40 kilometers in length.
Indian workers and farmers make history:

250 million Indian workers and farmers strike, breaking world record
With them were an estimated one to two hundred thousand Punjab farmers, who had already crossed their state's southern border into Haryana, and were enroute to Delhi. Farmers from Uttar Pradesh, Rajasthan, and other neighboring states have also since been heading towards Delhi, most of whose major borders are closed with barricades.
BJP resorts to religious polarization, again
However, the ruling party singled out the farmers from Punjab, who are predominantly of the minority Sikh religion and happen to be ruled by a state government led by an opposition party, the Indian National Congress (INC).
Using its giant propaganda machinery spread out in the social media and television news, the BJP sought to defame the movement by portraying it as one instigated by Khalistani terrorists.
The Khalistani movement was a violent campaign for the secession of Punjab from India which reached its peak in the 1980s and 1990s. Previously, the BJP government's labeling of the minorities, youth, and students dissenting against its policies as fifth-columnists had succeeded in turning a considerable section of the society against them. However, its attempt to use the same tactic against the protesting farmers has backfired.
Ex-army servicemen to return medals
"The farming communities of Punjab and Haryana, which have sent us here to the Delhi border, have sent their sons in equal numbers to serve in the army," said another 23-year old farmer from Haryana. "Two of my own brothers are at the China border guarding Indian territory. And the government has the nerve to label our struggle as anti-national and separatist?"
Flaunting on his overcoat the medals he was decorated with during his service, Retired Captain Balaur Singh says with pride, "I am a former soldier." Now an old man, he moves slowly. Youngsters from his village help him with a chair.
Taking a seat, he explains that at his age, he has chosen to endure the harsh winter weather and other hardships of life on this roadside caravan—where at least four farmers have succumbed—because he was a farmer before he served in the army and returned to farming after service. This is the case with most soldiers, he explains.
"We have formed an ex-servicemen committee in Punjab, made up of retired soldiers and officers of all ranks. We have decided that if the government refuses to withdraw these farm acts, we will return all our medals and continue to struggle with farmers for however long it takes. Because there is an inextricable tie between soldiers and farmers in this country," he says. Onlookers cheer, "Jai Jawaan! Jai Kisaan! (Hail the soldier! Hail the farmer!)."
The failure of the BJP to paint these farmers as the enemies of the nation has been demonstrated by the success of the nationwide shutdown on Dec. 8, called for by Sanyukt Kisan Morcha (SKM)—an umbrella organization of 500 farmers' organizations across the country.
According to All-India Kisan Sangharsh Coordination Committee (AIKSCC), which is the largest grouping within SKM constituted of 250 farmer organizations, over five million participated in the shutdown, and demonstrations were held in at least 20,000 different locations in 22 states across the country.
Newsclick reported that "major cities across the nation largely wore a deserted look as shops and market complexes remained shut, while rail and public transport services were disrupted. With vehicles off the road, protesters took to the streets and blocked national and state highways."