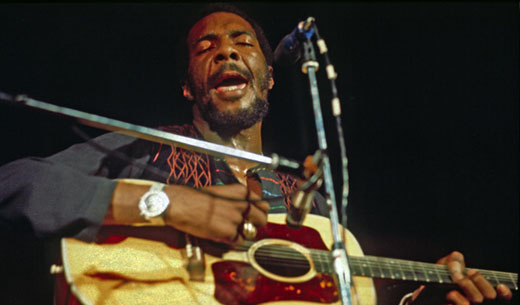 Richie Havens, an African American musician, hit the folk scene big time with the classic "Mixed Bag" in 1967. His "Handsome Johnny" composition caught my ear first with its fast then light Spanish rhythm guitar, and a unique vocal style mixing blues and gospel and something uniquely Richie Havens. The song was political, an attack on racism and war, but not boring – an important attraction in the 60's!
By the time Havens opened the legendary Woodstock concert of 1968, he was a major player in the counter-culture firmament, arranging signature covers of Beatles and Bob Dylan songs that he liked, as well as his own material. Eleanor Rigby, Here Comes the Sun, Just Like a Woman were big hits, especially for songs coming from the folk movement.
Richard P Havens was born on Jan. 21, 1941, in the Bedford-Stuyvesant section of Brooklyn. He was the eldest of nine children. According to the New York Times, his father made Formica tables for a living and played piano with various bands. His mother worked for a book bindery.
He began singing with street-corner groups and gospel singers when he was about 12. At 14 he joined the McCrea Gospel Singers. He dropped out of high school, but spent the rest of his life educating himself, and was proud of the results.
Now, at age 72, Richie Havens is dead of a heart attack. He kept touring, recording and making movies until a month ago. He was a steadfast activist for social justice and peace until the end.
In a Rolling Stone interview in 1971 he recounted his unexpected invitation to open the Woodstock concert because the scheduled opening act had been tied up in traffic – like thousands of others! Havens performed 6 songs and ran out of prepared material – he had only been told he would play for 45 minutes. He "remembered that word I kept hearing while I looked over the crowd in my first moments on stage. The word was: freedom."
Havens begin chanting the word over and over eventually morphing into "Sometimes I Feel Like a Motherless Child". The medley became a highlight of the Woodstock movie, which also immortalized Havens.
"My fondest memory was realizing that I was seeing something I never thought I'd ever see in my lifetime – an assemblage of such numbers of people who had the same spirit and consciousness…"
Rest in Peace, Richie Havens, you've earned it.
Photo: Flickr (CC)