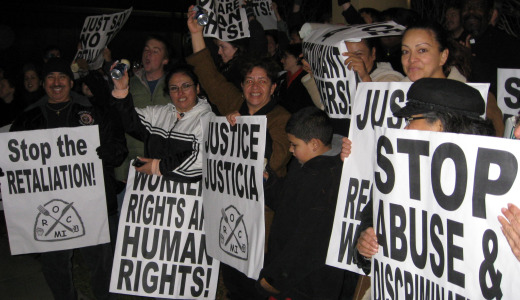 DEARBORN, Mich. – It happened again this past Monday. People were robbed and cheated. If justice ruled, the perpetrator, who is known, would find the police quickly knocking on his door.
But when the victims are workers, the results are different. That's because, while they are on the job, workers have few rights a boss must respect.
For the past six years, Bertha Piña has worked hard on her job doing food preparation at Andiamo's restaurant here. On Monday, three days before Thanksgiving, this mother of five and sole provider for her family was fired.
Was she caught stealing or accused of poor work performance? No, not at all. Her "crime" was joining with other workers in a Restaurant Opportunities Center of Michigan (ROC-MI) campaign to protest the theft of $125,000 in unpaid wages. The theft was carried out through minimum wage violations, unpaid overtime, forcing workers to work "off the clock," and improper wage deductions, along with racial, nationality and gender discrimination.
ROC-MI is an affiliate of Restaurant Opportunities Centers United, a national restaurant worker's organization dedicated to improving working conditions for these workers.
Piña participated in a demonstration outside the restaurant last Friday, and her firing on Monday was clearly retaliatory.
ROC-MI organized a spirited demonstration here Tuesday to protest her illegal firing.
"I think it was all for the money," Piña said about the restaurant's shortchanging of the workers.
"It will be hard for me and my children because Christmas is coming and there is no money for the presents," she said. Her children range in age from 6 to 16. "It's hard because I am the only one to support them. I have to pay the bills, house payments, insurance for my car, everything."
Judging by the impressive turnout at the demonstration, Pina and the other workers will not be alone in their fight. Support came from labor and the religious community, but most impressive was the large turnout of young people.
"I think it's something that young people really understand – workers' issues – because we're just entering the workforce – well trying to enter the workforce – and not being able to," said Anna Springer of Detroit. "Having people that do have steady jobs being abused, just because they are immigrants or because they are afraid of losing their jobs – the workforce is so stretched right now – that is something we can relate to."
She added, "In Detroit there are so many different issues that are going on but all of them are so close and interrelated. You have issues of economic justice, workers' justice, immigrant justice, labor justice, a lot of people are coming to support and to cry out that this is not okay, not acceptable. Especially in such a labor focused town, this is not acceptable."
Emily Knowles, a freshman at the University of Michigan in Ann Arbor who carpooled to the protest with 20 to 25 others from her campus, said, "It's an important issue we are all passionate about. A lot of the people here from U of M are really involved in community service, human rights and social justice. We support ROC so we just came out to help support them on an issue we all feel passionate about."
Commenting on the diversity of the crowd, the chairman of Metropolitan Detroit Interfaith Workers for Justice, the Rev. John Pitts Jr., said he hoped the restaurant owners would "see this coalition that is gathered here tonight and sit back and rethink some of these things where they put profits over people."
"We are our brother's keeper," said Pitts, who is pastor of the Temple of Praise International Church in Taylor, Mich. "We have a religious responsibility to be there one for another. And the battle we ignore in our brother's yard today will be the same battle we will fight tomorrow."
The plight of the workers at Andiamo's "absolutely" points out the need for passing the Employee Free Choice Act, said Saundra Williams, president of the Metropolitan Detroit AFL-CIO. "This should not be happening. It is just unconsciousable that employers are so greedy that they are violating the law and not paying their workers what they should be paying."
"The Metro Detroit AFL-CIO will stand with ROC as long as it takes to do something about this situation," she said.
Photo: PW/John Rummel