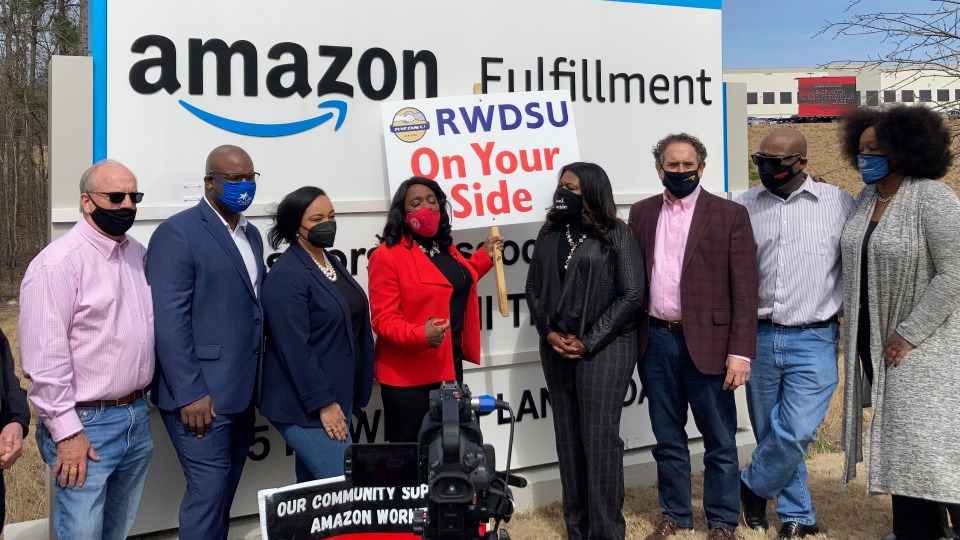 BESSEMER, Ala.—Amazon has beaten back a historic effort by workers to form a collective bargaining unit in a warehouse in Bessemer, Alabama, with about two-thirds of ballots cast in the union election voting against joining the Retail, Wholesale and Department Store Union, according to a tally by the National Labor Relations Board.
The final tally showed 1,798 votes against and 738 in favor, with about 55% of the 5,867 eligible workers casting a ballot. Another 76 ballots were voided and 505 were challenged. The challenged ballots were not counted or opened since they would not have changed the outcome. 
The RWDSU immediately vowed to challenge the results of the election, claiming that "Amazon illegally interfered in the union vote" by intimidating workers and coercing them to vote against the union.
There is no sign that labor and its allies are giving up. The union says it is challenging the rampant labor law breaking of the company and nationally the AFL-CIO is stepping up its campaign for major labor law reform embodied in the ProAct and has secured the backing of President Biden for that effort.
Alabama AFL-CIO President Bren Riley declared this morning that "this goes to show what happens when our woefully outdated labor laws allow corporations to get away with blatantly illegal union-busting activity, knowing the worst they'll receive is a slap on the wrist. Hell, for Jeff Bezos, a few thousand dollars charged by the National Labor Relations Board is what he makes in a matter of seconds.
"Our nation's labor movement is long overdue, Riley said, "for serious labor law reform. The Amazon union campaign deeply underscores the need to pass the Protecting the Right to Organize (PRO) Act, legislation currently awaiting a vote in the US Senate. If passed into law, it will be the largest law reform since the Great Depression."
The vote at Bessemer, just outside Birmingham, is important for the nation's unions but particularly important for workers of color. The Bessemer workers are 85% Black, and many, if not most, earn the federal minimum wage, $7.25 an hour, or slightly more.
If RWDSU won, it would have been a major breakthrough not only at anti-union Amazon but in notoriously now anti-union Alabama. The pro-union campaign became a civil rights cause, too, gaining support from, among others, actor Danny Glover and the Poor People's Campaign, and a strong endorsement video from Democratic President Joe Biden.
Wages were only one issue in RWDSU's organizing drive at Bessemer, which began when workers approached the union last year. Bezos's wealth and Amazon's huge profits, swollen by revenue from online shoppers during the coronavirus pandemic, was another.
Topping those factors were working conditions at the four-story plant, which is the size of several football fields end-to-end. One condition: Multiple elevators for goods but only one for people.
Amazon also docks workers—leading to suspensions or firings—for being too many minutes away from their posts, monitored by computers. That includes walking time to the few bathrooms to wash their hands to protect against the virus.
Workers also cannot sanitize and there's a lack of physical distancing. And Amazon had doled out "hazard pay" bonuses to workers during the first three months of the pandemic last year, then yanked them. There were also constant speed-up quotas.
All this prompted the organizing drive, which began with a group of workers contacting RWDSU, a sector of the United Food and Commercial Workers.
Amazon responded with an intense and, RWDSU President Stuart Applebaum said, often illegal, union-busting drive. Amazon featured anti-union harangues at captive audience meetings and even posted anti-union materials in the plant's bathrooms.
Amazon also got Bessemer officials to change traffic light sequences outside the plant's main gate, so pro-union workers would have less time to approach others in their cars.
"Our system is broken," Applebaum said. "Amazon took full advantage of that, and we will be calling on the Labor Board to hold Amazon accountable for its illegal and egregious behavior during the campaign. But make no mistake about it: This still represents an important moment for working people and their voices will be heard," he said.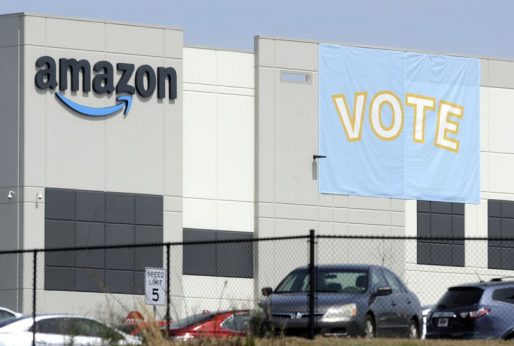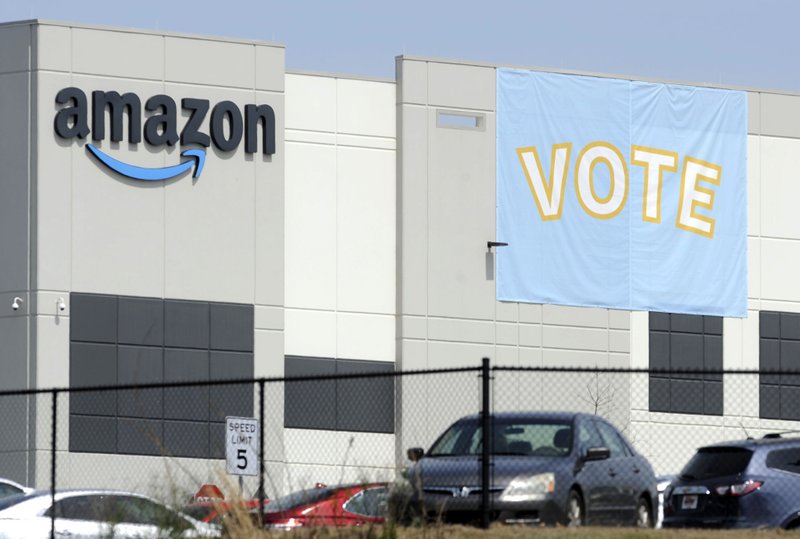 They've certainly been heard by other Amazon workers around the nation, whom union leaders say have been paying close attention to the outcome in Bessemer.
Meanwhile, NLRB regional officials elsewhere ruled, in the days before the vote, that Amazon broke labor law by firing two workers who "engaged in protected concerted activity," to use the law's language, over lack of coronavirus protection and other issues.
Amazon workers on Chicago's South Side are also upset. Some 20-30 workers at its DIL3 warehouse in Gage Park became the latest group of the monster firm's employees forced to strike over working conditions, for a day on April 7. Many of the Amazon Gage Park workers are Spanish speakers.
More than a year ago, before the virus hit, Amazon settled a prior forced walkout in the Twin Cities over its refusal to allow Muslim workers time off for holy days.
At Gage Park, Amazon forces workers to toil on a "Megacycle" graveyard shift from 1:20 a.m. to 11:50 a.m. It's also imposing the Megacycle on workers and drivers in Florida, Indiana, Pennsylvania, Massachusetts, and South Carolina, the Amazons United Chicagoland told The Intercept. They're also circulating an online petition demanding reasonable working hours.
"Stand with Chicagoland Amazon workers. Amazon workers here in Chicago and around the country are being moved to an inhumane 'Megacycle' (1 a.m.-12 p.m.) shift," the petition says. They demand accommodations for workers who cannot work at night, such as those with young children.
They also demand $2 per hour additional megacycle shift pay, free Lyft rides to and from work—CTA's buses don't run at 1 am in Gage Park, and commutes take hours—and respect for workers' 20-minute paid breaks.
"Amazon could make accommodations to peoples' schedules who need it. They just don't want to," Amazonians United organizer Christian Zamarrón told the news site.
This article was updated at 12:45 p.m. Central Time.