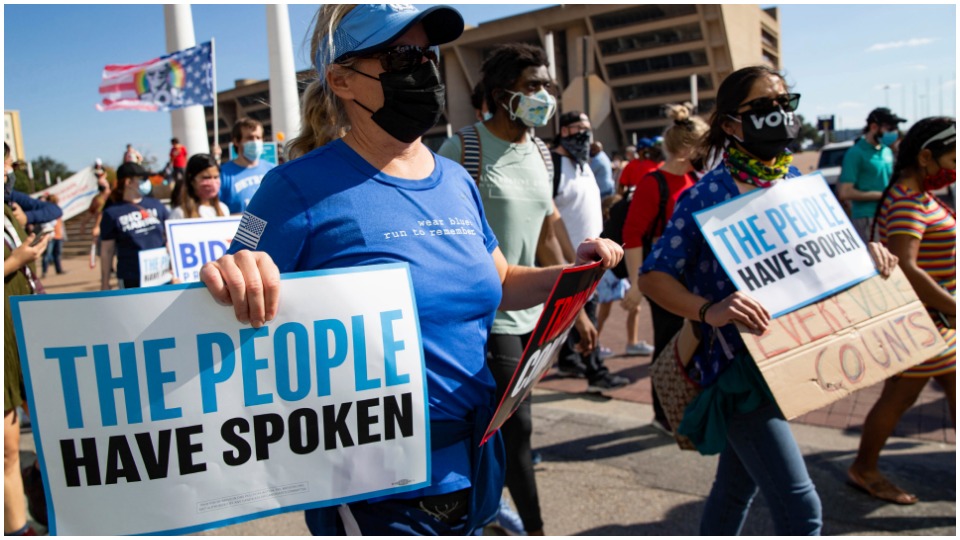 Retired four-star Gen. Barry McCaffrey warned on national television last night and in a statement via Twitter the night before that Americans are "watching a slow-moving Trump coup to defy the Biden election and refuse to leave office by diktat." His warnings follow the firing of a string of top civilian Pentagon leaders and the replacement of them with obedient extreme right Trump loyalists.
"Believe your eyes. This will be a test of our institutions," McCaffrey said.
Trump fired Defense Secretary Mark Esper on Monday, which was only the first of a series of firings at the Pentagon.
A day later, on Tuesday, the Trump purge escalated as the president demanded the resignations of at least three additional civilian leaders at the Pentagon: John Anderson, Undersecretary of Defense for Policy; John Kernan, Undersecretary of Defense for Intelligence; and Jen Stewart, Pentagon Chief of Staff.
Many believe that Deputy Secretary of Defense David Norquist could be Trump's next target in the Defense Department. The directors of the CIA, Gina Haspel, and the FBI, Christopher Wray, are also thought to be on Trump's hit list.
Closely watched as well is Chairman of the Joint Chiefs of Staff Gen. Mark A. Milley, who has angered Trump since he resisted the use of armed forces against Black Lives Matters demonstrators in Washington, D.C., and who has worked to remove the names of Confederate generals from military bases.
Anthony Tata, whom Trump put in charge of Pentagon policy, couldn't pass muster even with the GOP-controlled Senate when Trump nominated him for the undersecretary job because of his characterization of President Obama as a "terrorist leader." Ignoring that rejection, Trump has now put him in charge of Pentagon policy anyway.
These moves by Trump, even if they don't result in a "soft" or any other type of "coup," serve to delay further the transition to a Biden administration. The pressure is on the General Services Administration to grant Biden and his team access to government agencies and resources, for example. With more Trump loyalists in charge in those agencies, the outgoing president will be able to order them to not comply with GSA orders once Biden's win is certified, forcing them to choose between him and the law.
In his latest warnings in a Nov. 11 interview on MSNBC, McCaffrey doubled down on his concern over Trump loyalists being given top roles at the Defense Department in the last 70 days of Donald Trump's presidency.
"I've been shot at a lot, nearly killed a bunch of times. I'm not an alarmist. I'm generally cool under pressure. But mark me down as alarmed."
Responding to those who say Trump's firing of Esper is just the president settling scores, McCaffrey disagreed. "We are watching a set-up of people who are unqualified for office to be put in charge of the 2.1 million men and women of our armed forces." He called the Trump appointments "dangerous."
"This team being moved in…no one in their right mind would have accepted these appointments for 90 days. These people are in there to control coercive institutions of U.S. democracy. Watch out."
McCaffrey said he doesn't believe that "in any way this should be minimized" or seen as "just a tantrum by a president trying to accommodate himself to the outcome of an election." The general said, bluntly, "This is some crazy thinking going on inside that White House."
He said top GOP leaders must step in to restrain their president. "Congressional Republicans now have a huge responsibility to speak out or go to the White House and tell them this isn't going to work. And by the way, it isn't going to work. At the end of the day on the 20th of January, the election result will be sustained…but we are in a risky situation right now."
In addition to trying to solidify his control of coercive branches of government—the Pentagon, the Justice Department, the FBI, the CIA, Homeland Security, etc.—Trump is getting help from state and local GOP lawmakers in his efforts to overturn the results of the election.
In Pennsylvania, for example, with their so-called "Election Integrity Committee," GOP legislators have what they think is a back-up plan to send alternate electors to the Electoral College in mid-December.
The Trump defeat in Georgia, of course, makes that much more unlikely, but cool observers have learned to put nothing past Trump loyalists in the GOP.
The delays in recognizing the Biden election are also, of course, designed to keep the Trump base worked up so that the GOP can win the two Senate runoffs coming up in Georgia on Jan. 5.
Happily, there is a powerful movement underway nationally to protect the election results. They are operating under the proven scenario that millions of Americans are ready to come out and demonstrate at a moment's notice.
The power of that movement is evident with a growing number of GOP leaders and senators breaking with Trump and congratulating Biden on his victory.
So what is needed now is an alert population, pleased as it is with the Election Day results, to remain alert and continue demonstrating its determination to protect the people's victory. Trump and Trumpism won't go quietly into the night, but the people's movements also will not let up in their determination to ring in a new day in America.
Finishing off Trump:

Trump isn't quitting and neither can we

GOP planning a 'soft coup' by refusing to recognize Biden win?
---
Like free stuff? So do we. Here at People's World, we believe strongly in the mission of keeping the labor and democratic movements informed so they are prepared for the struggle. But we need your help. While our content is free for readers (something we are proud of) it takes money — a lot of it — to produce and cover the stories you see in our pages. Only you, our readers and supporters, can keep us going. Only you can make sure we keep the news that matters free of paywalls and advertisements. If you enjoy reading People's World and the stories we bring you, support our work by becoming a $5 monthly sustainer today.