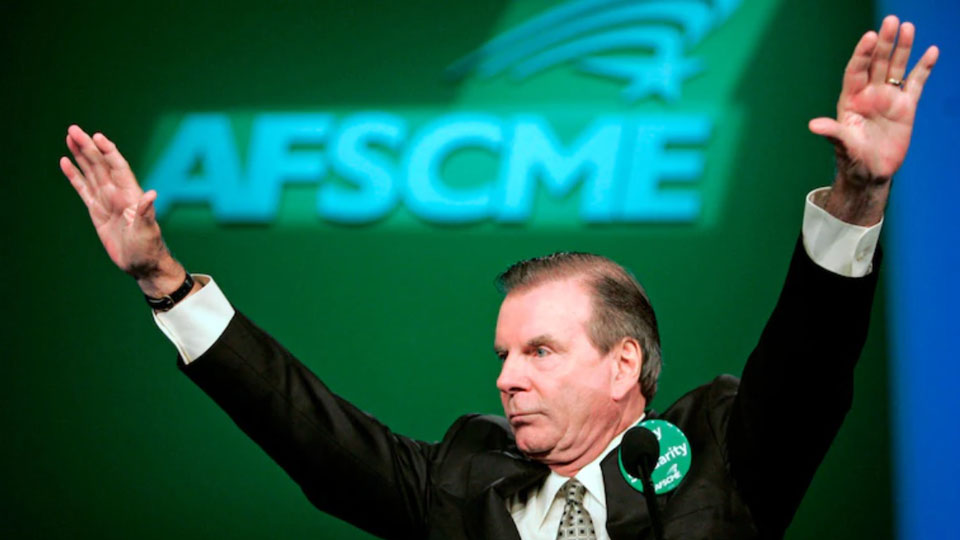 PHILADELPHIA —Literally on the eve of his own union's convention in his native Philadelphia, retired longtime AFSCME President Gerald "Jerry" McEntee died in Naples, Fla., the night of July 9-10, the union announced. He was 87. The cause of death was not reported.
"AFSCME, the labor movement, and the nation lost a legend with 'the heart of a lion,' as President Bill Clinton described him," said current union President Lee Saunders, who was McEntee's Secretary-Treasurer and succeeded him in the union's top job. McEntee led the 1.6-million-member union from 1981-2112.
"Jerry McEntee was a visionary leader and one of the most fearless, ferocious advocates working people have ever had. Standing up for people who strengthen their communities through public service was his passion and his life's work," Saunders said. "From the moment he became an AFSCME member 66 years ago, he has never let up in the fight.
"He was also a man of joyful, infectious energy, a lively storyteller with a tremendous sense of humor. His down-to-earth charm drew people to him, just one of the qualities that made him a great leader."
McEntee's charm frequently appeared in unexpected places and unexpected ways. For example, a few reporters at a side talk during an AFL-CIO Executive Council meeting at Chicago's Drake Hotel asked him to evaluate then-Republican President George W. Bush.
McEntee cocked his head, grinned, and said, deadpan: "This man makes Ronald Reagan look good."
That comparison was apt. Saunders noted one of McEntee's outstanding achievements as the union's president was to "mobilize an army of public employees and retirees to help defeat Bush's reckless scheme to privatize Social Security." Bush's drive, backed by the radical right, started in mid-2005 and collapsed within months.
As chair of the AFL-CIO's political committee, a post Saunders assumed when he succeeded McEntee in the AFSCME presidency, McEntee oversaw the planning and implementation of the federation's political organizing and campaigns, always with the objective of electing more worker-friendly officeholders, most of them Democrats.
Success was mixed, often due to factors outside the AFL-CIO's control—such as Bill Clinton's determination to push through the jobs-destroying North American Free Trade Agreement (NAFTA).
That not only cost Democrats—not all of them pro-worker—Congress, as disgusted workers stayed home, but also, political analysts said, played a part in later worker mistrust of Hillary Clinton when she sought the White House in 2016.
An early and passionate advocate for women and workers of color, "McEntee was a visionary leader who led with passion and grace throughout his life," AFL-CIO President Liz Shuler tweeted. "The entire labor movement mourns the loss of our friend and will continue our fight for equality for all workers in his memory."
A native of Philadelphia's Swampoodle neighborhood, McEntee became the AFSCME president after "the largest union mobilization" in U.S. history, Pennsylvania's District Council 13 later wrote. As executive director, he spent four years, starting in 1969, organizing 75,000-plus public service workers statewide, its 2013 40th anniversary booklet said.
"After calling for a rally in 1970 to pass a collective bargaining law (Act 195), 5,000 people protested in the streets of Harrisburg and the bill was signed into law two months later. It was the nation's first statewide strike against a state government.
"Employees were finally guaranteed a 40-hour work week, overtime, seniority, grievance procedures, and health coverage—and they no longer had to fear being fired for belonging to the 'wrong' political party or for attending a union meeting."
"With Jerry at the helm, AFSCME played a difference-making role in the passage of countless landmark federal laws empowering working people–from the Americans with Disabilities Act to the Family and Medical Leave Act to the Affordable Care Act and many more. And Jerry led the fight against privatization and the outsourcing of vital public services," Saunders said.
And in a 2012 book McEntee and Saunders co-authored Main Street Moment, "AFSCME's leaders argue the response to the unprecedented attacks on the rights of workers amid growing income inequality in the United States has triggered something extraordinary: The Main Street Moment," one reviewer wrote.
"From Washington to Wisconsin, Americans are fighting back against the crony capitalists trying to undo a century of hard-won victories for workers. These Americans know the best bulwark against economic calamity is organized labor," their book added.
"Unions brought you the weekend and the 40-hour work week; unions created the middle class. And now unions must save America from those who would sacrifice democracy for the sake of profit."