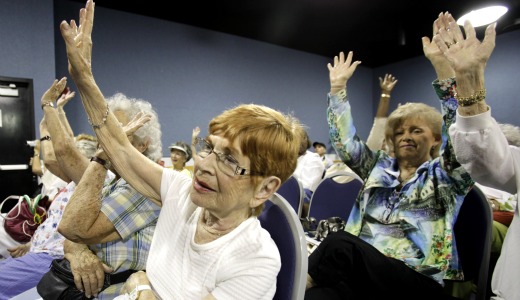 WASHINGTON (PAI) – Looking forward already to next year's presidential campaign, the labor-backed Alliance for Retired Americans is gearing up for a tough battle – getting non-union retirees to vote for Barack Obama.
In keynote remarks to several hundred alliance members, meeting Sept. 6 in D.C. for the group's legislative/political conference, alliance Executive Director Ed Coyle reminded them they faced the same uphill task in 2008.
Seniors were the only large group of voters among whom a majority opposed the president in his race against Sen. John McCain, R-Ariz., Coyle added.
But he said the group could draw inspiration from its past victories, including helping to defeat GOP President George W. Bush's 2005 plan to partially privatize Social Security. That program, and Medicare, is still under threat from the right wing, Coyle warned. He also cited passage of Obama's health insurance revision as a win.
That win for seniors did not translate into votes, though, he admitted. "It's no secret older Americans were not Barack Obama's best constituency – and health care didn't do any good" electorally, he added. Seniors went overwhelmingly for the GOP in off-year gubernatorial elections in 2009 and U.S. House races in 2010, Coyle said.
The question is how to cut the president's losses and bring more seniors to his side next year. The alliance will use more "earned media" – press conferences, rallies and the like – to overcome the bias of talk radio and Fox, he told delegates. It's also reaching out via social media using Facebook and Twitter.
In a brief talk with Press Associates after his speech, Coyle said the group still is figuring out how to reach out to non-unionist retirees. It's created a system of zone coordinators to mobilize its own members, who now comprise 1,400 chapters in 30 states. And it will draw on some of the money the AFL-CIO plans to raise through its new SuperPac, a campaign finance committee, which will appeal to non-unionists.
The alliance is also taking its message to smaller groups of seniors, visiting senior centers and other gathering sites, to point out how the Obama administration's plans help seniors – and how the GOP would threaten Medicare and Social Security.
That threat was also on the minds of the conference delegates. They spent Sept. 8, the third day of their conclave, in meetings with lawmakers, briefing them on how budget-cutting plans now under consideration in Washington could harm programs for seniors.
"Remember," Coyle told the delegates, "on this issue, you often know more than they do."
Photo: Marilynn Garfield of Delray Beach, Fla., left, raises her hand when the audience was asked how many are on Medicare during the Florida Alliance for Retired Americans fifth annual town hall meeting on health care reform in Delray Beach, Fla., Aug. 20, 2009. (AP Photo/Lynne Sladky)