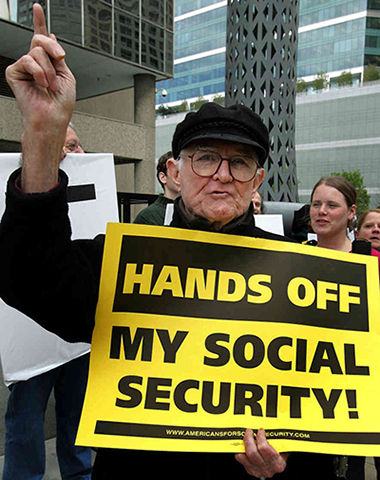 The White House Commission on Aging (WHCA) was set up, funded, under the ERISA Act in 1974, part of the Older Americans Act. It meets only once a decade in D.C. to set government policy on seniors/retirement security, and is supposed to be non-partisan in its approach. For 40 years, the WHCA did just that, with both main national political parties generally cooperating in this task. All that has now ended!
The Republican Party has openly declared war on retirees. As soon as they achieved a majority in congress they defunded the WHCA, refused to continue to support the Older Americans Act and every GOP candidate running for top office has announced that they'll support cuts in Social Security. Legislation attacking Social Security and pensions was the first thing passed by that majority. Many Democrats haven't been much better, looking for some type of 'grand bargain' to cut retiree security.
In this difficult situation, the Obama administration is holding hearings of the WHCA at various locations across the nation this year. While receiving little media coverage, regional hearings are being held in Tampa, Phoenix, Seattle, Cleveland & Boston. Three have been held so far, generally dominated by corporate types, testifying against retirement security, and the next one is scheduled for Apr. 27 in Cleveland.
For a wide coalition of retirees, unions and supporters of retiree security, this was just not acceptable and it was felt that there needed to be a public event, alongside the WHCA Cleveland hearing, to assure that those impacted by government/corporate policies are actually held. The United Steelworkers, their retiree organization, SOAR (Steelworkers Organization of Active Retirees), the Ohio AFL-CIO, Alliance for Retired Americans (ARA), the Cleveland Union Retiree Council & Senior Voice, a retiree based coalition in Cleveland), and others came together and have called a rally for 1:00 on 4/27 at the Old Stone Church in that city, on Public Square, just a block from where the WHCA hearings are being held.
"We need to make sure that we are seen, and heard," stated Cleveland SOAR President Jim Reed. "We earned our pensions, they aren't anyone's 'entitlements.' Those pensions, and Social Security, support our families and the communities we live in. They are our lifeline and we intend to stand up and defend them."
Sen. Sherrod Brown, congress reps Marcie Kaptur & Marcia Fudge are scheduled to speak at the rally. The main speaker is to be Fred Redmond, USW Vice President. Todd Smith, local union musician, is providing entertainment and the coalition is videoing stories from retirees and others. Senior Voice is providing speakers on how policies have affect people in that community.
"Ohio ARA has to be part of this coalition, so that we can help raise, to the public's attention, how congress has helped corporations destroy retiree security for people in Ohio and elsewhere. Pensions, Social Security, are the only way retirees can life, pay medical bills, provide for their families and this idea of some that stealing from widows and retirees to enrich the wealthiest in our nation is just plain wrong! We need real retiree security again for all, not tax cuts and bailouts for billionaires!"
Photo: whatdidyousay.org