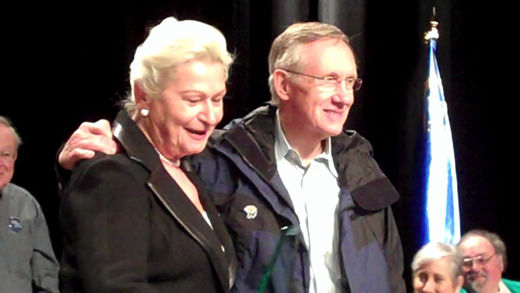 The Alliance for Retired Americans rocked their first plenary session with appearances by AFL-CIO Secretary Treasurer Liz Shuler, Labor Department Secretary Hilda Solis, and Senate Majority Leader Harry Reid. The convention runs from April 5 to 9 in Las Vegas.
Alliance President Barbara Easterling outlined the main concerns of the four-day convention.
• Fight to get out the truth about the benefits of the new health care bill;
• Stand together against any proposed cuts in Social Security;
• Learn every communication method, including social networking and Twitter;
• Gear up to win the 2010 elections.
Executive Director Ed Coyle gave a sobering report on the current voting patterns of most Americans over 65 years old.
• They voted for Bush in 2004;
• They voted for McCain in 2008;
• They currently have the lowest approval rating for the Obama administration of any age demographic;
• They tended to oppose health care reform;
• They continue to be the targets of "sustained and coordinated, downright mean, misinformation drives."
Although every other speaker gave the ARA retirees credit for saving Social Security from the George Bush privatization plan and for defending the new health care bill from those intent on wrecking it, Coyle's points were frank: "So you see, we have our work cut out for us," he concluded.
AFL-CIO leader Liz Shuler expressed her elation over the passage of health care reform. Like everyone else, she recognized the indispensable role of the retirees' organization. But she also pointed to the biggest challenge facing America today: the jobs crisis. She asked that retirees join the battle with gusto. Shuler also talked extensively about the need for all activists to embrace, listen to, and understand, the "millennia generation," or "gen-y" – young people who were born after 1978. She said that they were the largest age group since the post-war baby boomers, and that they had voted strongly to elect Obama and end right-wing rule in America.
Shuler said that today's youth oppose corrupt financiers and supports government regulation. Even though their needs and demands may be considerably different from older activists, Shuler said she was making it her personal priority to work on unity with young people. She also remarked on the importance of retirees learning the newest methods of communication, including Facebook and Twitter.
Specifically, the AFL-CIO leader urged retirees to help make a success of the labor federation's "Young Workers' Summit" in June in Washington DC.
Labor Secretary Hilda Solis talked about job safety and stressed the importance of defending the health care bill and retiree pensions.
Senate Majority Leader Harry Reid received the ARA's Leadership Award with great humility. He said that he treasured his award because Senator Ted Kennedy had been its first recipient.
Reid, like every other speaker, was proud of the new health care bill. He said, "There were 750,000 personal bankruptcies in 2008. Many were caused by the health care crisis. No longer in America, if you get sick or hurt, will you have to file for bankruptcy!"
Photo: Jim Lane ARA President Barbara Easterling with Senate Majority leader Harry Reid.