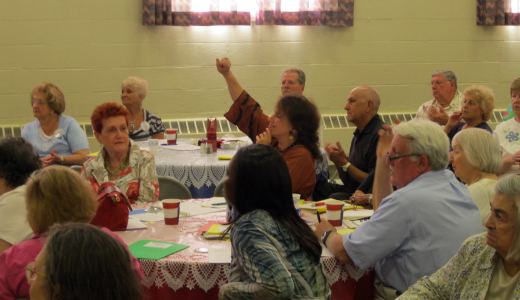 SOUTHINGTON, Conn. – Retirees were called to action during the recent Connecticut Alliance for Retired Americans convention when Rep. Chris Murphy, D-Conn., urged the delegates to stand firm in the face of attempts by the Republican-controlled Congress to cut and privatize Medicare and Social Security.
Affirming that the Social Security fund is not in financial trouble now, Murphy said that if the cap on Social Security taxes on high incomes was raised, the solvency of the fund would be secured for the future.
Murphy is a candidate for U.S. Senate to fill the seat being vacated by Joseph Lieberman, I-Conn., in 2012. Lieberman's pro-retiree voting record was only 50 percent in 2010 according to the ARA. Widespread anger greeted the recent proposal by Lieberman and Sen. Tom Coburn, R-Okla., to raise the age for Medicare eligibility from 65 to 67.
Murphy also called for public investments in infrastructure to create jobs, noting that this would strengthen the whole economy and stimulate jobs in the private sector as well.
John Olsen, president of the Connecticut AFL CIO, called on ARA members to play a part in developing young leaders in the labor movement. He told the retirees to be vocal about the struggles they waged, the benefits they won and their outrage that these could be lost.
The ARA has been an active presence in the state since forming four years ago. The organization brings together retirees from many unions, including Steelworkers, Machinists, Teachers, AFSCME, SEIU and community organizations.
Saying that the lies coming from right-wing corporate controlled media have to be answered, Olsen called on the delegates to "talk to your family, neighbors and friends about the values we support."
Decrying the influence of corporate money in politics, he said legislators should force a vote on restoring taxes on the highest incomes and large corporations, a policy that is favored by a majority of the public.
"Is it moral that there are so many hungry and homeless, that someone gets locked up to get health care?" Olsen asked, telling the retirees it is time they refuse to accept this as the status quo.
Prior to the convention, Murphy issued a letter to constituents requesting voter support for his Supreme Court Transparency and Disclosure Act, saying, "To call out the growing right-wing political influence on the Supreme Court is important."
He said he was provoked to submit the legislation after learning of the "secret influence of right-wing donors on the Supreme Court" including Harlan Crow who made multi-million dollar contributions to Swift Boat Veterans for Truth in 2004 and a Tea Party group started by the wife of Justice Clarence Thomas last year.
Photo: The Connecticut Alliance for Retired Americans convention heard from Congressman Chris Murphy, who answered questions about Social Security and the "Make it in America " jobs program. Art Perlo/PW