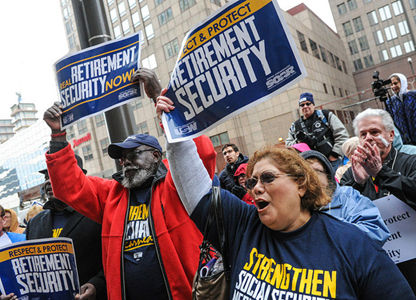 CLEVELAND, Ohio – Hundreds of retirees and their supporters rallied downtown this past week in connection with hearings held here and in other cities by the White House Commission on Aging.
They demanded the strengthening, not weakening, of Social Security and an end to what Wynn Antonio, a retired teacher, described as decades-long organized attacks against Social Security and retirees. Antonio leads the Senior Voice Coalition.
The White House Commission on Aging is also holding hearings in Tucson, Tampa, and Phoenix for the first time. Set up in the 1970s, the WHCA has always met only once a decade, and only then in D.C.
In the four decades of its existence, its marching orders have been to use those once-in-a decade hearings to develop government policy on retiree issues in a non-partisan manner. However, as with Social Security and other so-called "non-partisan" issues, it has been made extremely partisan, due to organized corporate attacks on all programs designed to aid poor, working, folks, or, in this case, retirees. One of the first acts of the new, GOP dominated Congress, was to pass legislation attacking Social Security and pensions. They also de-funded the WHCA, which led to the administration holding this year's toothless hearings in cities around the nation.
"Given that the assault on retirement security, rather than protection of those hard-won gains, have now become non-partisan, we felt we HAD to have a public event for retirees themselves to stand up and tell the WHCA that pensions, Social Security, Medicare are literal lifelines for retired Americans," stated Bruce Bostick, Ohio S.O.A.R. (Steelworker's Organization of Active Retirees) leader. "We will not tolerate continued attacks on our lifeline!"
Rallying at the historic Old Stone Church, just a block from where the WHCA hearings were being held, folks bared a stiff cold wind and icy rain blowing in off the lake.
As the crowd gathered, Todd Smith, CWA retiree and local troubadour sang a song he'd composed just for the event. To the tune of "Brother, Can You Spare a Dime," Smith sang of the need to protect retiree benefits.
"We need to expand & improve Social Security, not cut and destroy it," stated Bill Pienta, International President of SOAR. "This can be paid for easily, by just scrapping the cap on Social Security taxes, now at $108,000, so that the wealthy pay for this important program with all their earnings. This is far for humane than cutting disability payments to some poor retired worker!"
The crowd cheered enthusiastically!
Both Ohio Senator Sherrod Brown and Congresswoman Marcie Kaptur received strong support from the crowd as they spoke in support of retiree programs, as well as calling for the defeat of the proposed TPP (Trans Pacific Partnership).
"Hubert Humphrey once advised that the moral test of government cares for its people, from the dawn of life until its twilight," Kaptur told the crowd. "Using this test, we are now failing miserably!"
Brown stated that he would continue to support pension rights and would push to expand Social Security and Medicare.
"Spokesmen for the billionaires continue to talk of how 'we can't afford Social Security and Medicare, all the while continuing to push job-killing trade deals like TPP. Well, actually we can! What we cannot afford," said Brown, "is to continue to destroy manufacturing jobs while we're bailing out the wealthiest in our society."
Adding to the carnival atmosphere of the rally, just then a group of drummers joined the crowd, led by a huge U.S. flag.
"We need to work together to defend programs that keep seniors in their homes, that continue to keep families together and build our communities," stated local leader of the Benjamin Rose Institute, a Cleveland social service agency. "We all will do better when we all are doing better!"
"I'm glad we came," said Charles Montgomery, President of an all African American SOAR group from Youngstown. "We had not been participating previously, but we really felt at home today. His is what we all have to do, stand up for what we've fought for and won. If we don't corporations will take everything we have!"
"Corporations and spokesmen for the rich are working overtime trying to split youth from retirees," Elva Martes, Ohio leader of Next Generation, the USW organization of young workers, told the crowd. "Our interests are the same, not opposed! If they are able to steal hard-won gains from today's retirees, then tomorrow's retirees, who are today's young people, will retire with nothing! We are here to stand up with you!"
She was greeted with cheers!
"The Ohio Alliance for Retired American (ARA) is planning to work with SOAR & our various coalition partners to push for expanding, not cutting Social Security, Medicare and pensions, in the coming period," stated Norm Wernet, President of Ohio ARA.
Photo: USW SOAR Flickr