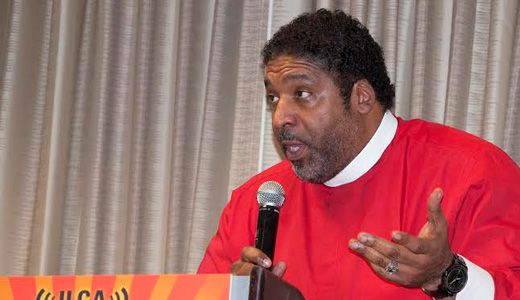 "The powers that be have always tried to split the labor movement from the civil rights movement, but in North Carolina we are going forward together and not taking one step back," declared Rev. William Barber, president of the North Carolina NAACP and leader of the Forward Together movement last month.
He was speaking to a group of labor communicators and unionists from across the nation gathered in Raleigh, N.C. at the 60th convention of the International Labor Communications Association, an organization affiliated with the AFL-CIO, Change-to-Win and the nation's Central Labor Councils.
In this fourth episode of the People's World Podcast we present extended sections of Rev. Barber's speech. In his talk he made the moral and historical case for progressive politics and organizing in the South and for labor and civil rights. He shows how the Bible itself supports that progress and how religious and cultural traditions have nothing in common with Southern extremist politics.
Photo: Rev. William Barber speaking at 2015 ILCA Convention in Raleigh, N.C. | Larry Rubin