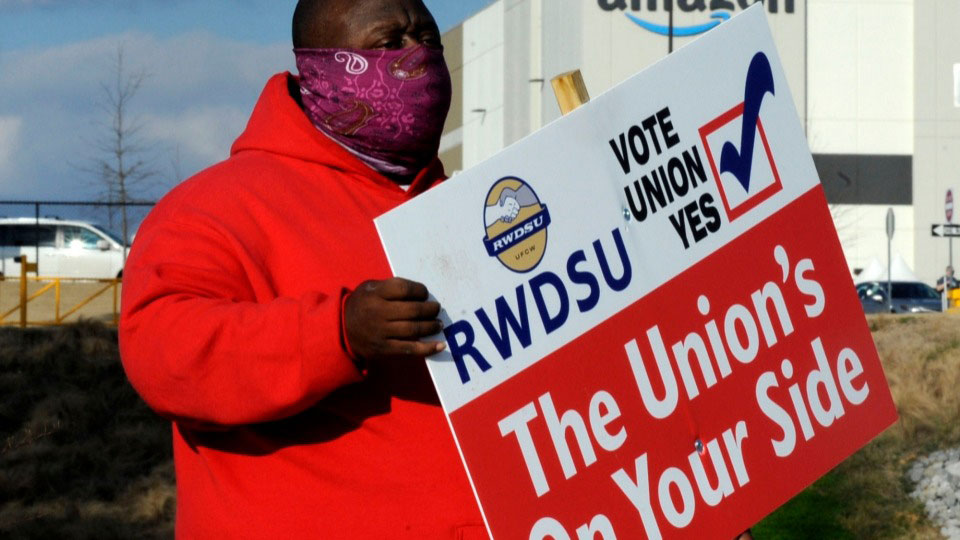 BESSEMER, Ala.—Declaring "Bessemer is the new Selma," the Rev. William Barber II and union allies brought the Poor People's Campaign to a mass rally for unionizing the 5,805 workers at Amazon's mammoth shipping warehouse in Bessemer, Ala.
Unity among the Black and white workers and their supporters there could lead to renewed Black-white unity for racial and economic justice nationwide, Barber declared.
That unity, he said, is reminiscent of the Black-white unity that powered the civil rights movement and especially the mass marches for voting rights, including that of  "Bloody Sunday" at Selma's Edmund Pettus bridge in 1965.
"The whole goal of racism is to keep the poor white masses and the poor Black masses separated," Barber told the crowd (and a national audience) outside Amazon's Bessemer warehouse. "If you can figure this out, you can build a fusion coalition to lift up all workers.
"The union fight, and the fight for voting rights, and the fight against voter suppression is the same fight," he declared.
The Poor People's March 21 rally, its latest "Moral Monday" weekly event, came as the long campaign by the Retail, Wholesale and Department Store Union, a UFCW sector, neared its climax, with a ballot deadline of March 28. Amazon "workers need a union and a contract," Barber added.
The workers are voting by mail on whether to unionize in the face of enormous management pressure and red-state Alabama's longtime hatred of unions as a threat to its white corporate, often racist power structure. By contrast, leaders of the organizing drive, like the city of Bessemer itself, are people of color, mostly Black.
If they win it would be a double breakthrough: A big win in union-hostile Alabama and at union-hostile Amazon. News reports indicate Amazon workers elsewhere are paying close attention to the Bessemer campaign. That includes Amazon drivers, who earn about half as much as colleagues for other delivery firms. Bloomberg News reports some drivers have contacted the Teamsters to talk union.
Practical issues have also driven the workers to organize with RWDSU: Lack of protection against the coronavirus, computer-monitored production speedups with drastic penalties for even missing a few too many minutes of toting goods and manning packing lines, pay not far above the federal $7.25 hourly minimum wage and bosses' disrespect for the workers and working conditions.
A glaring contrast
There's also the glaring contrast between the workers' low pay and the billions that Amazon CEO, founder, and majority Jeff Bezos is worth, and the billions more he's made as the nation—with Amazon's active advertising and promotions—has shifted to online retail buying due to the coronavirus pandemic. Meanwhile, brick-and-mortar retailers have closed.
"Bezos has seen his personal wealth rise from $113 billion to $189 billion during Covid," said Barber, using the official name for the coronavirus. "Meanwhile, 20,000 Amazon employees got Covid and died." That figure, which the firm reluctantly disclosed last November, is definitely low.
"And Amazon claims it cares so much, but it withdrew hazard pay" for those frontline warehouse workers only a few months after the pandemic was officially declared a year ago. Amazon is "scheduling workers for 10-plus hour shifts, monitoring their bathroom breaks, and holding weekly employee meetings to discourage the union effort."
The union recognition vote is "one of the biggest events in the last 30 years," declared Michael "Big Mike" Foster, RWDSU's lead organizer at Bessemer. "Black and brown people have not benefitted from being long oppressed.
"We want some meat on our tables and we're trying to keep a roof over our heads and food in our kids' bellies."
Former Sen. Doug Jones, D-Ala., who became famous as a white U.S. attorney for finally prosecuting white KKK members and nationalists who bombed the Black 16th Street Baptist Church in Birmingham, Ala., in 1963, killing four young Black girls, expanded on Barber's theme.
"The South has been the place of so many divisions" for the country. "So we've got to be the place of healing, and it all starts here," said Jones, who hails from nearby Midfield.
Six other union leaders supported the Bessemer workers via zoom videos to the crowd. Two weeks before, so did Democratic President Joe Biden. His tweeted video called success at RWDSU's Bessemer drive important not just to the union but to the U.S. as a country.
"We're calling out the Goliath of Amazon with the Davids of Bessemer," said AFL-CIO Secretary-Treasurer Liz Shuler. She reminded nationwide viewers of the live streamed rally "to call your senators" to lobby for the Protect the Right To Organize (Pro) Act. It would ease the struggles and eliminate the obstacles unionizing workers—such as those at Amazon—face.
"If we do not have a decent wage, a decent life, then what are we doing to our families?" asked Teachers (AFT) President Randi Weingarten. In another allusion to Bezos's wealth, Association of Flight Attendants -CWA President Sara Nelson added: "The corporate elite has the money, but we have the power."
"Union rights are civil rights. And CEOs and shareholders shouldn't be allowed to threaten them," as Bezos and Amazon have, said News Guild member Sara Steffens, the CWA Secretary-Treasurer. Passing the PROAct, she told everyone via zoom, would end that.
"This is a national fight and an international fight. Today (March 21), 48,000 Amazon workers in Italy walked out in a 24-hour strike because of production line speedups," said Service Employees President Mary Kay Henry. "Management is harassing them, firing them. They're not even letting them go to the bathroom, for heaven's sake"—a complaint at Bessemer, too. "It makes my blood boil."