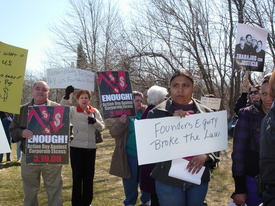 PROVIDENCE, R.I. — Workers who were locked out of their jobs at a local factory in January have filed a federal lawsuit against their former employer and the private equity firm that shut the plant down.
Colibri Workers for Rights and Justice said their lawsuit is based on the federal WARN (Worker Adjustment and Retraining Notification) Act, which requires a company with 100 or more employees to give the workers 60 days notice before closing.
The 280 Colibri workers were sent an e-mail notification just the night before the closing, and many did not find out until they came to work the following morning and found a sign on the locked door. The workers were paid only through Jan. 14, the day before the closing.
The non-union Colibri Group manufactured jewelry, cigarette lighters and clocks. The East Providence factory was shut down by Founders Equity, a New York private equity firm that acquired control of Colibri a few years ago.
"Founders Equity must be held accountable for the damage it's done to Colibri workers and to Rhode Island," said Yannery Sarit, a leader of Colibri Workers for Rights and Justice, in front of the federal courthouse here May 21 as the group announced the filing of the lawsuit.
It names Colibri, Founders Equity and Phoenix Management as defendants. Phoenix Management is the company chosen by Founders Equity to run the company's daily operations. Jim Fleet of Phoenix Management was Colibri's most recent CEO.
The WARN Act was passed in 1988 to lessen the impact that massive unforeseen unemployment has on local communities, and to give workers time to seek new employment or enter training programs. In short, the Colibri workers say, it was created for times like these. However, the federal WARN Act lacks enforcement measures. If the workers had not introduced a lawsuit, they say, no one would have held Founders Equity accountable.
The workers urged state lawmakers to pass legislation that will strengthen the WARN Act locally.
Shirley Samayoa, who worked at Colibri for 27 years, said, "We went to Washington, D.C., and spoke with a representative of the U.S. Department of Labor. He told us that there is no one in the whole country who is responsible for enforcing the WARN Act. He said the only way to enforce the WARN Act is through a lawsuit. It is ridiculous that we have to sue to get our rights. That's why we're pushing for the Rhode Island WARN Act, so what happened to us will never again happen to a worker in Rhode Island,."
The Rhode Island WARN Act, H5673, officially known as the Rhode Island Worker Protection and Job Loss Notification Act, was introduced by East Providence Rep. Roberto DaSilva as a response to the Colibri plant closing in his district.
The bill was recently amended and reintroduced so that if passed, it would automatically guarantee payment of 60 days wages and benefits to workers as an immediate administrative expense, if a company fails to provide notification of a closing. In a statement from his office, Rep. DaSilva said, "Those who employ members of our Rhode Island community need to understand that the WARN Act isn't a suggestion. It's a necessary legal step in protecting everyone involved: the families of the employees, the city or town where they live, and our state together."
The Colibri workers celebrated a victory last month when all charges were dismissed against 13 workers and supporters who were arrested for civil disobedience at a court-ordered auction of Colibri's assets in March. But if anyone thought these workers would go away quietly and give up their tenacious fight for justice, they were mistaken.
"We will keep the fight going until we reach victory," Colibri worker Yannery Sarit declared.
suwebb @ pww.org