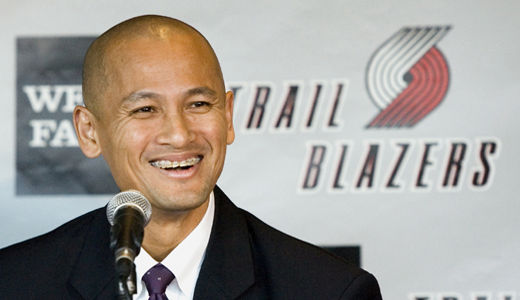 Rich Cho, 45, made basketball history last month after becoming the first Asian American general manager of an NBA team, the Portland Trail Blazers.
Cho, born in Burma, now called Myanmar, moved to the U.S. with his parents when he was three years old. Another family belonging to a Baptist church in Fort Wayne, Ind., where the Cho's settled, sponsored the family's move.
Cho's family eventually moved to Federal Way, Washington, where his father worked the graveyard shift at a local 7-Eleven to make ends meet. His mother worked in a library and took an hour-long bus ride into work every day.
"When I was growing up, we struggled a lot and we were on welfare and food stamps," Cho said to the Boston Globe. "That's part of who I am. I am not ashamed of it. It's why I am grateful for this opportunity."
Cho added, "When I am at the arena and I see men and women selling hot dogs on game nights to make ends meet, I kind of know where they are coming from."
Despite his very humble upbringing Cho's parents made sure he and his siblings took their education seriously. Cho graduated from Washington State University, where he earned an engineering degree. Soon after he worked as an engineer at Boeing for five years during the early 1990s before realizing his love for sports made him change course.
Speaking to a reporter with Hyphen Magazine recently Cho said, "It was my goal to get to sports through sports law… So I left my job at Boeing and went to law school."
In 1995 Cho was hired as an intern for the Seattle SuperSonics while finishing his law degree from Pepperdine University School of Law. In 1997 after earning his degree Cho was hired as the SuperSonics' director of basketball affairs and was promoted to assistant general manager in 2000. The SuperSonics advanced to the playoffs twice during Cho's tenure including to the second round in the 2004-05 season. However the team had major bumps in the road in the years to follow culminating in record lows.
Cho and the franchise, under new ownership, relocated to Oklahoma City with a new name, the Thunder. The team moved back into the playoffs in the 2009-10 season with a record of 50-32.
Cho says he's very fortunate to have a job in a field that he loves. He says his parents, Cho's father passed away in 1995, and his four siblings are his heroes.
His background in both law and mathematics when negotiating player trades, free agent signings, or his expertise of the salary caps and interpreting the NBA's complex collective bargaining agreement, all have made Cho one of the brightest minds in the league.
"I'm very honored and really humbled to be the first Asian American GM, but it's not something I dwell on," he's said. "I just want to do my job everyday the best I can, and help build a championship team."
Cho notes, "I wouldn't be surprised to see more Asians, because the NBA is such an international game. There are so many people in Asia that it's probably inevitable that there will be more players."
The announcement of Cho's new post came weeks after the Golden State Warriors signed Jeremy Lin, making him the first Asian American player in NBA history.
Cho hopes the diversity will continue.
Meanwhile Cho has his work cut out for him inheriting a Portland team with young talent and problematic health concerns among the squads starting players.
Yet Cho says he won't take the responsibility and opportunity lightly.
"I'm going to challenge and push my staff a great deal, probably more so than they've ever been challenged or pushed," he said.
"Beyond that, I like to treat people the way I would like to be treated. In addition, because this job is so time-consuming it's important to me for my staff to spend ample time with their families and loved ones, because at the end of the day, that's what it's all about."
Cho and his wife Julie have two young daughters.
Photo: Rich Cho is introduced as the Portland Trail Blazers new general manager in Portland, Ore., July 19.(AP Photo/Don Ryan)