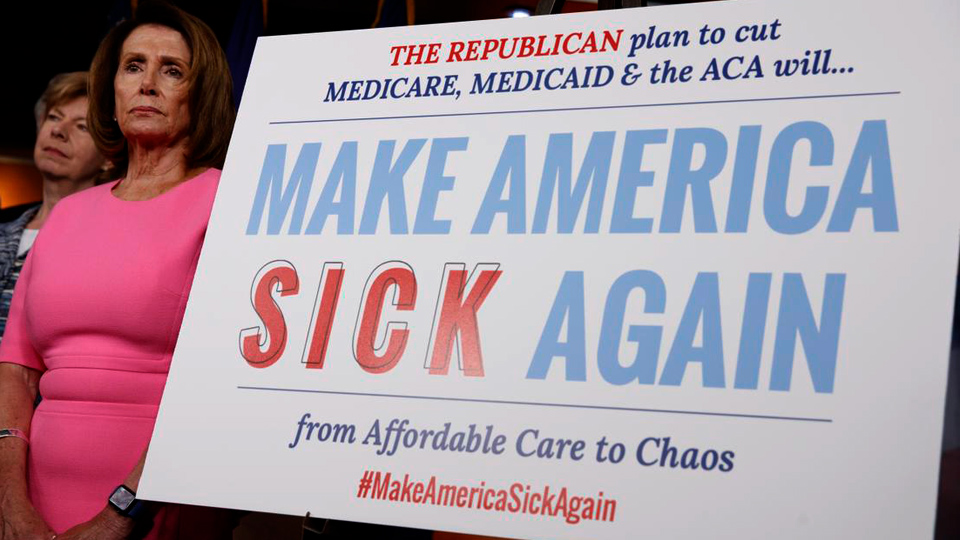 WASHINGTON – GOP Representatives in the House have their proposal to kill the Affordable Care Act (ACA). They want to replace it with a plan that would give "the biggest financial benefits [to people like Secretary of State Rex Tillerson]," according to Margot Sanger-Katz, New York Times health care reporter.
"If he didn't have a job in the Trump cabinet and access to government coverage," Sanger-Katz writes, "a 64-year-old multimillionaire like him would get … substantially more money than a poor, young person."
The GOP proposal, backed by Donald Trump, is in two bills passed by two separate House committees that have scheduled hearings to take place soon.
The plan, which House leaders call the American Health Care Act, is chock full of features that "redistribute resources from the poor to the rich," Sanger-Katz explains.
For example, the plan does away with a provision of the ACA that requires insurance company executives earning more than $500,000 a year to pay a tax that helps finance healthcare.
Where will the money that's lost come from? The GOP proposal calls for the shortfall to be made up by cutting Medicaid benefits for the poor.
"The House Republican bill would roll back the expansion of Medicaid that has provided coverage to more than 10 million people in 31 states, reducing federal payments for many new beneficiaries," Robert Pear and Thomas Kaplan write in The New York Times.
You're hardest hit if you're poor and live in a state where the governor refused to accept Medicaid expansion funds in the first place.
In those states, open-ended financial aid to low income people for health care would be immediately replaced by a capped amount, no matter what their medical needs are or how much they cost.
That means that people with chronic, pre-existing medical conditions "would face new uncertainties in a more deregulated insurance market," according to Pear and Kaplan.
If you live in a state where the governor did accept Medicaid expansion funds, you'll be hit with the new limits in 2020.
What's more, under the GOP plan, if you let your coverage lapse and buy new insurance later, insurance companies can slap a 30 percent surcharge on your new policy.
It gets worse. The GOP proposal would repeal subsidies provided under ACA to help low-income people pay deductibles and other out-of-pocket costs for insurance purchased through the public marketplaces.
"Eliminating these subsidies would cause turmoil in insurance markets, insurers and consumer advocates say," Robert Pear and Thomas Kaplan write in The New York Times.
House Republicans say their plan would provide states with funds that could be used to help people pay for health care and insurance. Whether or not the states would, in face, use these funds for that purpose would be left up to the states.
Furthermore, the ACA requirement for larger employers to offer coverage to their full-time employees would be eliminated, as would funding for Planned Parenthood.
Probably the worst part of the proposal is that instead of granting tax credits for healthcare based on income, the GOP plan calls for granting credits based on age alone.
So even if you're in Secretary of State and big oil executive Rex Tillerson's tax bracket, when you 65 the new GOP plan will take care of you. On the other hand, if you're out of work and 50 years old, well … you can get sicker and sicker with virtually no financial help at all.
In yet another example of how the proposed plan favors the wealthy and ignores Americans with low income,  "The proposed law would allow people to save more money each year in tax-free health savings and flexible spending accounts," Sanger-Katz writes, but "these accounts are most valuable to people who pay high income tax rates and have money to save."
"The ACA redistributed wealth from the rich to the poor," Sanger-Katz writes. "The GOP plan reverses this."
According to the Washington Post, the GOP repeal of the ACA will be the first time in American history that Congress has reversed "a major program of social benefits once it has taken effect and reached millions of Americans."
And four key Republican senators, all from states that opted to expand Medicaid under the ACA, have said they would oppose any new plan that would leave millions of Americans uninsured.
"We will not support a plan that does not include stability for Medicaid expansion populations or flexibility for states," Senators. Rob Portman (Ohio), Shelley Moore Capito (W.Va.), Cory Gardner (Colo.) and Lisa Murkowski (Alaska) wrote in a letter to Senate Majority Leader Mitch McConnell (R-Ky.).
On the other hand, Republican Senators Rand Paul (Kentucky), Ted Cruz (Texas) and Mike Lee (Utah) evidently believe that the GOP proposal in the House does not take away enough benefits from the American people.
They wrote on the website of Fox News. "If leadership insists on replacing Obama Care with Obama Care-lite, no repeal will pass."