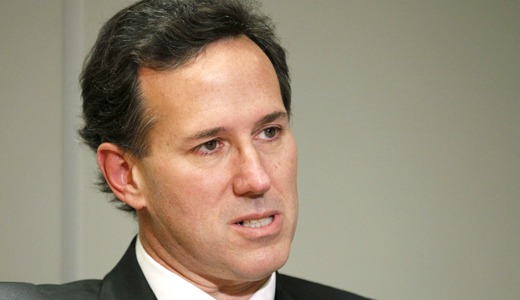 "There is no such thing as global warming," says GOP presidential hopeful Rick Santorum, and "climate change is junk science." This is a man who, amidst oil spills and fracking-triggered quakes, wants not only to keep drilling, but also to put a stop to every pro-environment outlet in America.
Santorum's opposition to any and all positive environmental measures is most evident by his outright bashing of the recent EPA safeguard that restricts mercury emissions from coal-fired plants. Throughout his stance against this development, he was seemingly ignorant to the fact that the new rules will save thousands of lives.
Though his views on this make neither logical nor scientific sense, they make political sense given Santorum's background. According to a report by the Guardian, he made a point of declaring his presidential candidacy near the coalfields where his grandfather worked, and that's an indicator of his nearly worshipful support of coal, accompanied by a blatant disregard for the effects pollution has on peoples' health.
During his years as a member of Congress and then as senator from Pennsylvania, Santorum continuously touted coal as part of 'the energy solution,' and has since maintained that position.
When he was senator, Santorum also saw nuclear power as important and claimed it was more environmentally safe.
Meanwhile, in his criticism of the EPA, Santorum avoided discussing or even acknowledging the health hazards posed by mercury and other toxic pollutants, and claimed that the new anti-mercury safeguards were "not based on any kind of science."
Not true, sources say.
"He needs to get the facts [straight]," said Heather Taylor-Miesle, director of the Natural Resources Defense Council Action Fund. "Everyone from the EPA and FDA to the National Academy of Sciences has found mercury to be dangerously toxic – especially children."
Santorum's negative opinion of environmentalism doesn't end with his attack on the EPA. He also claimed that global warming was just an excuse by liberals "for more government control of your life."
Santorum's peers in the presidential race are no better. Mitt Romney wants to tamper with the Arctic National Wildlife Refuge to obtain oil. Ron Paul wants to dismantle the EPA altogether.
Santorum's response to the real-world problem of climate change seems to be to ignore it and continue with oil pursuits. He best summed it up when he told Beck that "drill everywhere" was his philosophy. He's also fond of natural gas and fracking. "You know what the Marcellus Shale is?" he asked during an Iowa campaign stop last July. "It's the largest natural gas found in the history of the country, the second largest natural gas field in the world." He concluded, "We're drilling, baby, drilling, everwhere."
As far as oil pursuit is concerned, they're also 'spilling, baby, spilling.' And as for fracking, one might point out an important example to Santorum of the damaging effects of fracking – it certainly shook up Ohio, anyway.
Of course, this particular stance of Santorum's might also make political sense: Santorum just happens to have a well-paid consulting deal for Consol Energy – a big coal mining and fracking company. According to the report, Santorum is paid over $330,000 for his work for Consol and a number of other groups, including corporate lobbying firm American Continental Group. In 2010 and early 2011, he was also paid $239,000 for his contributions to FOX News, where he made his claims that global warming was all a big lie.
As Santorum proclaims himself a pro-lifer (which could in fact be seen as a disturbing anti-abortion agenda), it seems highly hypocritical that he has no regard for life when it comes to preserving the environment.
"For someone who claims to be so pro-life," said Taylor-Miesle, "Santorum [certainly] isn't pro-healthy-life. He just sounds like he's pandering to rich polluters."
Photo: Manuel Balce Ceneta/AP Photos