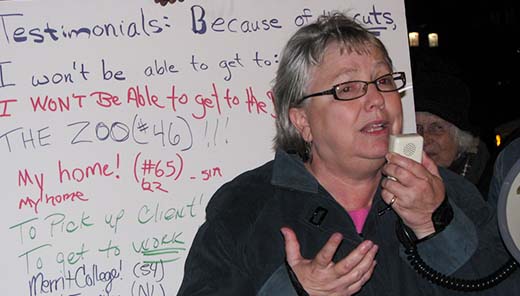 OAKLAND, Calif. – Alia Phelps is a medical assistant who works weekends. After service cuts made earlier this year by AC Transit – the bus company serving Alameda and Contra Costa counties, across the bay from San Francisco – "it's really hard getting to the hospital now," Phelps said.
The cutbacks, which AC Transit says it had to make because it faces a $56 million budget shortfall, are affecting Phelps' family as well. She can't take her 5-year-old daughter to the reading program at an area community college, and family shopping expeditions and other outings must be scheduled during the day on weekdays because evening and weekend services have been reduced.
Phelps, a member of the Alliance of Californians for Community Empowerment (ACCE), was among over 150 bus riders who gathered in downtown Oakland Nov. 9 to call for restoring service to pre-2010 levels. Participants pointed out that buses serve a higher proportion of low-income riders than other public transit services, and urged equitable treatment for bus riders in allocating resources.
Two service cuts this year have already reduced services by some 15 percent. Lines have been discontinued or rerouted, intervals between buses have increased, and adult fares have been raised.
Demonstrators were encouraged to learn that a proposed third set of cutbacks that would have removed much of the remaining night and weekend service had been avoided at least temporarily, though AC Transit officials warned more cuts could be needed next year.
Disabled riders are among those most sharply affected by the changes. Roy Womack, a community organizer with Building Opportunities through Self-Sufficiency (BOSS), said residents in the organization's shelter in neighboring Berkeley now face an eight-block walk to the nearest bus lines instead of two blocks, isolating many residents with disabilities.
ACCE, BOSS, and other community and environmental organizations are calling on area elected officials to pledge to do everything they can to fight the continuing cuts and fare hikes, to work to restore AC Transit's service to pre-2010 levels, and to fight against the "gradual diversion of AC Transit's resources."
Before signing a giant poster bearing the pledge, Gayle McLaughlin, recently reelected mayor of nearby Richmond, said many of her constituents depend on buses and she is hearing about the serious problems the cuts are causing. "We don't need to keep widening our highways," she told the crowd. "That only impacts public health with more pollution and drives us further into the global warming crisis. Let's keep pulling together for transportation justice!"
Also signing the pledge were representatives of California Assemblywoman Nancy Skinner and Alameda County Supervisor Keith Carson. Carson called in addition for fair pay and benefits for workers, assuring proper maintenance, and focusing on "areas and people who are transit-dependent."
During the summer AC Transit had sought to force a new contract with significant givebacks on 1,750 drivers and mechanics. But their union, Amalgamated Transit Union Local 192, fought off the attempt. An arbitrated agreement signed this week includes changes to work rules, health and benefit plans which the agency said would help reduce the deficit. Demonstrators expressed appreciation for the role the workers' sacrifices played in staving off the cuts.
Photo: Marilyn Bechtel
Richmond Richmond, CA mayor Gayle McLaughlin addressing demonstration.