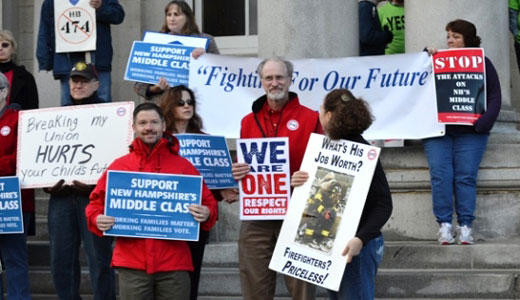 CONCORD – The House of Representatives here gave a resounding defeat to the union haters this week when it voted 212-141 against a right to work for less bill sponsored by the former New Hampshire House Speaker William O'Brien.
Before the vote firemen, all members of the International Association of Firefighters, packed into the gallery with members and leaders of other unions. Loud and continuous applause broke out when the bill went down to defeat. The union members clapped, shouted and jumped up and down when the results were announced. "I want to congratulate New Hampshire lawmakers today for listening to the people and defending the rights of all the state's employees," said Harold Schaitberger, the Firefighters' president.
"These so called 'right-to-work' bills are cropping up all over the country, but the name hides the truth, because they are really moves to take away the rights of the workers, not protect them."
"Don't believe the promises about how we would benefit if right to work becomes law," Rep. Douglas Lay (D) warned his colleagues. "If we want to protect the lives and working conditions of the people of New Hampshire we must vote against right to wo (for less)."
Right to work for less bills have been pushed in state legislative bodies by the shady and rich American Legislative Exchange Council, which has worked in overdrive to shift the politics of the nation to the right. Bills introduced in at least a dozen states are copies of templates designed by ALEC.
MacKenzie said the timing of the victory in New Hampshire "couldn't be better because it is reminding people at a critical time that their economic progress and their rights are at stake. The laws are not right for New Hampshire and they are not right for America."
Photo: Educationvotes.nea.org