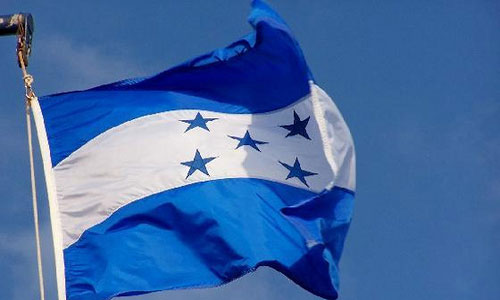 Almost two days after polls closed in Nov. 24 voting for Honduras' next president, the Supreme Electoral Tribunal (TSE) gave 774,757 votes to National Party presidential candidate Juan Orlando Hernandez and 623, 080 votes to Libre party candidate Xiomara Castro de Zelaya. The two candidates had taken 34.08 percent and 28.92 percent, respectively, of votes cast by more than 5 million Hondurans. The count representing 67.72 percent of the total constituted an "irreversible" trend, insisted the TSE. Results of parliamentary and municipal elections were unavailable. Turnout in voting for eight presidential candidates was a record high 61 percent.
These elections were remarkable as the first in decades involving political parties other than the National and Liberal parties, each notable for serving Honduras' wealthy and powerful elite. The voting served as the electoral début of the Liberty and Refoundation, or Libre, Party, offspring of the National Front for Popular Resistance (FNRP). Manuel Zelaya, the former president and Xiomara Castro's husband, is the FNRP head. That organization emerged from street demonstrations following a U.S.-backed military coup that removed Zelaya on June 28, 2009. His government had pursued land reform, a minimum wage, and a constituent assembly aimed at shaping a new constitution. The program of the social democratic Libre Party continues that agenda.
Honduras is notable currently for its 70 percent poverty rate, the world's highest murder rate, free rein for drug traffickers and other criminal elements, deadly repression of agrarian rights activists, police corruption, a formidable U.S. military presence, and overflowing military and police power. Candidate Juan Orlando Hernandez called for expanding the military's power and presence. Incumbent President Porfirio Lobo, likewise of the National Party, has promoted the interests of transnational corporations. Low turnout and delayed vote counting marked his election in 2009 amidst a repressive post-coup atmosphere.
Irregularities were not lacking this time. Unidentified assailants had killed a reported 18 Libre Party activists in the year prior to voting. On Election Day, gunmen killed five persons near a voting location in La Mosquitia in violence-ridden Gracias a Dios department. In the hours before polls opened, Globo TV and Radio and other news outlets reported on mounting abuses including relocation of voting centers and bribes handed out in the streets. Some voting centers remained closed after voting began.
Soldiers occupied not only Globo transmission facilities but also those of other news sources. According to one report, "This military occupation affects only the media that maintained a critical posture of the military coup of 2009 and the dictatorship that followed. These same transmitters were destroyed in 2009." As voting proceeded, the police arrested 40 individuals and seized 22 vehicles and 55 firearms – 19 of them at voting centers.
Spanish Judge Baltasar Garzon spoke on behalf of hundreds of other international observers on hand, saying they had sees problems "related to change of credentials, possible buying of favors, and mechanisms for forcing votes that we are going to point to in a report." In 1998 Garzon sought the arrest of Chilean dictator Augusto Pinochet, then visiting in England to obtain medical treatment.
Speaking to the press early on Nov. 25, Manuel Zelaya affirmed, "We do not accept this result, we protest against this result and reject it, because our exit polls and our counts of certified votes confirm that Xiomara won the presidency by more than 3 percent." Rixi Moncada, Libre Party representative to the TSE consultative council, spoke of data manipulation and "barefaced fraud." Moncada said, "There are more than 1,900 certified voting documents from departments where Libre won overwhelmingly that haven't been incorporated into the counting system." Instead, he alleged, they were diverted for the purpose of scanning.
Likewise Libre vice presidential candidate Enrique Reyna Tanto denounced "fraud against the popular will [carried out through] irregular transmission of results." He accused election officials of manipulating the scanning procedure "in order to hide their number. " At a later press conference, Zelaya asked, "How can they give results while hiding 20 percent of the ballot boxes'? Salvador Nasralla, candidate of the Anti·Corruption Party, joined in denouncing flawed vote counting.
As reported by the FNRP website, Zelaya called upon the TSE to demonstrate transparency. Otherwise, he warned, the Libre Party and the FNRC "will defend the [true] results in the street." FNRC leader Juan Barahona reinforced that message: "We are not going to stand around with our arms crossed , and if they steal our victory, we will go back to what we have always done, resist, resist, resist in the Honduras streets."
Designated winner Hernandez, who declared electoral victory at an early stage of vote counting, indicated the National Party will not negotiate: "The people have chosen; now we get to work." He has begun to form his cabinet. With the first announcement of' election results, Hernandez received congratulation from right-wing heads of state including Panamanian President Ricardo Martinelli, Colombia's Juan Manuel Santos, and Guatemalan President Otto Pérez Molina.
U.S. Ambassador Lisa Kubiske told reporters, "The will of the voters must be respected."
Photo: The Honduran flag. J. Stephen Conn CC 2.0