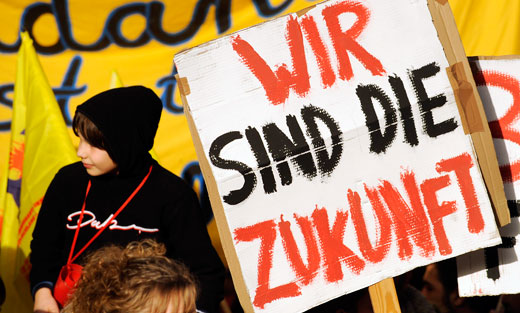 Hundreds of right-wing neo-Nazis and fascists got a big surprise when they went home and washed their new T-shirts from a German right-wing music festival: a message of hope and tolerance.
Right-wing music fans from all over eastern Germany flocked to the highly nationalist "Rock for Germany" festival in Thuringia Germany recently. Upon arriving, 250 right-wing music fans were treated to a free T-shirt to commemorate the event donated anonymously by a group "in lieu of a donation". What the fans did not know was that the anonymous donor was a group called Exit Deutschland that works to give young neo-Nazis the initiative and tools to break away from the right-wing cultural scene.
The shirts read "Hardcore Rebels" and it were adorned with nationalist flags and a skull and cross bones like the SS symbol.
However when washed the t-shirts read in translation, "If your T-shirt can do it, you can do it too – we'll help you get away from right-wing extremism".
Exit Deutschland was approached with the idea by a supporter at Trojan T-shirts who had been working on designing the special disappearing ink. The founder of Exit Deutschland told the Guardian of the new innovation "It had never been done before. It was completely new. We had to experiment with it a lot to make sure it worked, to ensure the top layer would not wash away in rain, for example,"
Founder of the Rock for Germany festival and member of the ultra-right National-Democratic Party which sponsored the event, Gordon Richter expressed that he thought the stunt was nothing but a waste of money. Bernd Wagner the founder of Exit Deutschland says, "It was all paid for by private money – not one cent came from taxpayers," and that they "wanted to raise awareness about our programme, especially among the young and less committed." He added. "There were so many points along the way where our plan could have failed, but it all went perfectly."
Neo-Nazi and fascist hate groups have been heavily recruiting in the eastern Germany states. Der Spiegel, the German weekly news magazine, has even reported that "neo-Nazi thugs are trying to brainwash toddlers with tactics reminiscent of the Third Reich, including applying to run day care centers, recruiting [racist] skinhead teachers and sneaking children's books praising Hitler into kindergartens."
The numbers are also troubling here at home. Mark Potok of the Southern Poverty Law Center reports that "The number of hate groups in America has been going up for years, rising 54% between 2000 and 2008 and driven largely by an angry backlash against non-white immigration and, starting in the last year of that period, the economic meltdown and the climb to power of an African-American president."
While many militant anti-racist groups feel that the only way to fight fascism is with brass knuckles, Exit Deutschland is taking a different tact. Some youths come to the right-wing music and culture through the theories and beliefs that they espouse, but many of them are simply troubled young people who were snatched up much like a street gang would target disenfranchised teens.
Exit Deutschland is taking the approach that many anti-gang recruitment organizations have taken. To talk to the kids one on one and show them that there is another way and that they can get out of the right-wing scene whenever they choose.
Who knows if these strategies will work, but if they do, anti-racist activists on this side of the Atlantic might do well to learn from the experience and attempt to approach these young fascists in the clubs instead of attacking them in the streets.
Photo: At a countrywide German protest against cuts in education called an education strike. The sign reads, " we are the future" (Daniel Maurer/AP)