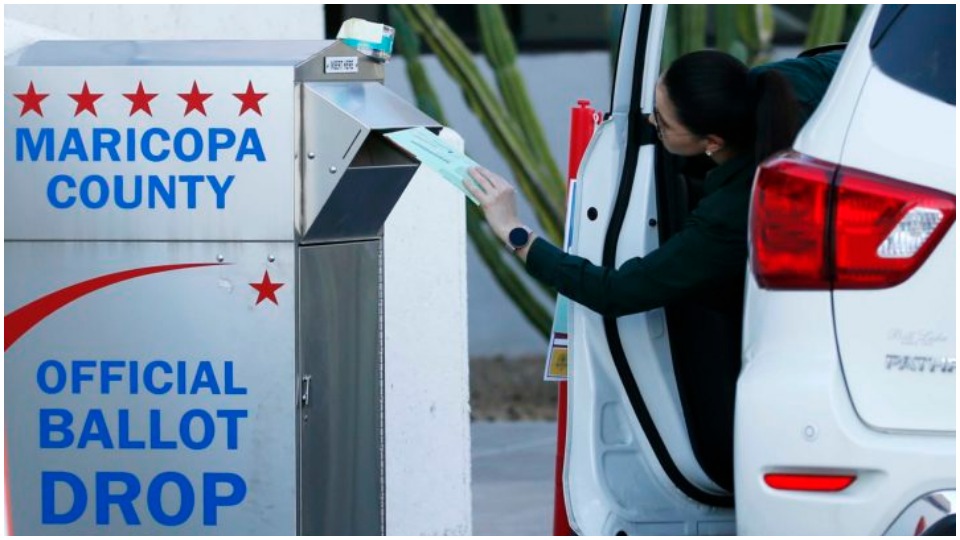 TUCSON—Arizona's right-wing governor and state legislature are taking advantage of the COVID-19 pandemic in an attempt to defeat progressive change. The Republicans in this state are terrified that Arizona will flip to the Democrats in the 2020 elections. They are scared of the fightback by striking teachers, miners, and all working people, and of the rising militancy in the growing Mexican-American and immigrant communities.
Arizona has some progressive election laws which the GOP hates, like public financing of statewide and legislative candidates, an independent redistricting body (which they hate even more), early voting, and a highly popular vote by mail system which they originated, but are now attacking.
Arizona allows all voters to sign up for mail-in ballots, and they can even sign up to be permanently on the list. Over the years, the overwhelming majority have signed on to cast postage-paid mail ballots. The system has worked smoothly. The pandemic has raised demands for an all-mail ballot for the Aug. 4 primaries and the General Election in November. The Republicans, however, refuse to consent to anything that might increase voter turnout. In Maricopa County, where over two-thirds of Arizonans live, the Democratic County Recorder wants to send ballots to all registered voters whether they signed up for it or not, but still allow early voting and open polls on Election Day. The Republicans are working to stop it.
It's not just the casting of ballots that's in danger, though; the pandemic has also interfered with candidates' ability to even get their names listed on the ballot. Arizona requires legislative candidates to gather a few hundred signatures to qualify, and even though they had months to gather them, some had put it off too long, and when the pandemic hit they were unable to canvass for more signatures. The strongest, best-organized candidates will be on the ballot, but many did not make it, even though people could sign petitions online.
As a result, many legislative candidates from both parties will be unopposed, unlike 2018 when the Democrats ran candidates in all but one district. And also like in 2018, the Republicans will be fielding practically no Mexican American or Native American candidates, groups who make up over 40% of the state's population.
Worst of all is the damage done to voter initiative drives. Arizona voters can initiate a ballot proposition by collecting a massive number of signatures, requiring about 400,000 by July 2 to safely make the November ballot after challenges. Grassroots initiative sponsors try to use volunteers as much as possible, but often resort to paid signature gatherers for the last two months. The pandemic made that impossible.
Some great voter initiatives are still struggling, like the teacher- and labor-supported proposal to tax the rich to fund education. Others are aimed at taking dirty money out of politics, implementing automatic voter registration, limiting school vouchers, setting wage and protections for hospital workers, and more. Only the initiative for legalizing recreational marijuana has a good chance of making it.
A lawsuit to force the state to accept online petition signatures lost its first round and is being appealed to the 9th Circuit on grounds that the Arizona Constitution calls for the right of citizens to place measures on the ballot, a right being blocked by COVID-19. The Legislature refused to allow online signatures on initiative petitions, claiming it would allow for fraud, even though they have authorized online signatures on their own petitions with no evidence of fraud. A Republican candidate for Corporation Commission, an incumbent no less, was thrown off the ballot accused of submitting fraudulent signatures not gathered online.
Meanwhile, the ultra-right legislature has placed several propositions on the ballot that would weaken the initiative process, weaken democratic election laws, and subvert nonpartisan redistricting.
Arizona's labor movement will be in the thick of the statewide campaigns this year. Labor has gotten much more active in political campaigns here in recent years, and this year, Tucson labor leaders Javier Soto and Paul Stapleton Smith have filed to run for the legislature.
In the race to fill the last two years of the late John McCain's Senate term, Republican Sen. Martha McSally, appointed to the seat until the election, is trailing in all the polls to retired astronaut Mark Kelly, husband of former Congresswoman Gabby Giffords. If elected, Kelly, like his wife, is expected to be a moderate Democrat.