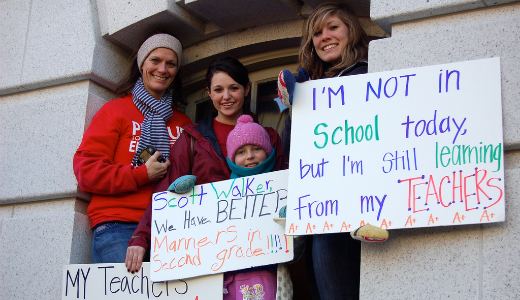 MILWAUKEE – With the first big electoral test of whether organized labor can successfully push back at the polls against the radical right, it is apparent here that labor's opponents are running scared.
In an attempt to win one of the eight remaining contested state senate recall elections scheduled for Aug. 9, supporters of challenged incumbent GOP State Sen. Alberta Darling circulated a campaign brochure featuring a picture of Phil Neuenfeldt, the state AFL-CIO president with the printed label, "union boss."
They're also pumping millons of dollars into Darling's re-election campaign.
Their aim is to tie Darling's challenger, Democratic State Rep. Sandy Pasch, to unions, which have become their favorite "whipping boys."
Whether the GOP campaign succeeds in scaring voters, in Milwaukee and elsewhere in Wisconsin, will determine the outcome of the eight recalls. Six Republicans and two Democrats face the voters, each with a major-party foe. One big issue, if not the only issue, is right-wing GOP Gov. Scott Walker's law stripping 200,000 state and local government workers of their collective bargaining rights.
One Democratic state senator, a Teamster from Green Bay, has already won his recall election. The other two Democrats are expected to win re-election.
If the Democrats, with labor backing, take three of the six GOP-held seats, they take over the state senate and can frustrate further Walker-backed schemes. Wisconsin is the leading edge of the national GOP and right-wing effort to to trash workers, unions and the middle class.
That's what makes the desperation tactics by the "Friends of Alberta Darling" so interesting – and relevant.
The GOP state senator's supporters inadvertently did unions a major service with a weekend mailer to most of the homes in Darling's district – where frankly there are not enough union members to make the crucial difference in the election.
In every mailbox the campaign group deposited Neuenfeldt's face, a grainy candid labeling him "Union Boss." The 8″ x 11″ mail piece failed to reveal why he was being picked on.
Neuenfeldt is the president of the state AFL-CIO, plus a leading strategist for We Are Wisconsin, the coalition of unions and progressive groups that surpassed one million phone calls and in-person contacts in all six GOP recall districts. It's also responsible for several powerful electronic ads. Neuenfeldt is also the leading legislative voice for family supporting jobs bills and a veteran creator of training programs.
Most of the mailer regurgitated the debunked idea that only unions are angry at Walker and Darling. Yet polls show Darling and Pasch, in the highlight race of the eight, are now neck and neck in a contest where voters are also analyzing the failed thinking behind budget cuts in education, public safety, air quality and more.
The mailer lists Neuenfeldt's annual "compensation" at $147,481, which includes every benefit, pension and deferred holding he has. But it is amusing: For the quarter of a million members of the state AFL-CIO, it works out to paying him a nickel a month.
Photo: People demonstrate earlier this year against Scott Walker. Teresa Albano/PW