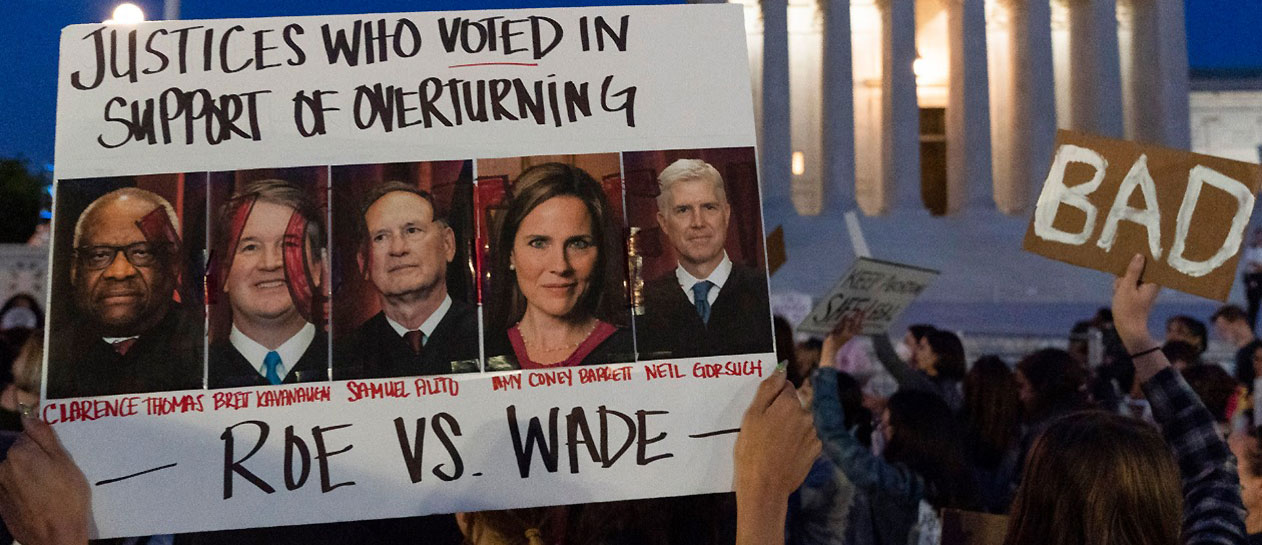 WASHINGTON—Thanks to a five-justice Supreme Court majority, the last three named by Republican Oval Office occupant Donald Trump—who lost the popular vote—and confirmed by Senate Republicans who represent a shrinking minority comprised almost exclusively of white right-wingers, women, especially women of color, face a return to the days of back-alley abortions, or worse.
So say members of the Congressional Black Caucus, in a joint statement issued May 3.
"Let me be clear: Abortion bans don't ban abortions, they just ban safe abortions," says Rep. Brenda Lawrence, D-Mich., a longtime Postal Worker who represents part of Detroit. "Those cheering this on do not live in reality.
"It sends a message that you don't believe women should have autonomy over their own bodies or that you don't trust us to make our own health care decisions. Furthermore, the United States has a maternal mortality crisis, and it disproportionately affects Black women and other women of color. Striking down Roe v. Wade," the Supreme Court's 1973 decision saying abortion is a constitutional right, "would cause maternal mortality to skyrocket."
Vulnerable bear the brunt
"We know our most vulnerable communities will bear the disproportionate brunt of any decision that restricts and denies access to abortion care–particularly Black, brown, Indigenous, LGBTQIA+ and low-income people. We must legislate as if our lives depend on it because they do," adds Rep. Ayanna Presley, D-Mass., who represents most of Boston.
"Overturning Roe v. Wade will set women's rights back generations. The impact of this unjust decision will be felt especially by Black women, low-income women, and rural communities. We must pass the Women's Health Protection Act into law," which would write Roe into federal law, declared Rep. Robin Kelly, D-Chicago, who also chairs the Illinois Democratic Party.
"This is not to mention the United States' shameful maternal mortality rate and inequitable access to care. We must codify the right to a safe abortion for women in every single state. I will continue the fight to ensure women's access to healthcare, including abortion."
That's the story behind the dry legalese of the draft majority opinion from Justice Samuel Alito, leaked to Politico and posted on its website. None of it was in his 98-page document. Instead, Alito strung together U.S. history and European precedents—stretching back to a 14th-century British abortion foe who also favored hanging women for witchcraft—to make the case that until Roe, no such right existed.
Alito also claimed the Supreme Court should not use popular opinion, which shows more than 60% of the nation favors keeping abortion legal, as a yardstick.
By that same small-d democratic yardstick, three of his High Court allies—Justices Neil Gorsuch, Brett Kavanaugh, and Amy Coney Barrett—flunk. Trump nominated them and the Republican Senate majority, most of them from small overwhelmingly-white states, confirmed them. The fourth, Clarence Thomas, was named in 1991 by a president, George H.W. Bush, who won a popular majority in 1988.
Alito got the nod from George W. Bush after Bush won re-election—with a narrow popular vote majority—in 2004. Even that win, which later sent Alito to the High Court, comes with an asterisk. Remember hanging chads?
George W. Bush won a controversial, contested election, again thanks to a Republican-named Supreme Court majority, in 2000. He lost the popular vote to Democrat Al Gore. But the five Republican-named justices ruled Bush won the key swing state, Florida, by 537 votes, after they stopped the count there. A later recount of the entire state, by the Miami Herald, showed Gore won Florida—and thus, the election.
Wait, the story about how the Republicans constructed the court majority to back Alito's dictate gets worse.
Then-Senate Majority Leader Mitch McConnell, R-Ky., railroaded Coney Barrett onto the court just days before the 2020 balloting—after blocking Democratic President Barack Obama's nominee, Merrick Garland, for another vacant High Court seat. Minority rule, again.
"The radical right stole two seats on the Supreme Court," said House Democratic Caucus Chair Hakeem Jeffries, a Black Democrat from Brooklyn and Queens. "And now the so-called majority apparently plans to rob women of their long-held reproductive freedom. We will not go backward."
Remarkably vivid demonstration
"That stacked court—the Trump court, if you want to think of it that way—is offering a remarkably vivid demonstration of just how connected voting rights, women's rights, immigrant rights, and poverty really are," the Rev. Liz Theoharis, co-chair of the Poor People's Campaign, wrote in an Alternet column on Constitution Day last September 17.
"In reality, the Supreme Court is an institution of minority rule."
All this produced the dry draft majority decision Alito wrote, upending 49 years of the right to abortion in one fell swoop. And that really riled the CBC. The lawmakers envisioned women of color returning to the dark days before Roe v Wade.
Those were the days of women seeking abortions in secret, of one bleeding, and almost dying, in a Brooklyn park from a self-induced abortion, days of coat hangers, and of arrests of women in Chicago for running a clandestine clinic to help women who needed it to get abortions and decent care.
Police took the clinic's female patients to hospitals, which at that time refused to perform abortions.
None of that history mattered to Alito. He didn't even mention it, concentrating on dry legalese of state bans of abortions all the way through the early 1900s. It mattered to the CBC members.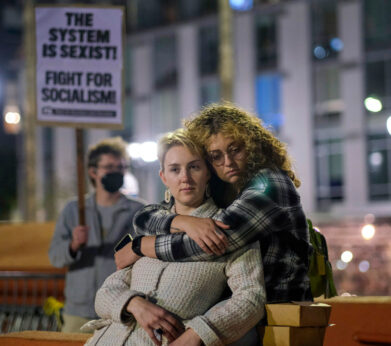 Banning abortion and yanking that constitutional right, a first, "will fundamentally change us as a nation," Rep. Joyce Beatty, D-Ohio, the CBC chair, said in their joint statement. "Overturning Roe v. Wade will have disproportionately devastating impacts on communities of color, marginalized groups already facing discriminatory obstacles to health care, and will resonate globally. Elections have consequences.
"To the women of America, I speak directly to you: Your right to make personal health care decisions is still the law of the land. And while this opinion marks an unprecedented attack on our womanhood, the Congressional Black Caucus will continue fighting to protect every woman's bodily autonomy."
"If accurate, this decision will deal a shattering blow to millions, especially low-income people and women of color. Every American should have the right to make their own personal health care decisions that impact their lives, health, and futures. It is chilling to think this court is unwilling to protect those rights," said Rep. Barbara Lee, D-Calif., whose district includes Oakland.
Both, along with other lawmakers, stressed that Alito's draft is still just that, a draft. The High Court is expected to issue its definitive ruling, in the case of the Mississippi abortion limits law that directly challenges Roe v Wade, by June 30—right in the middle of the election campaign.
Groups predicted doom
Women's rights groups, long before the draft leaked, predicted doom. But the leak has already enraged, and energized, millions of women and their progressive allies, nationwide. They've hit the streets since May 2, and groups ranging from the Coalition of Labor Union Women and the CPUSA to the ACLU and Planned Parenthood's political arm, plan to mobilize them this fall.
"It is important to note this reported decision is only a draft, which means abortion is still legal right now," cautioned Rep. Eddie Bernice Johnson, D-Texas. Her right-wing gerrymandered Republican-dominated state government passed a "bounty" law outlawing abortion after six weeks—and letting private bounty hunters, for $10,000 rewards—pursue women, doctors, and anyone who helps them get abortions. Oklahoma just followed suit, on May 3.
"But it is equally as important to note that an official decision is likely imminent, which means we're running out of time to act. The House has done its part to codify the protections offered by Roe by passing the Women's Health Protection Act," added Johnson. "The Senate must now take up this bill immediately and send it to President Biden's desk."
Which brings up the other non-democratic part of the Constitution that enabled the Republicans to assemble their High Court majority: The U.S. Senate, and its filibuster.
Ari Berman, who has written extensively on the contrast between popular will and constitutional processes, points out that a small minority of U.S. voters, most of them in white right-wing-controlled states, effectively control the Senate. They elect more than half of the 100 senators, and most of those they elect are right-wing Republicans.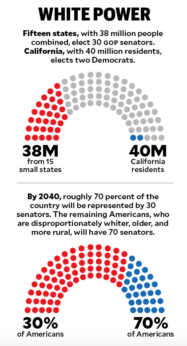 And those 50 right-wing Republicans, led by McConnell, stymie everything, including the bill to enshrine Roe into law by—you guessed it—the filibuster, which takes 60 votes to crack.
"Democratic senators represent 41 million more" people than Republicans do, Berman wrote last year in Mother Jones, and the problem will only worsen. A graphic accompanying the article shows that by 2040, with two senators from every state, solons representing the 30% of people in the small states will be able to outvote their colleagues representing the other 70%.
The most-extreme examples, of course, are the most populous state California (39,536,223 in the 2020 census), and the least populous, Wyoming (576,851).
California is racially diverse, with whites (41.2%) narrowly leading Latinos/Latinas (39.4%). It elects two pro-abortion Democratic senators. One Latino Alex Padilla, succeeded Black-South Asian woman Kamala Harris, now vice president. Wyoming, which is 84.7% white, elects two white Republican right-wingers. Both are abortion foes, and filibuster supporters.
"The Supreme Court is likely to block many" of Biden's actions, "even though a majority of those (five) justices were appointed by Republican presidents who came to office after losing the popular vote and were confirmed by senators representing a minority of the population," Berman added.