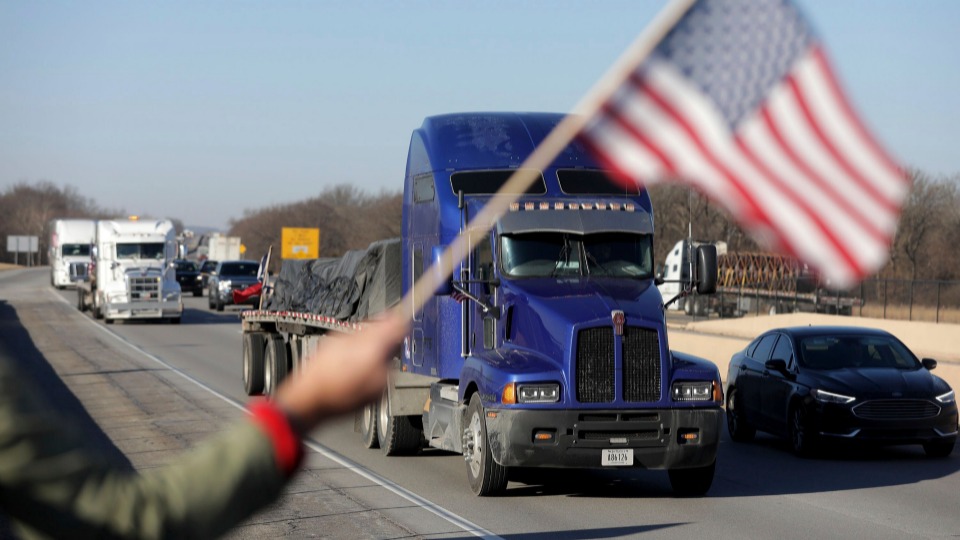 WASHINGTON—The media is filled with stories of a Russian armored convoy approaching Kiev, but many people in the U.S. are unaware of the convoy closing in on their own capital city. Trucks and other vehicles are crawling across the country, 200-something miles per day, to arrive in Washington, D.C., this week.
Inspired by the AstroTurf-financed trucker movement in Canada, which led to the sustained shutdown of the country's capital of Ottawa and a closure of certain U.S.-Canadian border checkpoints, a number of extreme-right political action committees and similar organizations have now spawned their own convoy campaigns in the United States.
The trucker convoy in Canada demanded an end to vaccination policies, as well as all other COVID-19 mandates. President Joe Biden's first State of the Union address announced a change in COVID-19 policies in the U.S.—essentially back to business as usual. Despite sustained high continuing hospitalization and death numbers, last Friday the CDC decided to roll back most of its coronavirus guidance.
Similar government moves deflated the trucker demands in Canada, and these U.S. convoys may end up arriving in Washington after their main demands have already lost meaning.
To think it may simply disband then assumes that the protest movement is sincere and legitimately grassroots, or that it's rooted in politically legitimate mass demands. A close examination of its main cheerleaders and financiers makes clear, however, that it is quite the opposite.
Right wing crowdfunds Canadian convoy
For the Canadian truckers, Donald Trump himself cheered them on, as did Texas GOP Sen. Ted Cruz and Georgia Rep. Marjorie Taylor Greene. Media coverage of the Canadian protest included wall-to-wall attention on Fox News, as well as feature profiles from online pundits like Ben Shapiro and podcast celebrities like former game show host Joe Rogan, former comedian Jimmy Dore, and economist Richard D. Wolff.
Money flowed in from crowdfunding efforts, but only half came from Canadians; at least 44% came from the U.S. The rest mainly came from Britain and other commonwealth countries, such as Australia and New Zealand. More than $840,000 came from the Cayman Islands, a known international tax haven. GoFundMe froze $10 million in payments before Christian crowdfunding website GiveSendGo stepped in. Significant amounts of cryptocurrency donations also lined the campaign purse.
In response to the prolonged blockade truckers inflicted on Ottawa and other cities, the government there eventually invoked the Emergencies Act, a law that allowed it to freeze funding and break up the protests.
Notably, however, in enforcing the law, Canadian police did not respond to truckers with the same violence and speed as they had when First Nations and other groups had previously attempted infrastructure disruptions against oil and gas pipelines. Canada may have cleared the protests and eventually partially rescinded the Emergencies Act, but ultra-right forces in Canada are still in motion.
Familiar pattern repeats in U.S.
Similar funding streams exist for many of the truck convoys currently en route to Washington, if simply because the majority of donations raised for the convoys in Canada were from U.S. accounts. As reported by VICE, some of these donations arrived from members of the U.S. Armed Forces, employees in the Department of Justice, the Federal Bureau of Prisons, and other federal and state agencies.
As of Feb. 27, the largest of the convoys, the so-called "People's Convoy," had raised more than $1.5 million via an organization called the American Foundation for Civil Liberties and Freedom (AFCLF). Bypassing third-party platforms such as GoFundMe or even GiveSendGo, the AFCLF utilizes a processing platform on a website called securedonor.com, which is hosted by Google Cloud. A visit to this website reveals a blank front page, but a cursory search for other mentions of the URL online reveals it is also connected to the website savecalifornia.com. This campaign promotes an ultra-right agenda for California, one that is anti-abortion, anti-LGBTQ, and anti-vaccine.
A quick look at the AFCLF website shows that the People's Convoy is currently its only listed campaign. Even if CDC coronavirus guidance is retracted by the time the convoy arrives in D.C., AFCLF has other demands on its amorphous "freedom" agenda: election integrity (disenfranchising progressive voters), ideological discrimination (against racists), and censorship. As reported by CounterPunch, the only event ever associated with the AFCLF before the convoy was a fundraiser related to the lie that the 2020 election was stolen from Trump. Here, the anti-democratic origins of the convoy begin to be revealed.
Indeed, Gen. Michael Flynn's organization, "The America Project," is also partnering with the U.S. convoy. Flynn is best known for lying to the FBI about his connections to the Russian government while working on the Trump campaign in 2016 and participating in efforts to overturn the 2020 election by weaponizing the "Q-Anon" conspiracy. He's currently wanted for questioning by the Jan. 6th Commission for allegedly attempting to organize a military coup.
Others involved in planning the U.S. trucker convoy are similarly suspect in their intentions. Convoy organizer and Scientologist lawyer Leigh Dundas of "Freedom Fighter Nation" was present at the Capitol attacks of Jan. 6th. In video she streamed that day, she said that the police and federal government "have no idea what is in store for you next time around." In other videos, she commanded rioters to "fight for your president [Donald Trump]" and "get to it!"
The broad media attention given to the Canadian convoy is more muted this time around with the U.S. effort. Though occasionally mentioned by Fox and similar right-leaning media organs, the only constant spotlight being given right now comes from Trump media organs such as OANN and NewsMax. Most mainstream coverage of the convoy has been eclipsed by war tensions in Europe.
While a few news reports have raised the alarm, the general attitude is one of indifference, in a way eerily similar to the mainstream coverage of events leading up to the attempted putsch on Jan. 6th. As of March 1, OANN reported that the Oklahoma Highway Patrol estimated the convoy was 30 miles long and included more than 7,000 vehicles, though Sara Stewart of OHP told People's World that no official numbers have been released and no official statement has been issued.
Meanwhile, in Illinois, police are mobilizing against the convoy, expecting it to cause massive traffic delays and accidents.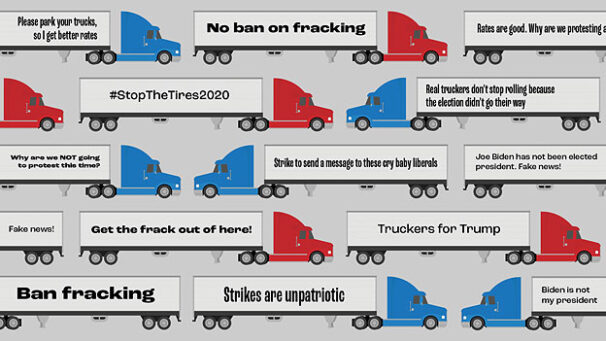 The Canadian and American convoys are not the first times in history that truckers have threatened democracy in a country. The Salvador Allende presidency in Chile during the early 1970s was overthrown, in part, by CIA-funded trucker strikes that stoked economic chaos. As recently as 2020, a self-described "disgruntled truck driver" started a campaign called "StopTheTires2020" that promoted a general trucker strike via Facebook. Within a couple of weeks, the page had 72,000 members and seemed to spin out of control as anti-fracking and anti-Green New Deal demands were tacked onto calls to rally around Trump.
The Energy Empire Strikes Back
Though donor information remains limited to the leaked information from Canada, we can still begin to discern the support that some in Big Oil are giving the protest. One of the largest donors ($90,000) to the Canadian truckers was Thomas Siebel. According to opensecrets.org, Siebel has funded the Republican Party, right-wing PACs, and candidates with more than $400,000 in donations since 2020. Siebel is also the founder of C3AI, a tech company that counts Royal Dutch Shell and the U.S. military as clients, and former Secretary of State Condoleezza Rice as a board member.
Siebel is not the only connection between the trucker convoys and Big Oil, though. There are significant parallels between the timing of the convoy protests and developments related to the energy sector that suggest the oil and gas monopolies have a stake in the game, even if they are not directly implicated, so far, in funneling cash to the truckers.
Energy prices are the highest in many decades, and without a network of funders, it's hard to imagine the participating truckers could afford to make it across the country. One participant speculated the cost of fuel to cross the U.S. could be more than $2,000, not counting the costs of missing work. While overall average inflation in 2021 hit 7.5%, energy prices shot up 45%, driving other price increases across the board.
In Canada, an announcement that the government would delink the oil and gas industry from public subsidies by the end of 2022 preceded the convoy protest by only a couple of months. The organizer behind the $10 million GoFundMe page, Tamara Lich, appeared in Canadian arraignment court after her arrest wearing a black hoodie with the words "I Love Canadian Oil and Gas" on the front.
She previously did work for the Maverick Party, a right-wing political group focused largely on deregulating western Canada for the energy sector, clearing red tape for new pipelines, and pushing new drilling and fracking operations. Lich helped organize the 2019 "United We Roll" trucker convoy on behalf of the energy sector and in relation to the Yellow Vest protests in France. Last month, her husband flew via private jet from Alberta to pick her up from Ottawa jail.
As reported earlier by People's World, both intentional and relational links exist between Big Oil and the reasons for the war in Ukraine. This is precisely why examining possible links between Big Oil, the military, and the trucker convoy movement is critical. Despite how slowly progress is being made on battling global warming, every pinch and squeeze on the polluting capacity of companies like Exxon, BP, Chevron, and Shell constitute major threats to their bottom line.
On paper, Big Oil controls a small share of the world's oil reserves, only 8%. Yet, considering that companies Exxon and Shell are the fifth and ninth largest producers of greenhouse emissions respectively, it's clear that this small degree of control does not lessen these companies' environmental impact. This is mainly because the true monopoly power today is hidden within their logistical infrastructure. The amount of greenhouse gas emitted in the simple act of moving energy from one place to another is what makes Big Oil among the world's largest polluters. They are the main buyers of oil and gas, and they set the prices they pay for transport via monopoly control over pipelines, maritime freighters, and other logistical infrastructure—like trucks.
So, we return to the question of Big Oil financing a movement of right-wing truckers. According to UN COMTRADE, energy was Canada's largest export to the United States in 2021, amounting to more than $109 billion. Every day that trucks tied up essential infrastructure in Canada, the price of oil ticked up a little bit more. But this loss of revenue is nothing compared to the loss that Big Oil will take if we are to stop global warming in its tracks.
Take Shell Plc, for example. Until a few weeks ago, Shell had the name "Royal Dutch" attached to it. The energy giant was founded in 1907 when the Royal Dutch Petroleum Company merged with the British-based Shell Transport and Trading Company. In late 2021, when the decision was made to relocate Shell's tax base from The Netherlands to the U.K., Shell was the ninth-largest producer of greenhouse gases. Though it claimed it would be carbon-neutral by 2050, a case brought against the company in a Dutch court said that Shell was obligated by the Paris Agreement to cut its emissions 45% from its 2019 level by 2030.
Yet this cannot be the only pressure that inspired Shell to restructure its company and relocate corporate operations from Amsterdam to London. Big Oil raked in $174 billion in profits in the first nine months of 2021 alone. Shell saw its profits soar from $4.8 billion in 2020 to $19.2 billion in 2021. Shell explicitly said that the Dutch 15% dividend tax was further motivation for its move—an immediate recovery of what the company believes should have been its rightful profit. Fresh from Brexit, the U.K. presents new tax opportunities for corporations to hide their wealth from those who produce it.
Yet, despite the nationalist bluster behind Brexit, it is not as if this money will be passed on to British workers. Stories flood the British press about families struggling to heat their homes this winter, as fuel prices have soared. When April arrives, the price cap on fuel in the U.K. will rise 54%, further exacerbating the cost of heating.
As we enter year three of an unprecedented economic crisis of still-indeterminable magnitude, it is worth noting what forces seem to be in motion. On one side, the 2020 U.S. elections, arguably, provided a democratic mandate to halt global warming, collectively tackle COVID-19, and put people before profits. On the other side, we have a minority class of capitalists who would rather scrap bourgeois democracy, let millions die from coronavirus if necessary, and watch continental Europe burn rather than miss out on that sliver of extra profits.
D.C. braces for another battle against the ultra right
If the trucker convoy is financed and supported by the same forces as those who orchestrated Jan. 6th and stand to profit from the war with Ukraine—that is, the most predatory section of finance capital—then we can assume there is nothing progressive about the convoy barreling towards D.C.
Anti-fascist and anti-racist organizers in Washington complain that no one listened to them in the run-up to Jan. 6th. True enough, in the wake of the 2020 Trump loss and in the build-up of the "Stop the Steal" lies, right-wing gangs like the Proud Boys roamed the streets of the U.S. capital, viciously attacking Black churches and anti-fascist activists under the sleepy eye of the police. In the wake of a year of battles waged against white supremacy—from the George Floyd uprising to unprecedented numbers of votes cast against fascism—the extreme right and their anti-democratic plots were relatively ignored by liberal mainstream media in the lead-up to the attack.
The pandemic has been difficult, but the veteran organizers and journalists that People's World met with to gather background for this story seemed worn down by the extra trials Washington has seen in the recent era. Aggressive and violent gentrification has exacerbated what is already the most income-unequal city in the United States. Homeless encampments are set up at traffic circles, train stations, and in the shadow of the U.S. Capitol. The poor line up for hot soup and bread in front of a church in Columbia Heights. COVID-19 and the brutal, uncaring government response made everything go from bad to worse, and quickly.
Some residents say they feel sure that D.C. Mayor Muriel Bowser will defend the city. Others say they're sure the police will disperse any threat. The logic is that if the police on Jan. 6th were confused about how to handle the insurrection, it was because Trump was still president that day. Biden, they believe, will take a different approach.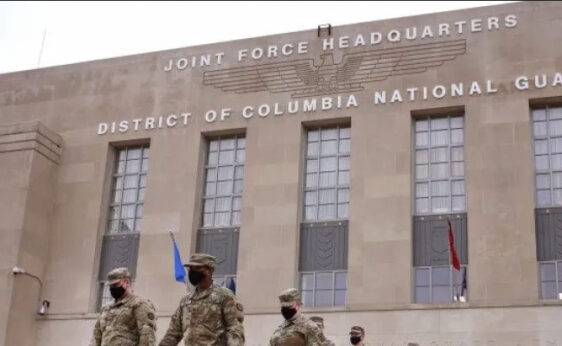 More than 700 National Guard have been deployed to Washington and fences that blocked off the Capitol have been re-erected. According to local reports, police from New York City, Philadelphia, and Baltimore have been mobilized in D.C. to augment local departments, and as of March 1, access to streets near the Capitol are restricted.
Local progressive organizers, though exhausted, are being reinforced by younger, newer organizers who gained much of their initial experience during the pandemic and Black Lives Matter uprisings of 2020. Amidst the wreckage of immiseration and militarization left in the wake of neoliberalism and neglect, consulting with the D.C. community is key to planning for the worst if this trucker convoy, with all its political baggage, reaches town this coming weekend.
People's World spoke with activist Anthony Carlton, who serves as chair of the Young Communist League's D.C. District, about the need for planning the days ahead. "I think that while we have some ideas about what our response looks like, we really want to make sure that we're taking into consideration what people in the community believe should happen," Carlton said. "As a result, we're planning to reach out to other progressive organizations to build a popular front against the trucker convoy and the reactionary interests supporting them."