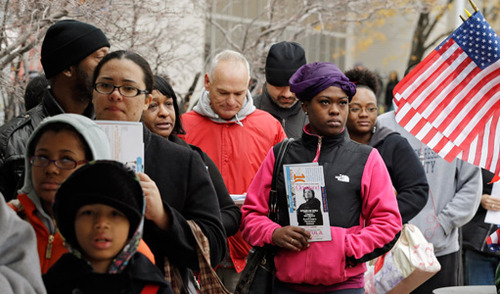 COLUMBUS, Ohio – Amaya Tune, a spokesperson for the AFL-CIO, said this morning that True the Vote has been barred from Franklin County, Ohio polling places.
The right-wing vigilante group, actually based in Texas, had sought to "monitor" 30 Franklin County polling places for so called "voter fraud." They have been barred from doing so by the County Elections Board.
"The Franklin County Board of Elections did not allow Election Day polling location observer appointments filed by the True the Vote group," said board spokesman Ben Piscatelli in a statement. "The appontments were not properly filed and our voting location managers were instructed not to honor any appointment on behalf of the True the Vote Group."
Many of the candidates' names had either been falsified or merely copied on forms requesting observer status for the True the Vote operation and they were conspicuously targeting African-American neighborhoods.
Elections Director William Anthony said True the Vote may be investigated for falsifying documents, a fifth-degree felony, after the election today.
One person who testified to the elections board before it rendered its decision against True the Vote said she had attended True the Vote sessions and was instructed to use a camera to intimidate voters when they enter the polling place, record their names on a computer tablet, and try to stop voters before they got to a voting machine.
Photo: Voters wait in line outside the Cuyahoga County Board of Elections in Cleveland on the final day of early voting, Nov. 5. About 1.6 million people voted early in Ohio. Mark Duncan/AP