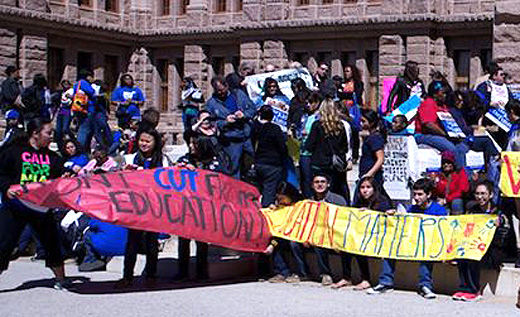 Imagine living in a city where unseen powers that be are striving to win the 2016 Republican Convention, have already accepted a convention for the worst anti-worker political organizers in America, and are trying to privatize their entire school district. You are in Dallas.
Mayor Mike Rawlings is hustling support to get the party of racism to convention here. He argues that they nominated Ronald Reagan here, put the "moral majority" together here, and send all their leading spokespersons here to raise money.
To his credit, millionaire sportsman Mark Cuban almost immediately announced that he isn't moving any Maverick basketball games so the GOP can use the main sports arena.
State leaders of the American Federation of Teachers found out recently that the American Legislative Exchange Council (ALEC) has already scheduled their national convention in Dallas July 30-August 1.
As always, they will bring right-wing legislators together with the richest corporate backers to cook up anti-worker legislation and strategies that will spread through every state that Republicans control. Local activists are studying ALEC and sounding the alarm.
They are calling on the entire nation to join Dallas protests.
On March 2, investigative reporters at the Dallas newspaper revealed that there were moves afoot to remake the Dallas Independent School district by making it a home rule district free from state regulations.
They explained that a billionaire Houston hedge fund manager and former Enron executive, John Arnold, was implementing a plan to privatize the entire Dallas school district and all 160,000 children in it!
Arnold had been known over the last decade for his attempts to privatize public employees' pensions. Local activists are certain that ALEC, which has made taking people's pensions and undermining public education a priority, was involved.
Arnold's scheme begins with a petitioning campaign, and then proceeds (through some steps laid out in an obscure and forgotten 1995 law) toward placing privatization on the ballot in November.
Although the public was caught completely unawares, one school board trustee, Mayor Rawlings, and former Mayor Ron Kirk almost immediately endorsed the idea. Pressed for details as to how the privatized district would help students, they say they need a "blank page" to go forward.
Dallas activists question whether or not "forward" is actually the direction they intend. At a community meeting on March 11, leaders in education, civil rights, and labor planned an opposition strategy and lambasted the conspiracy against the schools. Reverend Holsey Hickman said that the school takeover scheme "subverts the entire notion of democracy!"
Photo: Don't cut funding for public education! Texas AFT Facebook page.